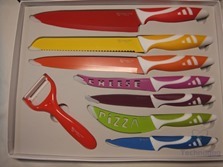 So in my previous life I was a chef and I've got many expensive knives, some are 25+ years old and I still have them because they're quality and I take care of them. I have a wife and kids and my kids really don't take care of things and I honestly don't want them using my knives for that reason. I've been looking around for a decent set of inexpensive knives that I could get and leave out for them to use and it just so happens I was asked to review and 8 piece set from a company called Golden Chef so it worked out well for me. The knives are actually very nice, the blade are non-stick and anti-bacterial and in the set you'll find the most commonly used knives and a couple extras. All in all this is a very nice set for about $20. Read on to learn more….

Specifications and Features
Golden Chef Collection 8 Pieces Stainless Steel Non Stick Blades Kitchen Knife Set with Ceramic Peeler Gift Box
Golden chef 8 piece stainless steel knife set – the only knives you'll need in your kitchen our set consists of eight knives, all color-coded to help you find the one you need quickly and easily:
8 inch chef knife
8 inch bread knife
8 inch carving knife
5 inch utility knife
5 inch cheese knife
4.5 inch pizza knife
3.5 inch paring knife
also included in the box is a free ceramic peeler.
Super sharp and super safe our knives are sharper than many other brands, which means they're actually safer. (The blunter the knife, the more dangerous it is.)
In addition, the handles have been ergonomically designed to fit comfortably in your hand, reducing the chances of an unfortunate accident.
Durable stainless steel is a proven material when it comes to professional quality cooking knives, so this set will last you for years (and years) – unlike cheaper, inferior ones that may break after no time at all.
Hygienic and easy to clean each blade has a non-stick, anti-bacterial coating, which not only makes these knives easy to clean, but also helps you keep your family safe from nasty bugs, which is important these days with more and more people, especially young children, having all sorts of allergies.
The set comes in an attractive black box to store them in, or carry them out to your BBQ (or even your RV if you're off on your travels).
Price $19.99 (from Amazon at time of review)
The Review
let's start with a video unboxing and then move on:
The Golden Chef knife set comes in an attractive gift box that can be used for storage as it's fairly sturdy and padded, each knife has a plastic tip protector on it as well.
The one thing in the set that is not a knife is the peeler, and it has a ceramic blade and a nice fat handle for a good grip. The peeler works fine and it's very sharp.
The knives are colored which makes them very bright and easy to find, and basically they're color coded. My kids and wife don't know what a paring knife is, but I can say get me the blue knife and they'll know exactly what I mean. The knives have a non-stick and anti-bacterial coating on them which I think is a great feature.
The green knife is a pizza knife, the blade 4.5 inches long and overall it's 8.5 inches, and I've never seen one before, I've only ever used the wheel style of pizza cutter. The pizza knife has sort of a half moon shape I guess you would call it, and the blade is serrated. My kids think the knife is rather neat and they've tried it several times and so have I but we'll all just stick with the traditional wheel style pizza cutter.
The dark purple colored knife is what they call a utility knife, it's good for everything, but I would more consider it a boning or skinning knife myself. The blade is 5 inches long on this one.
The light purple, almost pink, colored knife is the cheese knife and you can't mistake it for anything else as it says cheese right there in the blade. The blade is 5 inches long and it is serrated and the front is forked so you can pick up cheese with it. The knife is sharp and it works fine.
The orange knife what hey call a carving knife, it's for carving meats etc. The blade is 8 inches long and it's very sharp. Personally fro carving I use either a wavy slicer or a chef knife, I've never really owned an actual carving knife.
The yellow knife is the bread knife, it has an 8 inch blade and of course it has a serrated edge for cutting bread. The knife is sharp and it works just fine, I've used it a few times to cut bread now. One issue I cam across with this knife is that there was extra metal shaving stuck to the blade between the teeth. This stuff happens, it's an inexpensive knife set and the shaving do come out very easily and the knife blade is fine.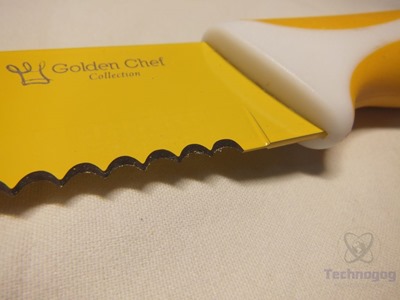 The last knife is red and it's the chef knife and it has an 8 inch blade. The chef knife is really what I consider a utility knife as it's really good for everything, in my kitchen it's the knife that's most used really.
All of the knife handles are ergonomically designed and rubber coated to for a better grip. The handles are comfortable to hold and use.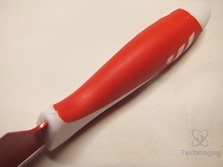 I used the knives several times to cook meals and they work just fine. I've actually put my knives away as they're very expensive and that's the main reason I wanted a set like these so my family could have a semi-decent set of knives to use that I won't care too much about if they destroy honestly.
Conclusion
Overall I very much like the Gold Chef set of knives, I think these are a great beginner set or common use set of knives.
The knives are fairly decent overall, the blades are nice and sharp and the handles are comfortable.
I'm very happy with these knives for what they are, I've put my expensive knives away and now my wife and kids have a set they can use and I don't have to worry about anything happening to mine.
I like the idea of non-stick and anti-bacterial coating on the knives, much safer for sure.
I'm not sure about the pizza knife, it really doesn't work honestly. The bread knife did have extra metal shavings still attached but they came off with no issues.
All in all I think this is a great set of knives for the price for sure.
The box doubles as a storage or carrying case and these would be a great set to take camping for, or just what I'm doing, to use as everyday knives in the kitchen.
Pros:
+Color coded
+Box can be used for storage and transport
+Non-stick and anti-bacterial coating on blades
+Inexpensive
+Decent quality overall
Cons:
-Extra metal on bread knife
| | |
| --- | --- |
| Grading | Scores Out of 10 |
| Overall | |
| Design / Aesthetic | |
| Value / Price | |
| Performance / Usage | |
Disclosure: This product was given to me for review by the company for review purposes only for free or at a discounted price.
To learn more about our review policy please visit this page HERE.