With August upon us, the days of summer are coming to a sad end and thoughts turn to "Back to School" planning. Today's review item is designed for students among others in mind with its utility for assisting in schoolwork.
The Griffin Wired Keyboard with Lightning Connector is a standard sized keyboard designed to be used with any iOS devices including iPhones, iPod Touches and iPads.
Unlike other keyboards this one plugs directly into the Lightning port meaning you don't have to deal with charging it, running out of battery or worrying about the Bluetooth connection flaking out. If you have used the Apple branded Bluetooth Keyboard in the past then you will be quite familiar with this keyboard's size, style and layout.
Unboxing
The Griffin Wired Keyboard arrives in a plain black and white cardboard box. This environmentally friendly package features no dyes or colored photos but is a simple plain black and white cardboard package with a black and white drawing of the keyboard on the front and the words – Wired Keyboard with Lightning Connector on the back. On the side is the listing of compatible iOS models that include the 5th generation iPod Touch, iPhone 5, iPhones 5S, iPhone 5c, iPad mini (both gens) and iPad 4th Generation that includes the iPad Air.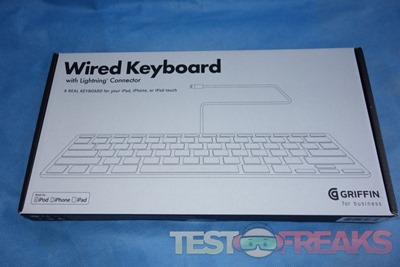 Inside the box we find the keyboard by itself. There is no instruction manual or quick setup guide but seriously it's a keyboard; it should be self-explanatory.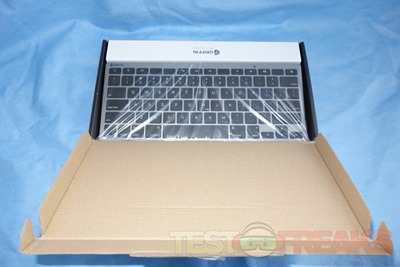 The keyboard is dark silver with black keys with grey key markings. It measures 23 cm x 11.5 cm x 0.5cm at the front and 2.0 cm towards the rear. It has similar dimensions as the Apple branded Bluetooth Keyboard but slightly bigger. Out of the top center of the keyboard if the Lightning cable. This cable measures over 3 feet in length which is sometimes too long.
This keyboard is composed of plastic so it feels lighter and less substantial then the Apple Bluetooth version. On the top left of the keyboard is the Griffin logo and name.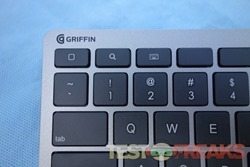 On the far top left row there are keys, which mimic the IOS Home button, a Search button, and another key that brings up and hides the virtual keyboard.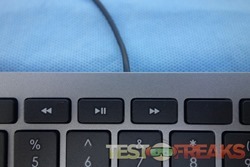 In the center portion of this top row are keys for Rewind/Review, Play/Pause, and Forward/Skip.
While towards the right sides are Mute, Volume Down, Volume Up and a Power button key that is marked by a padlock icon. Just above these volume keys is an LED that indicates the Caps lock key is engaged.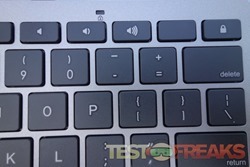 Interspersed on this top row are some unlabeled keys that serve no current function.
All of the other keys on the keyboard below are standard QWERTY keys in the layout of an Apple keyboard. The usual Control, Option and Command Keys are found to the left of the space bar with the Command and Option Key to the right of the space bar. There is one lone blank key on the bottom left of the keyboard, which does not seem to have a function but on standard Apple keyboards is actually the Function button.
On the bottom of the keyboard we see an elevated rear section which gives the keyboard a slight incline for comfortable typing and rubber feet on each corner to keep it from sliding around on whatever surface it rests.
Specifications and Features

Wired Keyboard for iOS Devices
A real keyboard for your iPhone, iPad, or iPod touch
If you've ever worked in a school testing environment or a government office, or if you've flown on a plane, you know there are times when you can't use Bluetooth. That's why Griffin introduces its Wired Keyboards for iOS devices.
Connect to your iPhone, iPad, or iPod touch, and suddenly that powerful full-featured computer in your hand gets the powerful full-featured keyboard your hands crave.
You get the full iOS key functions and tactile feedback. Its 1-meter cord is long enough to set up your workspace the way you want. And there are no batteries to replace.
Features:
-Familiar keyboard layout and feel matches that of Apple's Wireless Keyboard
-One-meter built-in cable with connector
-The security of a direct-wired connection
-No batteries to replace; powered through the connector
-3-year warranty
Price: $59.99 (from Griffin at time of review)
Testing and Usage
Installation is as simple as plugging the Lightning connector into the iOS device.  Now you have the ability to use the keyboard instead of the virtual one.  No matter what Apple and Steve Jobs say, having a physical keyboard to type upon is always more enjoyable experience than a virtual one.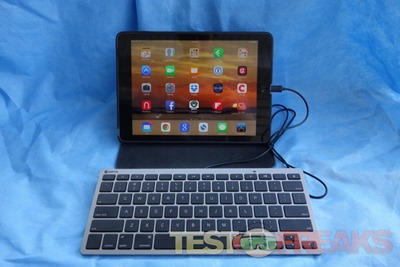 The typing experience using the Griffin Wired Keyboard with Lightning Connector was fundamentally similar to using a standard Apple keyboard.  However there were a few slightly noticeable differences. The keys on the Griffin keyboard seemed less responsive and more "plasticky" in terms of feel.
For instance the left Shift key on my review sample was rather finicky on when it would capitalize a letter.  The feel for the keys is also different than the Apple model feels more substantial when typing upon its keys.
Controlling the Apple device using the keyboard was rather straightforward and the iOS specific keys worked as advertised.
Not having to charge or worry about a Bluetooth connection was definitely a plus with this keyboard.  In fact the majority of this review was typed using the Griffin Wired Keyboard with Lightning Connector.
My main issue with this keyboard is that it is limited to being just used with iOS devices.  If you wanted to bring this over to an OS X machine or other PC then you are out of luck.
Also, Griffin did not provide a carry case of any sort for bring this keyboard around in one's daily travels. I do not see these plastic keys travelling well when bouncing around naked in a backpack.
Conclusion
The Griffin Wired Keyboard with Lightning Connector is definitely an interesting product. It is built to look and function similar to the Apple model keyboards. It is wired and does not require batteries, charging or pairing.
In terms of working with iOS devices, the Griffin Wired Keyboard with Lightning Connector worked well and the iOS specific keys provide additional control over the connected Apple product.
However, it will only work with iOS devices and only those using Lightning connectors, making its functionality slightly limited.
Right now it is priced at $59 making it ten dollars less than the Apple Bluetooth Keyboard, a more versatile keyboard in terms of devices it can interact with. The Griffin Wired Keyboard with Lightning Connector is also less solidly built.
All these factors should weigh into one's buying decision – to tether or not to tether that is the question.
Pros:
+Has iOS specific keys
+Matches the Apple design aesthetic
+Does not require charging or pairing
Cons:
-Keys seem "plasticky" in feel
-Should be priced lower
-No travel case provided
-Limited to Lightning based iOS devices
| | |
| --- | --- |
| Grades: | 6 out of 10 |
| Overall | |
| Design / Aesthetic | |
| Value / Price | |
| Performance / Usage | |
To learn more about our review policy please visit this page HERE.