I got a Woogie! Do you? You should have one if you've got small children, they're just the greatest! Seriously though today for review I've got the Woogie 2 from Griffin. What's a Woogie you might ask, well the best description is that it's an interactive case for your iPhone or iPod. The Woogie 2 is basically a stuff animal that's cute and cuddly and has a space in it that can hold your iPod or iPhone. Read on…

The Woogie 2 arrived in a box with air holes in it to make sure the Woogie inside arrived intact.
Inside of the box you'll the Woogie 2 himself and the instruction manual. I say 'he' because the WOogie I got for review is blue, but you can get a pink version as well. So blue for boy and pink for girl right?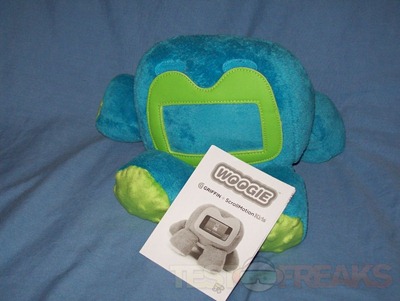 So here's my Woogie ( actually it's not my Woogie anymore, my 6 yr old son has claimed it as his own). The Woogie has a pouch where his face would be, you'll find out why a little later in the review. The Woogie is basically a stuffed animal, it's very soft and cuddly and the bottom of the feet are bean bags.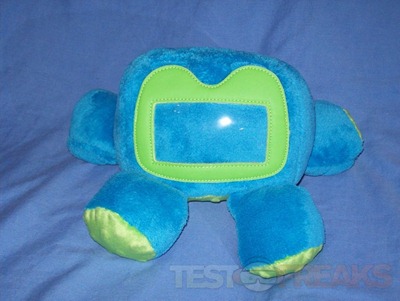 The pouch has a clear plastic front window and it secures closed with two spots of velcro.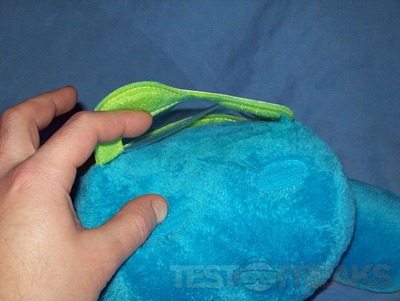 Here's the back of the Woogie, just more soft and cuddliness..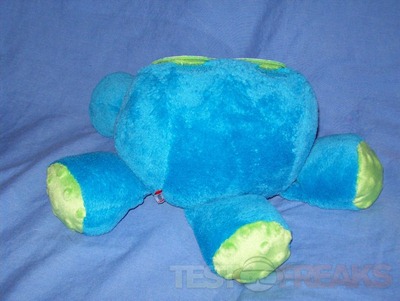 Here's a top view, from here you can see the five arms or are they legs or the Woogie: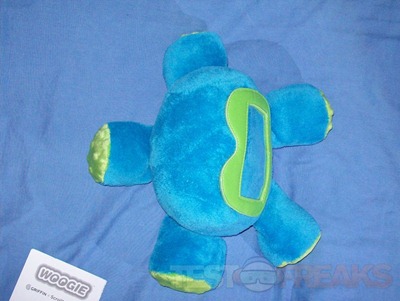 Here's the bottom, it's soft of course. Part of the base, towards the back is bean bag like the feet.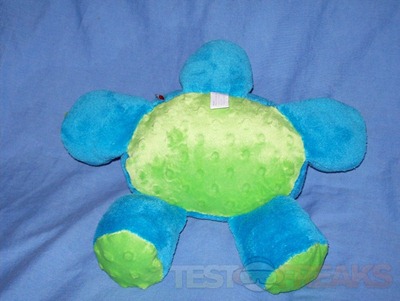 So that's a Woogie!
Specifications: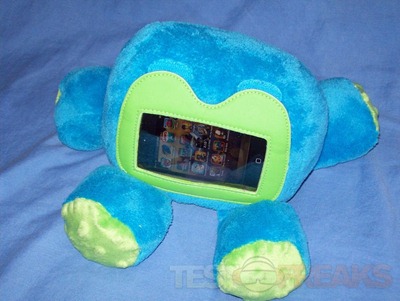 You can use it as is and use your iPod that way but for more fun you can download the Woogie app and bring the Woogie to life to play with it. The Woogie now has a face, well two eyes anyway.
The expressions can change depending on what you do to the Woogie. Shake him up and the eyes will bounce around the screen and he'll make a sound. You can poke him in the eye and he won't be too happy. Leave him alone and he'll shut his eyes and go to sleep. The Woogie app also has a repeat mode, you can talk to the Woogie and he'll repeat what you say in a higher voice, it's cute and fun for kids.
I choose the blue face because it matches but there's plenty of others to choose from:
There's also another Woogie app from Sesame Street that will read stories to your child. I grabbed the sampler to see what it was about and it's cute.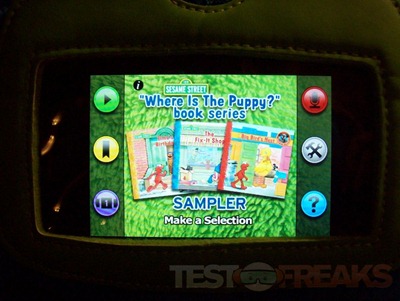 The instructions say to use your Woogie and your iPod or iPhone with headphones for the best experience, and yes it's correct. The Woogie does muffle the sound a lot, you have to be in a quiet room to hear it well.
One small issue I've got is that the plastic screen does make using the touchscreen a bit harder, it's just not as sensitive and can be frustrating honestly.
The feet of the Woogie 2 allow you to stand him up, and he'll stay where you put him. You can put a movie on and just sit back and relax as it will stay put. It works fine on a table or your lap.
Conclusion:
I'll admit it, I love toys, and having kids just gives me a really good excuse to play with them. The Woogie 2 is just awesome, if you've got small children then you need a Woogie for them. My 6yr old just loves it, and thinks it's the greatest thing.
The Woogie 2 is well made and it's just as advertised, a cute and cuddly and huggable protective case for your iPod or iPhone.
It's just the greatest really, if you've got young children then I can highly recommend you getting one or two for them. The price is $19.95 and I'd say that's well worth it.
Pros:
+Cuddly, cute and fuzzy
+Kids will love it
+Holds iPod or iPhone well
+Seems well made
Cons:
-Clear plastic makes screen not as sensitive
-Woogie muffles sounds
| | |
| --- | --- |
| Grades: |   |
| Overall | |
| Design | |
| Performance | |
To learn more about our review policy please visit this page HERE.