Up for review today I have the HIS 7750 iCooler edition video card that features 1gb of DDR5 ram on board. This card features DVI, HDMI and DisplayPort connections on it and it's more of a budget style card coming in at around $110.00. The HIS 7750 features their own iCooler GPU cooler on it that does a very good job at keeping things cool and being quiet while doing it. I've put it up against a few other cards I've got on hand so let's see how it does in benchmarks and gaming….

I love the box art on video cards, it never really has nothing to do with the card, but it looks great.
The cover above is just really a slip cover for the black HIS labeled box inside.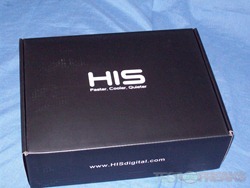 Not much comes with the card I got for review just a brief instruction manual and DVI/VGA adapter. The retail versions comes with a bit more.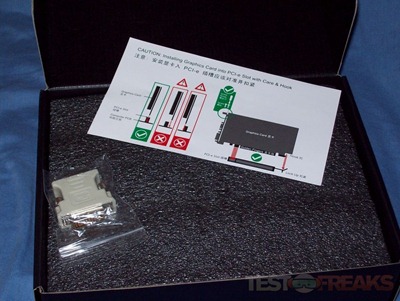 The card itself is packaged very well, all nestled in styrofoam for protection.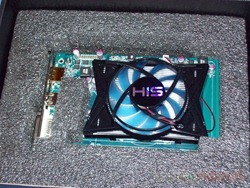 Then here's the card itself. It features the HIS iCooler that is supposed to keep things cool and quiet.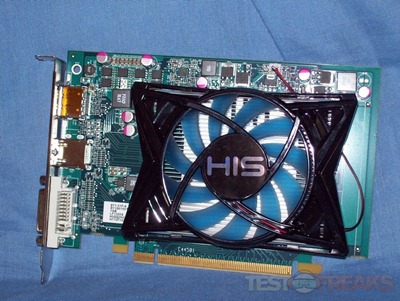 There's not much special to see on the back of the card, just bland green PCB.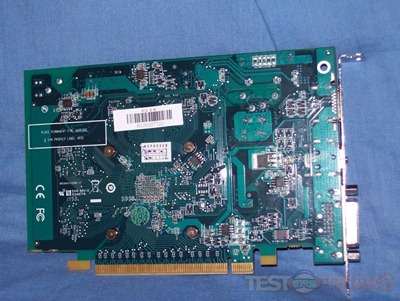 The HIS 7750 features DVI, HDMI and Display port connections. The HDMI and Displayport are both full size which is nice to see.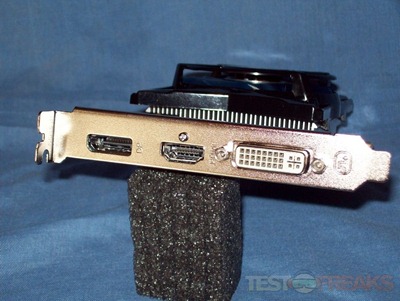 Here's a couple side views of the card. The iCooler is small in size but tall, it will most likely cover over the slot below it depending on your motherboard setup.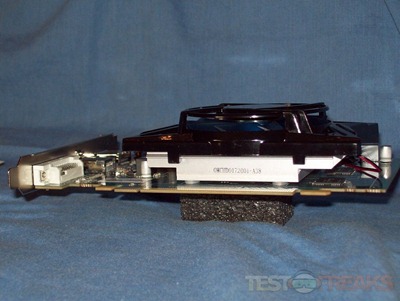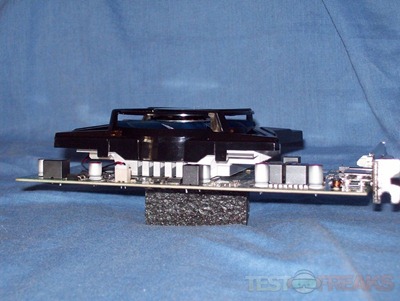 Specifications: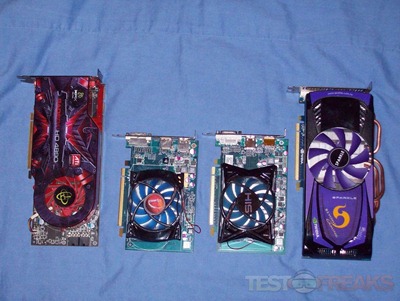 The 6670 and the 7750 both have a core clock of 800Mhz along with 1gb of DDR5 ram on-board and as you can see they are very similar is size and shape.
My testing system was a Corei7 750 CPU on an EVGA P55 motherboard with 12gb of ram.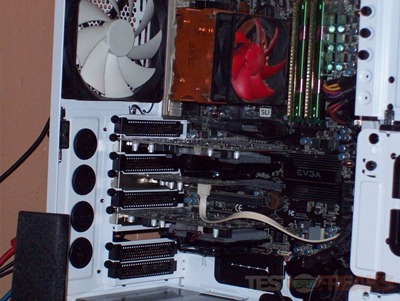 We'll start the testing with on old favorite, 3Dmark06 on default settings: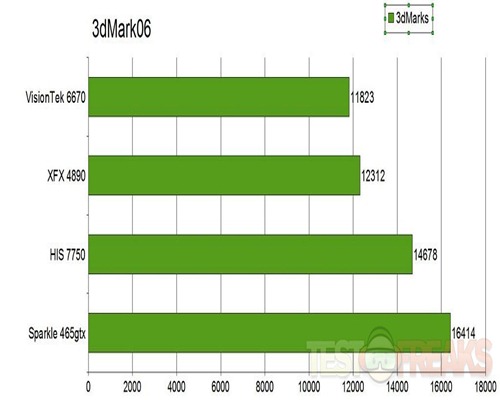 The HIS 7750 does pretty good here overall I think, easily besting the last gen 6670.
The next test is 3DMark Vantage. The setting is the default Performance but I changed the resolution to 1920×1080 for testing.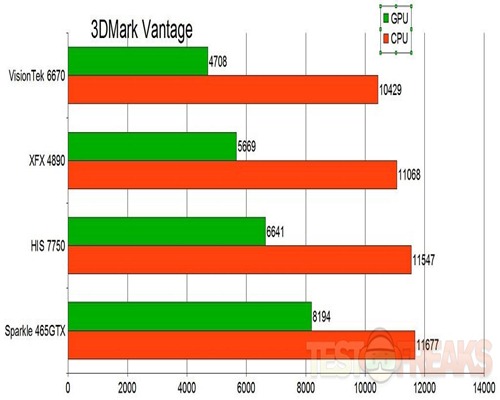 Again the HIS 7750 holds its own here with the 6670 pretty far behind.
The next test is 3Dmark11 with testing done in all three mode, Entry, Performance and Extreme. The 4890 is not DirectX 11 so it's not included of course.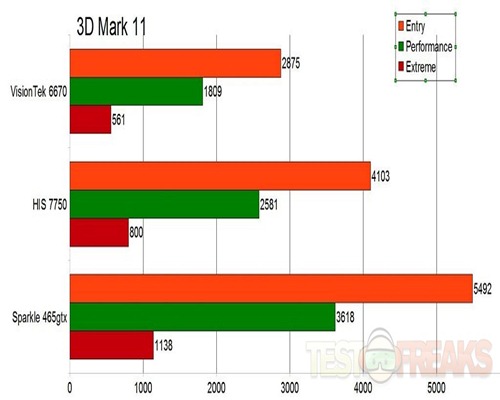 As expected the larger 465gtx does well, but the HIS 7750 looks good too really.
Let's get into gaming tests, this is what you really want to see right?
For game testing I run lots of tests, and I mean a lot of them. I tweak the settings until I find a spot where I can get an average of above 30FPS consistently during the testing.
The first game I tested was Section 8: Prejudice which is based off of the Unreal 3 Engine. Settings were all maxed out with a resolution of 1920×1080.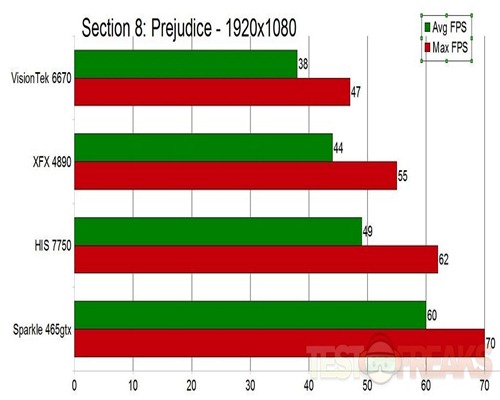 All of the  cards did well here, obviously the game can play smoothly on any of them.
Next up is Mafia II, this one took a lot of testing to find the right combination of settings. This game is hard on even high end cards for sure.
Resolution was 1920×1080 with antialiasing off, anisotropic filtering at 1X, Shadow Quality was Low, Ambient Occlusion was off and Geometry Detail was Low.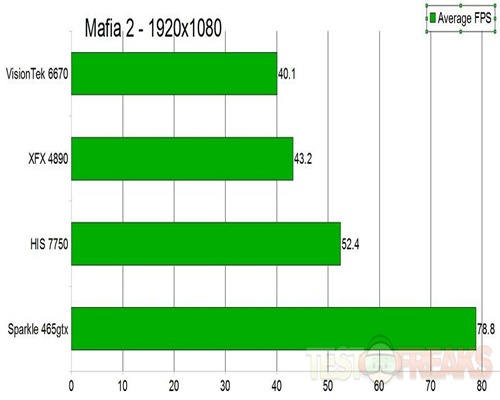 The game is very much playable with the HIS 7750, and you could even tweak the settings a bit higher than I have them to get a bit more quality without sacrificing the frame rates.
Next up is Just Cause 2.
Settings are a resolution of 1920×1080, Motion Blur is off, Texture Detail is High, Shadow Quality is Low, Antialiasing is 2x, Anisotropic Filtering is 4X, Water Detail is Low, Objects Detail is Low, Decals are On, Soft Particles are On, High-Res Shadows are Off, SSAO is Off and Point Light Specular is Off. I used the Concrete Jungle test level for all of these.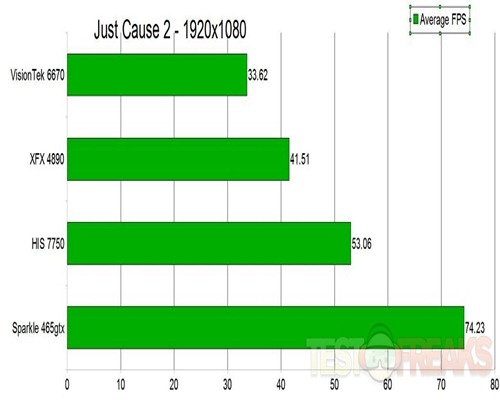 As you can see the 6670 just barely gets by at these settings, while the HIS 7750 performs very well indeed.
The next test is DIRT 3 with a resolution of 1920×1080 with all settings on high and 8X AA.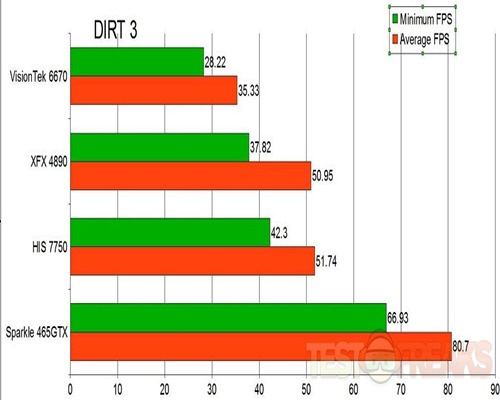 The HIS 7750 easily handles Dirt 3 on these fairly high settings and again the 6670 just barely makes it past the 30fps mark on average.
Next up is Batman Arkham Asylum, for the Settings I just grabbed a screenshot for you: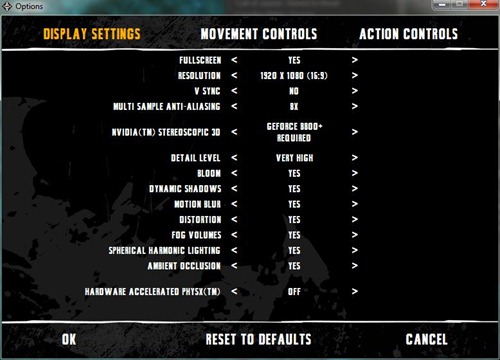 Then here's the graph: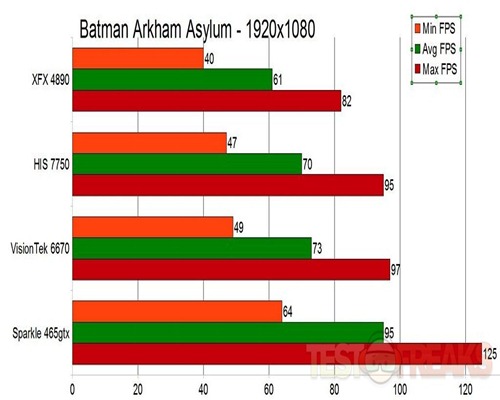 All of the cards perform well here with the 6670 actually besting the 7750 just slightly. Still though it's very playable with any of them.
Next up would be Batman Arkham City. Yes the 4890 is included in here because I was curious, it cannot do DirectX 11 so those features are turned off for its testing so keep that in mind. The other three do have DirectX 11 features enabled.
Here's the Settings:
Then here's the graph for you:
For this game you'll notice that the 6670 can't even get over 30FPS at these settings. I tried to play with the settings for it but they had to be much lower than the other cards could run at. The HIS 7750 just barely manages to get by. If I turned off the DirectX 11 features then both cards did very well though. Both are budget cards so you can't expect high settings including DX11 with them really. DX11 taxes the cards very hard.
The last test is Aliens Vs Predator with Settings set to Medium at 1920×1080: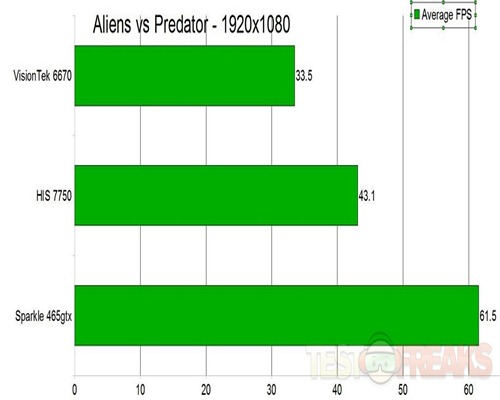 The HIS 7750 doesn't do too bad here, and at medium setting I was surprised that the game still looked very good graphically.
So for gaming you can do it with a budget minded card like the 7750, but just don't except to turn everything on high and be able to really play it. You're going to need to downgrade the setting to get there.
I use 1920×1080 for all gaming tests as that's the native resolution of my main 23" monitor, you can drop the resolution and get better performance of course.
HIS did an excellent job on the iCooler, it's extremely quiet and keeps the card running cool.
If you're looking to overclock this card you can, but you won't get much out of it as you'll need extra power and this card doesn't come with any PCIE power connections on it, it's powered by the PCIE bus only. Sure you could get a few more percentage points in performance by overclocking but I don't think it's worth it honestly. Still you can do it if you want to eek a bit more value for the money from this card.
I had no problems with HD videos or Blu-rays with this card, they were smooth and stutter free on both DVI and HDMI connections.
Conclusion:
The HIS 7750 video card really surprised me in its performance, especially when compared to much larger, more power hungry video cards. For a card without any external power connections it does very well. This card can run many games at 1080p resolution and they'll still look very good and be playable.
The cooler on the HIS 7750 is excellent, whisper quiet really, I prefer a quiet system and this cooler can provide me that without sacrificing performance.
At this price point it's going to be hard to find a video card that can give you this type of performance. The fact that it doesn't need any external power is good thing as it uses little power but on the other hand if you really want to overclock this card you're going to have a hard time without the additional voltage.
This card isn't for an HTPC, it's bit larger and it's not exactly a high end gamer card, it's in a  spot by itself. The HIS 7750 provides decent performance and value really, it's not a bad card for light gaming overall.
If you're looking for a next-gen video card and you're on a budget then I can recommend the HIS 7750.
Pros:
+Small size
+No extra power connectors needed
+Runs cool and quiet
+Decent performance
+Standard size HDMI and Display port Connections
Cons:
-Fairly high price
-Can't exactly run games at full settings
| | |
| --- | --- |
| Grades: |   |
| Overall | |
| Design | |
| Performance | |
To learn more about our review policy please visit this page HERE.