Today for review I've got something that I've always wanted to play with, magnetic putty. I love magnets, I have quite a few of them, but magnetic putty is different as it has metal particles in it that are attracted to magnets and you can play with it and your magnets. The putty I have today for review is from a company called HoFire and it's called Thinking Magnetic Putty and they even include a magnet and googly eyes to have fun with. The putty is dark gray in color, really it's almost black and it has a very rubbery consistency and it can even bounce if you roll it into a ball. Read on to learn more…
Specifications and Features
HoFire Thinking Magnetic Putty with Magnet Creative Super Magnetic Strong Hand Therapy Slime Magnet Putty Creative Toy Stress Reliever Infused with Iron Fun Toy (two eyes for free)
Why Choose HoFire Magnetic Putty
Kills boredom, magnet included
Magnetic Thinking Putty is a stretchable, bounceable, moldable, tearable, magnetic, and all-around fascinating toy.But, it wouldn't be a great gift if it wasn't ready-to-go right out of the box. That's why each order of Magnetic Thinking Putty is packaged inside a metal tin along with a super-strong ceramic magnet.
Control the putty like a snake charmer
HoFire Magnetic Thinking Putty is infused with millions of micron-sized (one-millionth of a meter) magnetic particles. These particles are what give Magnetic Thinking Putty its strange attraction properties.
Use the included magnet to pull tendrils of the putty in all directions. It's crazy fun!
In absence of magnets, behaves like any other type of putty
While Magnetic Thinking Putty is a more highly evolved form of regular putty, it can still do all of the "normal" things that you love about putty. Namely, you can bounce it, stretch it, and tear it — all of which are loads of fun.
Feature:
Material: safety non-toxic grease
never dries out & is easily removed from solid surfaces
relieve tension in a short amount of time.
Roll it into a ball and watch it bounce, stretch it out to its limits, snap it into pieces, or mold it into various shapes
Size:7cm×7cm×16cm
Price: $8.59 (from Amazon at time of review)
The Review
Let's start with a video first and then move on:
The putty ships in a tin in a plastic bag. The tin has a label on top and then it's just plain on the bottom, the tin screws open and closed. The tin can be used for storage and transport and it's sturdy for what it is.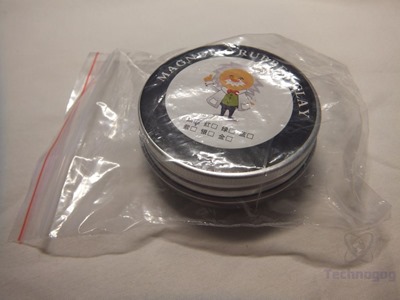 When you first get it the putty is in a sealed plastic bag with a small cube magnet and googly eyes on the side. You're supposed to just get two eyes but there were four in the pack, a bonus I guess.
The putty has a very rubbery consistency, in fact you can make it into ball and bounce it, it doesn't bounce very high but it still bounces though. You can stretch the putty slowly and it will stretch out but if you do it fast it will make almost snapping sound and break. The putty does have a faint chemical smell to it, not bad at all. The putty is a very dark gray color, it's almost black really.
The putty contains metallic particles so if you put the magnet on it it will get sucked in looking like the putty is eating it.
I was going to include a whole bunch of pictures but I decided to create an animated gif out of all of them instead to show you the putty 'eating' the magnet.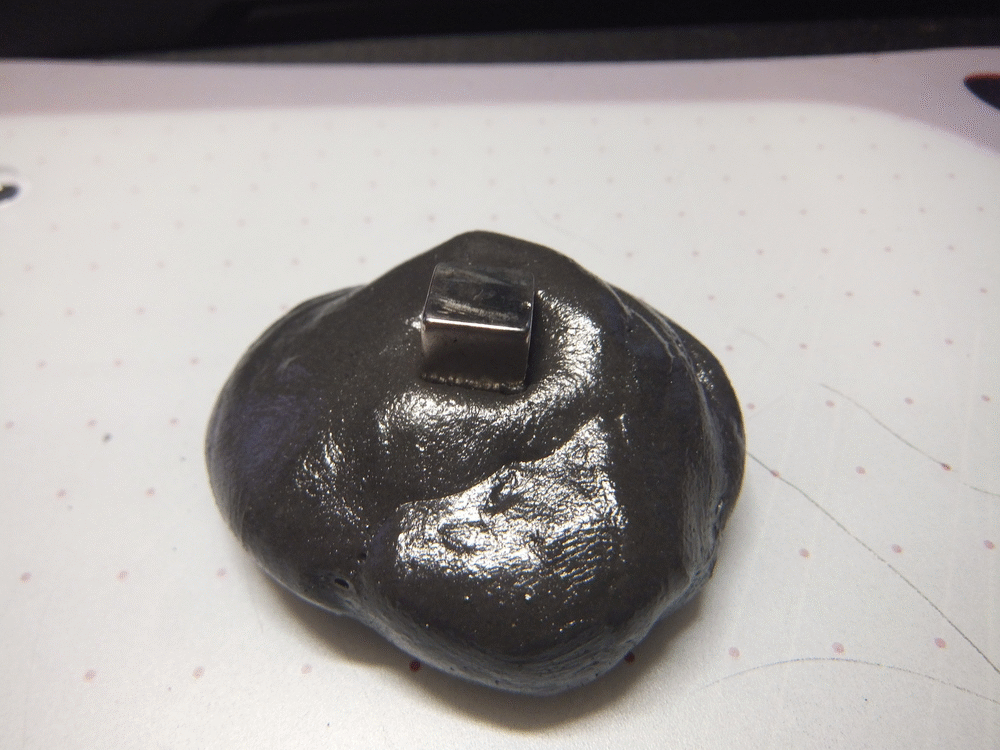 I also have some large neodymium bar magnets and I had the tin of putty stuck to one of them for a couple days and when I opened it I found that the magnet had pulled all the metal particles out of the putty and they were all on the side where the magnet was. It wasn't a big issue, I just had to knead and work it all back together for a few minutes to get the particles distributed back through the putty.
Conclusion
Right now this putty is less than $9 on Amazon and I think it's well worth it for that as it's a lot of fun to play with.
I enjoy it and my kids really like it, the included magnet is strong enough to use with the putty but you can use stronger magnets for different effects.
The included tin is nice to have for storage as well.
The googly eyes though really get stuck in the putty and can be a hassle to get unstuck.
All in all I'm happy with this putty, it's unique and just fun really.

Pros:
+Includes magnet and eyes
+Includes storage tin
+Lots of fun to play with
Cons:
-None
| | |
| --- | --- |
| Grading | Scores Out of 10 |
| Overall | |
| Design / Aesthetic | |
| Value / Price | |
| Performance / Usage | |
Disclosure: This product was given to me for review by the company for review purposes only for free or at a discounted price.
To learn more about our review policy please visit this page HERE.