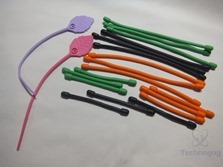 Cable management is something that can be overlooked but I have all sorts of things to keep my cables secured and from getting tangled. I save twist ties from all sorts of things and I've bought the velcro style ones as well but today for review I've got some from a company called Hoowvii. These ties come in a pack of 18 and they're rubber coated and of course reusable and you get nine 3 inch and nine 6 inch in three different colors. These are a simpel product but I like them a lot. Read on to learn more…
Specifications and Features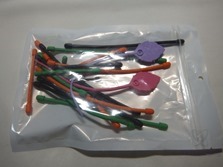 In the pack you'll find 18 twist ties, nine are six inches and nine are three inches long and there are three of each color, green, orange and black. They also include two free cable ties that are the belt style with a leaf design on them.
The ties are rubber over a metal wire making them easy to use and twist to hold your wires together. The ends have fatter sections that you can cross and it sort of locks the tie closed.
The included free leaf ties are the belt style and they have a hole in them, you just put the end of the tie through the hole and then pull it tight.
The interesting thing about these is that you can use them for other things like a stand for your phone, you just have to bend it into position and it holds well really.
Conclusion
So these are a neat product for sure and I like them a lot but they're not perfect.
These twist ties can be very useful and they're easy to use as well. They can of course be used for cable management but also for other things like a stand for your phone.
I have two small issues with these. The first is the price, I think they're a bit too expensive at $10 for 18 of them. The second issue I have with these is they're not quite finished in that there's extra pieces of plastic hanging off of them. The extra plastic can be easily trimmed off but I should have to do that.
Pros:
+Very handy and useful
+Different sizes for different jobs
+Can also be used for other things
Cons:
-Not quite finished, extra plastic on pieces
-A bit expensive
| | |
| --- | --- |
| Grading | Scores Out of 10 |
| Overall | |
| Design / Aesthetic | |
| Value / Price | |
| Performance / Usage | |
Disclosure: This product was given to me for review by the company for review purposes only for free or at a discounted price.
To learn more about our review policy please visit this page HERE.