Yes I have another flashlight for review today and this one is very similar to the TX11 that I reviewed not long ago, it looks almost the same with a few differences like one being that it claims to be 1200 lumens while the TX11 is 1000 lumens. The Acebeam EC35 flashlight is small and portable and very, very bright and it's tied with the TX11 as my favorite at the moment. The light is durable and it seems well made overall and it's powered by a single 18650 battery which they don't include but they're readily available a lot of places inexpensively. Read on to learn more…
Specifications and Features
The light is durable and it seems well made, it's made of aircraft aluminum with an anodized finish. The flashlight is about 5.5 inches long and about 1 inch in diameter, it's small enough to easily fit in your pocket or bag. The shaft is knurled for grip and it kind of reminds me of a lightsaber really.
The light does have a glass lens on it and I don't see any way to take it apart if need be which doesn't matter much really, but I was just wondering. The LED is a Cree xp-l which is the newer version made for brighter light with a supposed 50% increase in performance over the standard LED.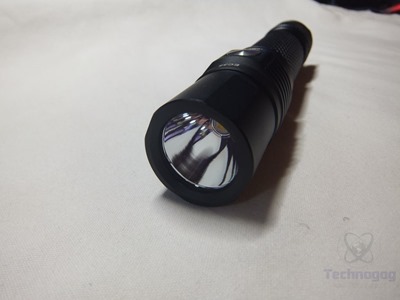 The EC35 actually has two switches of buttons on it. There is a round silver button behind the lens which changes the lighting modes which are extra low, medium, high, extra high and if you hold the button in for about three seconds the light will switch to strobe mode. The main power switch is on the tail cap with a rubber cover over it, it's just on and off but the light does remember the last mode you were in which is nice in my opinion. I very much like the dual switches myself and I really like that the strobe is basically a separate mode that you can't really accidentally enable.
The flashlight comes apart into three sections, it just unscrews fairly easily and you'll find the threads greased and rubber o-rings on each side to keep water out. You can put the battery in either side of course. The EC35 is rated IPX8 waterproof which means it can be used underwater up to two meters really, so surely you'd be fine with it on a rainy night.
The wrist strap goes on easily as there are holes or slots actually on the tail section. The metal clip goes onto the plain section near the tail and it's very sturdy.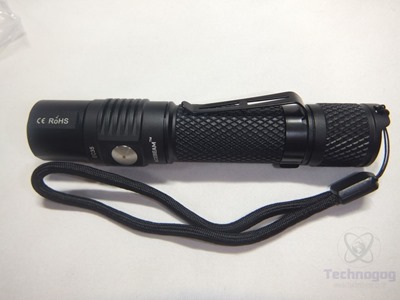 The Acebeam EC35 is supposedly 1200 lumens and I have the very similar Night Provision TX11 which is 1000 lumens so I thought would compare them.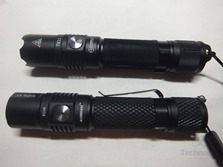 I took the lights outside about midnight and I can't tell the difference between them really. The EC35 is on the right and the TX11 is on the left and they look to be the exact same brightness to me. I have them both of the highest setting of course. What does this mean? Well to me it means that the ECC35 isn't 1200 lumens as claimed, but it is at least 1000 lumens which is still very bright. For the testing I used two of the same capacity 18650 batteries that were both charged fully so I know they were both getting equal power and yet I can't tell the difference in brightness at all between the 1000 lumens of the TX11 and the supposed 1200 lumens of the EC35 flashlight.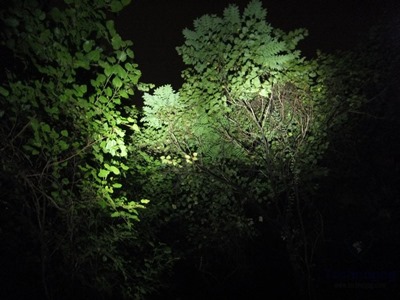 Conclusion
The Acebeam EC35 is a great flashlight really, it's become one of my favorites honestly. I take my dogs out to do their business every night, multiple times and take a flashlight with me and this thing just lights up everything and it doesn't even have to be on the maximum setting to do it, just high is fine for me. The extra high mode is just blindly bright and it does have a very good throw distance.
The light itself is very well made, it's rugged, waterproof and it just feels and looks durable as if it should last a long time and I hope it does.
The included carrying case is a nice touch as it's a quality case that has two options for using it was the metal ring and the belt loop attachment.
They do not include a battery so you'll have to supply one though, but they're not that expensive, but it would have been nice if they included a battery and charger.
I have to question the 1200 lumens rating, I don't think it is honestly, it's probably about 1000 lumens on the max settings and yes that's very bright, but still not 1200 lumens as the specs claim it to be.
All in all though I do like this light very much and I will happily continue to use it and I can easily recommend it.

Pros:
+Very well made
+Waterproof and impact resistant
+Two buttons
+Very, very bright
+Includes carrying case
Cons:
-I doubt it's 1200 Lumens
-No battery included
| | |
| --- | --- |
| Grading | Scores Out of 10 |
| Overall | |
| Design / Aesthetic | |
| Value / Price | |
| Performance / Usage | |
Disclosure: This product was given to me for review by the company for review purposes only for free or at a discounted price.
To learn more about our review policy please visit this page HERE.