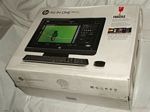 Today for review I have a first, at least for me, it's a desktop PC yes, but it's an all-in-one style meaning that there's no 'tower' section like a regular computer might have, the kind most of us are accustomed to. An all-in-one PC is a fairly new style of PC meant to save space and actually save you some money too. This type of PC has everything built-into the monitor itself, and then you have your keyboard and mouse and that's it. The PC I have today is from HP and it's the new Pavilion All-In-One 200-5020 that features the Intel E5400 Dual Core Processor, along with 4 gigs of ram, a 500 gig hard drive that's all basically encased inside of a 21.5" HD 1080P LCD monitor. Yes it's not exactly a high spec machine, but it's not meant to be, it's meant to be a moderately priced PC with a good set of features, and it is.

So no video for you today, it was a bit too unwieldy to handle, the big box and all. The HP All-in-one 200-5020 was packaged very well.
Inside you'll find a big box and what looks like a big monitor.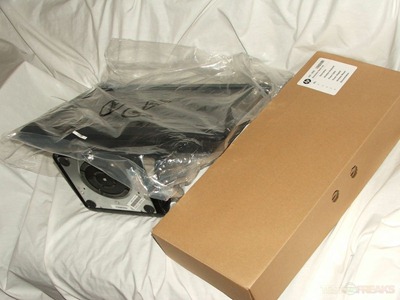 The box you'll find user manuals, keyboard, power supply, power cord, mouse and batteries. Yes the keyboard and mouse are wireless.
The keyboard is nice, but it's rather basic truly, but it gets the job done. The keyboard does have multimedia keys on it to make thing easier.
The monitor is actually the PC as the name all-in-one refers to.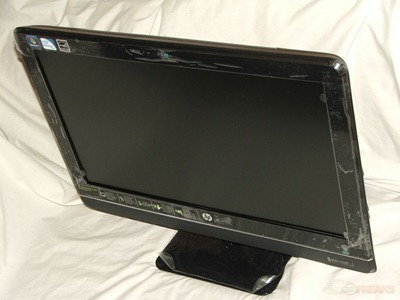 On the right side you'll find the DVD drive along with LED indicators.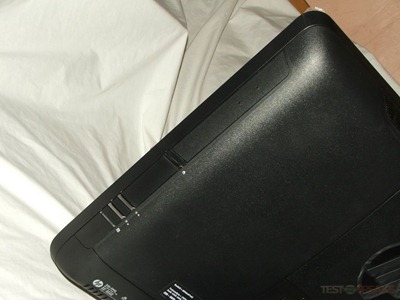 On the left side you'll find memory card slots, USB ports and audio connections: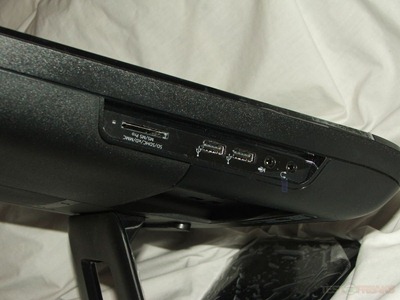 On the back you'll find more USB ports, ethernet, power and another audio connection.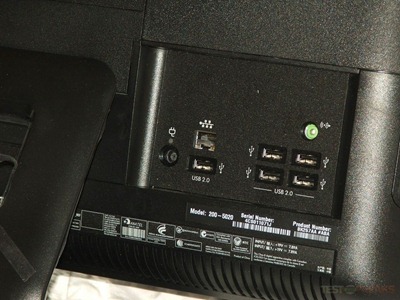 Specifications:
HP All-in-One 200-5020 Desktop PC
200-5020 price: $799.99
Save $70 with instant rebate     -$70.00
Price after rebate (You save 8.8%**) $729.99
Streamline your life with our Pavilion All-in-One 200-5020 Desktop PC, which puts everything in the display—there's no need for a PC tower. You get full features, including wireless networking. And this sleek all-in-one will fit neatly on your desk, in the kids' room, or in the kitchen.
Sleek and compact
* Get reliable performance from the 2.7GHz Intel Pentium dual-core processor E5400
* Streamline daily activities (with fast searching, easy browsing, and simple ways to connect2 using genuine Windows 7
* Eliminate clutter: this PC's design integrates a monitor and computer in one slim, piano-black-and-chrome package with no cables except a single power cord
* View clearly on the 21.5″ diagonal1080p high-def widescreen with LED backlighting, tilt and swivel, and Intel GMA X4500HD integrated graphics
* Go wireless with the internal antennas for 802.11 Wi-Fi1
* Download files from an iPAQ or camera via the integrated 6-in-1 digital media card reader and USB ports
* Hold video chats using the built-in webcam and mic2
* Get clear, crisp sound from the integrated premium stereo speakers
Specs:
Operating system:Genuine Windows 7 Home Premium 64-bit
Processor: Intel Pentium Processor E5400
Memory: 4GB
Memory speed: PC3-8500 DDR3 SDRAM memory (2x2048MB for ultimate performance)
Total memory slots: 2 DIMM (204-pin, DDR3) (occupied)
Maximum memory expansion: 8GB
Graphics card: Intel GMA X4500HD integrated graphics
TV & entertainment experience: Webcam and built-in microphone 21.5″ Full HD 1080p widescreen display with LED backlighting
PCI expansion: 2 PCI-E x1 mini socket slots (one available)
Hard drive: 500GB 7200RPM Serial ATA hard drive
Primary CD/DVD drive: Slim Tray SuperMulti DVD Burner with LightScribe Technology Read: 8x max DVD-ROM, 24x max CD-ROM Write: 8x max DVD+R, 6x max DVD+R DL, 8x max DVD+RW, 6x max DVD-RW, 5x max DVD-RAM, 24x max CD-R, 24x max CD-RW
Networking: 10/100/1000Base-T network interface Wireless LAN 802.11 b/g/n
Sound card: High-performance 2.0 Speakers
Front-side bus (processor dependent): 800MHz Front Side Bus
I/O ports: 6-in-1 memory card reader (left side) supports Secure Digital (SD, SDHC), XD, MultiMedia Card, Memory Stick, Memory Stick Pro; Headphone and Microphone (left side); 7 USB 2.0 ports (2 left side, 5 back) (6 ports available); Audio Line-out (back); RJ45 (10/100/1000 LAN) (back)
Software, full versions: HP MediaSmart Software Suite: Your one-stop multimedia & entertainment center to create photo slideshows, share personal videos, listen to your favorite music playlists & watch DVD movies; Cyberlink DVD Suite Deluxe: Automatically fix and edit videos and create CDs and DVDs. Burn data files and folders and copy discs. Print disc labels, paper jewel boxes, and CD inserts; Microsoft Works 9.0: Includes a word processor, spreadsheet database and calendar; HP Total Care Advisor: makes your PC easier to use -view your status at a glance, access support, discover more ways to use your PC, and navigate easily to your favorite software and services.
Software, introductory versions: Norton Internet Security 2010: Preinstalled security software helps protect you from viruses, spyware, and other online threats, right out of the box (60 days of complimentary live updates)
Dimensions: Unpackaged: 8.70″ (W) x 21.50″ (L/D) x 16.80″ (H) approx. Packaged: 11.02″ (W) x 24.41″ (L/D) x 20.08″ (H) approx.
Basic warranty: 1 year limited hardware warranty and 1 year software support

So let's take a quick look at CPU-Z to see what's inside:
It confirms what we already now from the specs. Integrated graphics, not the best for gaming but they're decent for everything else.
This is running Windows 7, so I ran the Experience Index of course and ended up with a 4.3 score.<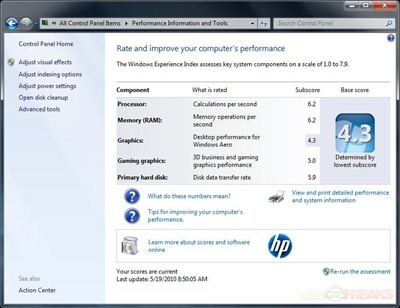 The reason we got such a low score is because of the Aero, everything else isn't too bad it seems.
Here's the device properties expanded a bit: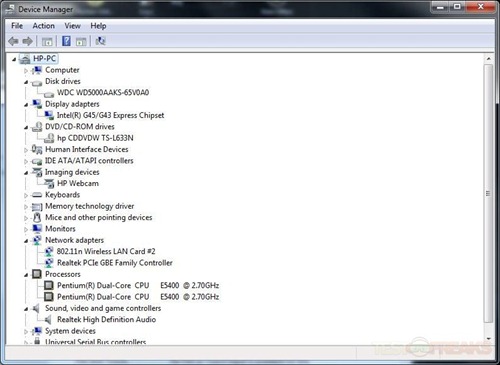 The hard drive is actually a Western Digital Caviar Blue. We can also see that there's no Bluetooth, but that's not a big deal really for this type of computer but we do see 802.11N wireless in there, along with Realtek HD Audio.
The desktop has a few icons on it for some trial software and a shortcut for Ebay. What makes the desktop interesting is the bar at the top of the screen with several shortcuts.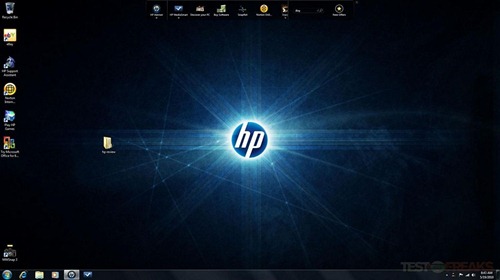 here's the bar:
The idea of the bar is for quick access to your most used things, you can customize the bar as well by adding or removing things.
Included with the PC is the HP Advisor software which consists of the Dashboard that let's you know about security, internet, warranty printers, alerts, and drive space among other things.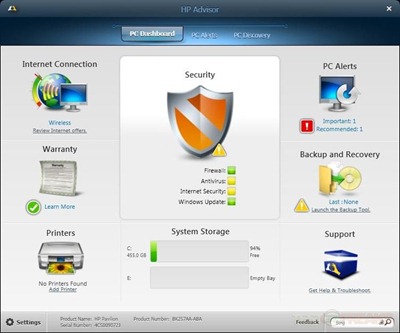 The second page is specifically PC Alerts: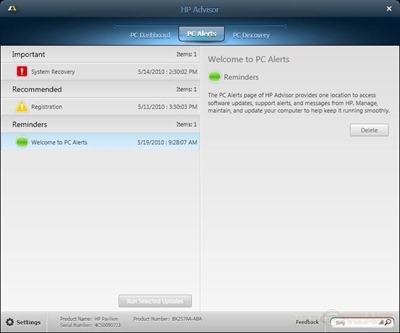 The last page is PC Discovery which is actually useful in helping you learn more about your PC, hence the name Discovery:
There's another piece of software called HP Support Assistant which is an all-in-one place to learn about your computer, troubleshoot it and get assistance.
HP also includes HP Games by Wild Tangent which is mostly trial stuff…
Here's the start menu so you can get a better look at everything:
Now I thought of running a bunch of benchmarks but i don't have anything to compare it to, this is the first All-in-one style PC I've ever had the chance to review. I did run some though out of curiosity.
When I ran 3Dmark06 I ended up with 1050 3dMarks which is shameful, but not entirely unexpected.
I also ran Cinebench 11.5 on the HP and on my Corei5 based computer. Now I know what the outcome will be, but it's just a basic comparison.
Here are the results on the HP:
Now here is my Corei5 based system:
As you can see there's quite a difference especially when it comes to OpenGl.
There's was no point really to run any more benchmarks, but you get the idea, it's not a gaming computer, but it's not expected to be either.
So it was time to play and having three kids means that they have to share a computer, but since the HP was here I figured why not utilize it for a bit and let my kids have some fun.
I connected the HP up to my wireless network with no issues at all and we were up and running on the internet, my four year old just loves this thing. He just thought to was great that the entire computer was inside of the monitor. Anyway, using the keyboard and mouse were fine really I didn't notice any lag, but I do miss having the side buttons on the mouse, oh well..
As far as speed at doing things, I was a bit surprised at how snappy the computer is really. Honestly I'm impressed, I was kind of expecting more of a netbook like experience but it wasn't that at all.
Popped a DVD in watched a movie and it was nice and smooth, and even HD playback looked great as well, it seemed to handle it great.
So I was expecting this PC to be on the noisy side, after all you've got all of those components crammed into such a small area, but it's not, it's very quiet and it seems cool really.
Conclusion:
So I've had some time to play with it, and my family has as well, my four year old just thinks it's the coolest thing going and he just loves it. I have to say myself, it's actually nice to use, it's nice to have a small setup that fits most anywhere that can do pretty much most anything. Yeah you can't exactly play games on it like you would on a more powerful setup, but you can do most anything else that you would with your computer. Plain and simple it's not a gaming system, and it's not meant to be, and I wouldn't expect it to be and neither should you. It's a PC that's meant for families and entertainment, and that I can tell you it all does well.
The HP pavilion All-in-One surprised me truly in what it can do and how it works, it's great little machine.
Pros:
+Overall a great and useful PC
+Decent performance for what it is
+Quick and quiet
+Small enough to fit most anywhere
Cons:
-Not great for gaming
| | |
| --- | --- |
| Grades: | |
| Overall | |
| Design | |
| Performance | |
To learn more about our review policy please visit this page HERE.