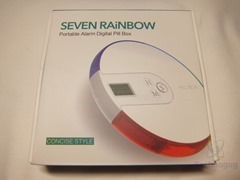 It's another day so it's another review and this one is another pill organizer from Hugh Birrell but this one is what I would call the deluxe edition as it looks a lot nicer, it's very attractive actually. This pill box has seven compartments that are color coded and it has a built-in clock with alarms to remind you to take your pills. Read on to learn more…

Specifications and Features
Hugh Birrell Weekly Pill Organizer LED Light Alarm reminders 7 Days Pill Box- Light Weight 4 Groups Clock Easy Carry Pill Box (rainbow)
How to use this 7days pill organizer?
-Wash prior to first use.
-Long press "S"button to start up,and press"S""H""M" bottom at same time to off.
-If no operation,2minutes into power saving mode to saving your battery life.
-12/24 hours switch-Press"H" and "M" bottom at same time.
-Press any key to stop the ringing bell.
How does this pill organizer help me to be on time with my daily medication ?
Each day has different color compartments,providing sticker could write what your want to record.
Making it extra simple and easy,so you will never forget to take your medication again!
Rainbow colors
The rainbow color of this pill box helps you locate the day easier,its prefect for scheduling your week's medication.
Travel friendly and Durable
Do you forget to take your vitamins when you travel?
This pill organizer is only 3 inches, small enough to fit in your pocket!
You must have noticed that some plastic boxes easily crack or lose shape when certain force is applied.
You don't have to worry about this with our pill organizers as these are strong and durable.
Dimension
Size 4.3*4.3*1 inch and 1 button battery included
Price: $14.99 (from Amazon at time of review)
The Review

Let's start with a video unboxing and then move on:
This pill organizer comes packaged well in an attractive box and once you get everything unpacked you'll find the box, instructions, two batteries and stickers that can be used for identification labels.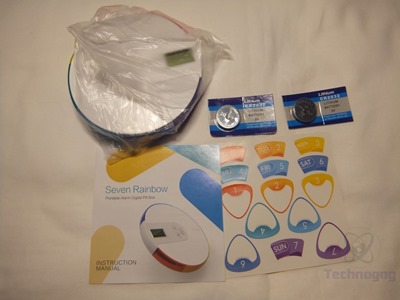 The organizer is nice looking, it's attractive really, it's about 4x4x1 inches in diameter and it's well made in my opinion.
The bottom of the box has small opening so you can pull the individual boxes out easily. You can also see what look likes a speaker there as well, that's for the alarms you can set to remind you to take your pills.
There are seven clear colored individual boxes for your pills.
The individual boxes snap open and closed fairly easily but they do stay closed securely so the pills won't fall out.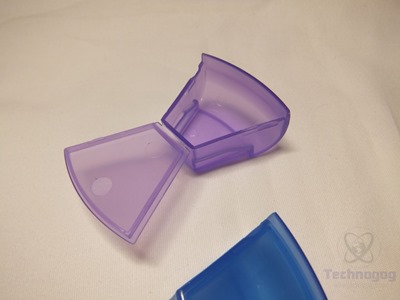 The clock section comes out of the case so you can clean the case and change the batteries but you'll have to remove the two boxes on either side first.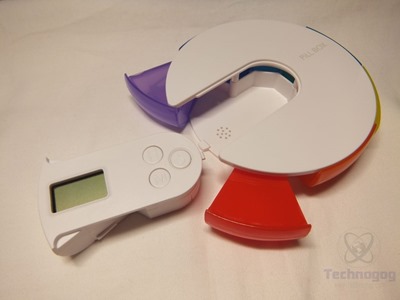 The battery compartment is on the bottom under a sliding cover, it uses just s single battery but they included two for you. The clock and alarm are set with the three buttons labeled H, M and S for Hours, Minutes and Seconds. You can set up to four alarms to remind you to take your pills.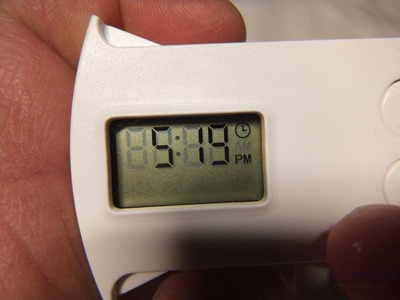 Conclusion

Now I like this pill organizer, and I think it's mainly because how nice it looks and the fact that the individual compartments are removable making it easier to use I think.
The pill organizer is well made and has a clock with four alarms to remind you to take your pills on time.
All in all it's a great product that I can find nothing wrong with, they even include a spare battery for you.

Pros:
+Looks nice
+Well made and simple to use
+Clock with LED and four alarms
Cons:
-None
| | |
| --- | --- |
| Grading | Scores Out of 10 |
| Overall | |
| Design / Aesthetic | |
| Value / Price | |
| Performance / Usage | |
Disclosure: This product was given to me for review by the company for review purposes only for free or at a discounted price.

To learn more about our review policy please visit this page HERE.