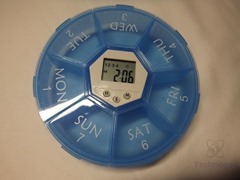 I've got a quick review for you today from the Home and Health category. When people think of health they don't necessarily think of technology, but technology can make life easier and can make your life better really when it comes to your health. What I have for review today is a pill organizer from a company called Hugh Birrell and this pill box comes complete with a digital clock built-in that allows you to set up to four reminder alarms so you'll never forget to take your pills. Read on to learn more….

Specifications and Features
Hugh Birrell 7Days Digital Pill Organizer LED Light Alarm reminders 7 Days Pill Organizer- Light Weight 4 Groups Clock Easy Carry Alarm Reminder Pill Box
7Days Digital Pill Organizer with 4 Alarm Reminder
Optimal Design
Alarms will automatically reset and go off at the same times tomorrow. No reset required.
You will never forget to take your medications again!
If you do not need the Alarm Reminder System,
You can take it off from the Pill Organizer and power off the timer by press H,S, M button at the same time
Attractive, Odorless and Long Lasting
What makes this pill organizer unique is that it comes in color blue.
It's made of tough and durable plastic.
You must have noticed that most plastic boxes release some pungent odor,
But our pill organizer is odorless and safe.
Perfect medi-planner
The organizer allows you to plan your 7 days medication.
It helps you make sure that you haven't missed any dose.
And our pill box against mistaken or forgotten dosages which is good for old people.
Convenient and easy to use
If you are going out or vacation this pill box is great for travel,
It can fit well into any purse, handbag or briefcase
Large Capacity
Pill Dispenser With Large Capacity:
A Prescription, Medicine, Vitamin, Fish Oil, Daily Supplements organizer with 7 spacious pill box compartments.
Dimension
Size: 4.3*4.3*1inch 2 button batteries (included) Removable lids for easy loading
And Secure Storage Package Include 7 Day Digital Pill Box with Alarm Reminder System.
Price: $10.99 (from Amazon at time of review)
The Review
Let's start with a video unboxing and then move on:
The Hugh Birrell pill organizer box comes packaged in a white box, inside you'll find a big which contains the box itself and an instruction sheet on how to use it and set the alarms.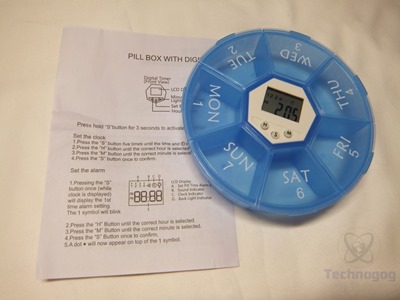 The box is small I guess, it's 4.3×4.3x1inches in dimensions and it uses two button cell style batteries for power that fit into the base via a sliding cover. The box is made of a clear blue plastic and it has numbers and days of the week abbreviations on it for seven days.
One great little feature I like is that the alarm clock section just pops out fairly easily so you can clean the pill box safely. You just push and it pops out and then just pop it back in. I like having the clock right there for you and it also has a built-in LED light so you can see it easily even in the dark. The clock allows you to set four different alarms so if you have four different pills you'll know when to take them.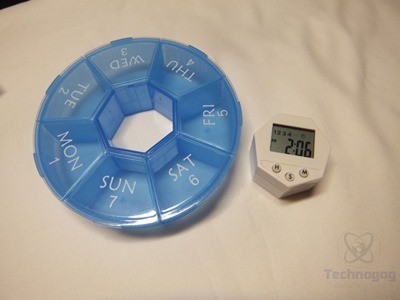 Each day is a pill compartment and they're fairly large and should be able to hold several pills big and small for you. The tops flip open via a tab on the edge but they do secure closed very well to keep your pills inside even in your bag while on the go.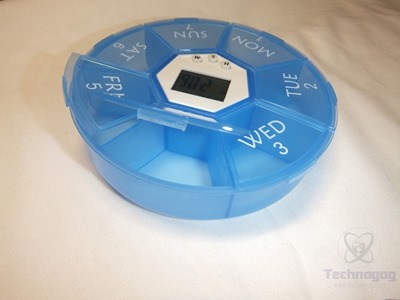 Conclusion

The Hugh Birrell 7 day digital pill organizer is fine by me, it's well made for sure and it's easy to use. The individual compartments secure closed very well so you can take it with you and not worry about losing your medicine.
The box is clear so you can see what's inside and it's easy to clean as the clock just pops out.
The clock has an LED light built-in so you can even see it in the dark and you can set up to four alarms to remind you to take your pills.
Decent little product for sure that I can find nothing wrong with.
Pros:
+Well made
+Small and portable
+Built-in clock and reminder alarms
Cons:
-None that I can find
Scores Out of 10
Overall

Design / Aesthetic

Value / Price

Performance / Usage

Disclosure: This product was given to me for review by the company for review purposes only for free or at a discounted price.
To learn more about our review policy please visit this page HERE.