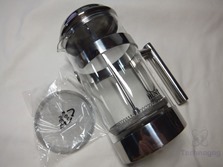 It's been a while since I've reviewed any kitchen products but I've got one of my favorites, the French press, and this one is from a company called Hunt Brothers. This French press is very well made of stainless steel and glass and it looks great and it just makes great coffee with no grounds in it. Read on to learn more…

Specifications and Features
Hunt Brothers French Press Coffee Maker 8 Cups/4 Mug, 1L, 34 oz | Best Coffee Press Pot, Heat Resistant Glass | High Quality Stainless Steel
Press to Cup with style
Simply with elegance the HUNT BROTHERS french press will deliver finest coffee aroma into your cup, and the 2nd, and the 3rd…
More is MORE
The great capacity of 34 Oz (1 liter) can serve not only you but also your family and friends. Enjoy many cups together (up to 8 per filling) and benefit from both quality and quantity of the HUNT BROTHERS french press – cause more is MORE!
Prime Quality
If you're a coffee lover you know that coffee grounds are a no-go! The problem can be caused by an uneven sealing between the carafe and the filter. Your solution for pure coffee pleasure: The Hunt Brothers french press stainless steel filtration system is manufactured with high precision that you can see, feel and – most importantly – taste!
Press for Happiness
This highly flexible product is ready for your individual coffee preference and will perfectly adjust to all coffee lovers personal wishes. Choose between single or double-screen-filtration, variable brewing times, the ideal quantity… Your delicious coffee brew is just about to get pressed!
The Hunt Brothers are renowned for their exceptional coffee accessories and consistently stand behind their products?
The HUNT BROTHERS french press comes with a 100% guarantee. In the unlikely event that you wish to return it, you'll be given a full refund.
Price: $29.99 (from Amazon at time of review)
The Review
Let's start with a video unboxing and then move on:
The Hunt Brothers French press comes packaged very well with lots of bubble wrap around it inside of the box and the box itself looks very nice and tasteful.
Once you get everything unpacked you'll only find the French press and an extra screen. Instructions aren't included in the box as they're printed on the outside of the box. The press itself is glass and stainless steel and it's about nine inches tall and about 3.75 inches in diameter for the carafe section. This French press is very well made and it looks great really and it seems well made overall. Capacity is about 8 cups or 34 ounces.
One of the things I love about this French press is that you can take it apart, the glass carafe comes out from the stainless steel frame for easy cleaning.
The plunger comes apart in four pieces, the bottom, screen, spring and then the lid with the plunger section.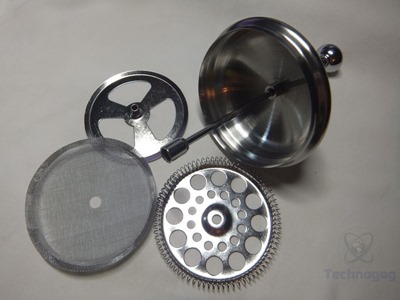 For testing I made coffee of course and it came out great as I expected from a quality French press. The instructions mention to brew the coffee for four minutes but I've always brewed my coffee in a French press for five minutes as I like it strong so I did it my way and it came out fine. I didn't see any coffee grounds in my coffee which is a plus of course.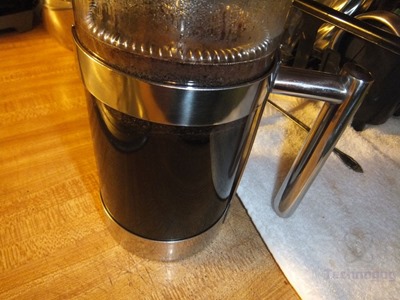 Conclusion
If you're looking for a good looking and well made French press then make sure you take a serious look at this one from Hunt Brothers as I like it a lot really. This French is simple to use and simple to clean thanks to the fact that the glass carafe section can be removed from the stainless steel frame.
A French press makes the best cup of coffee in my opinion, if you like coffee then you need a French press.
Pros:
+Comes apart easily
+Very well made
+No grounds in coffee
+Includes extra screen
+Simple to use
Cons:
-None so far
| | |
| --- | --- |
| Grading | Scores Out of 10 |
| Overall | |
| Design / Aesthetic | |
| Value / Price | |
| Performance / Usage | |
Disclosure: This product was given to me for review by the company for review purposes only for free or at a discounted price.
To learn more about our review policy please visit this page HERE.