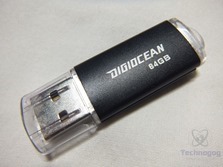 Up for review today I've got a USB 2.0 64gb flash drive from Digiocean. This review will be quick as most flash drive reviews are, so read on to learn more…
Specifications and Features
DigiOcean Black 64 GB USB 2.0 Flash Drive
The DigiOcean 64 GB USB 2.0 Flash Drive provides the ultimate mobile storage solution for people on the go. Working on a presentation and need to take it with you? Want to share a new song, picture or video with your friends? Simply copy the file onto Attache and take it with you. Put it in your pocket, wear it, put it in your backpack or briefcase and you're good to go. To access your data, simply plug the Attache into virtually any PC or MAC without the need for bulky cables or adapters. Access your files anytime, anywhere.
Specification:
-Drive Capacity:64GB
-1-piece until with protection cap
-Color:Black
-Interface:USB 2.0
-Speed for Read and Write: 15MB/Sec and 6MB/Sec
-Product size(inches): 2.16 x 0.35 x 0.69
-Product weight(oz):0.35
Price: $17.45 (from Amazon at time of review)
The Review
The Digiocean 64gb flash drive just ships in a little padded envelope, which is fine. The drive is small at only about 2.25 inches long and about .75 inches wide and just barely .25 inches thick. The drive has a clear cap on it and a small loop on the tail end where you could attach a lanyard. The drive has a metal housing which makes it durable and rugged for sure.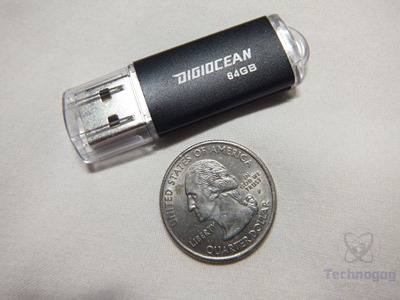 This flash drive does have a red LED in the tail cap that lights up red when plugged in and blinks when there's activity like transferring files.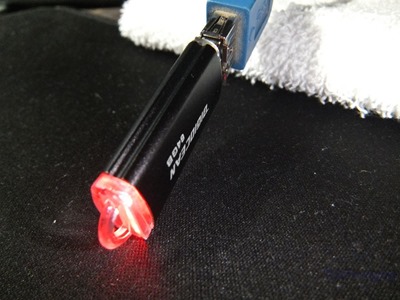 The Digiocean drive is a USB 2.0 flash drive and I've got another 64gb USB 2.0 flash drive from Kingston called the DataTraveler 150 which is what I'm using for comparison. The size difference is amazing, the Kingston drive is several years old and it was one of the first 64gb drives on the market and it's just a huge size difference between then and now in terms of technology for storage.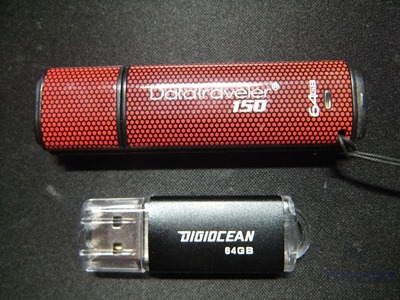 For testing I ran Atto Disk Benchmark on both drives for comparison.
Digiocean:
Read: 31842
Write: 24672
Kingston:
Read: 32458
Write: 21806
As far as speeds, the Digiocean is faster at writing but slower at reading, but they're still close overall.
Conclusion

The Digiocean drive is priced at about $18 which I guess is fine for a 64gb capacity flash drive, but it would be nice if it was USB 3.0 instead of 2.0 as it would be much faster.
Pros:
+Well made
+Decent speeds overall
+Small and portable
Cons:
-USB 2.0
| | |
| --- | --- |
| Grading | Scores Out of 10 |
| Overall | |
| Design / Aesthetic | |
| Value / Price | |
| Performance / Usage | |
Disclosure: This product was given to me for review by the company for review purposes only for free or at a discounted price.
To learn more about our review policy please visit this page HERE.