This past month's release of Intel's Sandy Bridge platform will help build the USB 3.0 user base since this interface comes installed in most motherboards designed for this new CPU. Since USB 3.0 features transfer rates up to 4.8Gbps there will be a slew of new peripherals designed to take advantage of this speed. I personally can't wait for the USB 3.0 iPod/iPhone cable; backups and syncs will take seconds instead of minutes.
One way to take advantage of this bus speed is to pair a speedy Solid State Drive (SSD) with an enclosure using USB 3.0. Kingston is one of the first to enter this market with the release of its HyperX MAX 3.0, their external SSD based USB 3.0 drive. This drive uses flash memory in place of a mechanic drive which provides advertised read speeds of up to 195MB/sec and writes up to 160MB/sec. Kingston offers the HyperX MAX 3.0 in three capacities – 64GB, 128GB and 256GB.
The Kingston HyperX MAX 3.0 arrives in a blue and white cardboard package with the drive partially visualized through a clear plastic window. On the front are the advertised read and write speeds and the SuperSpeed USB logo that will be seen with new USB 3.0 products. The back of the box lists in several languages the system compatibility, which ranges from Windows XP (SP3) up to Windows 7. Macs are not included on this list since Apple has not incorporated USB 3.0 into its machines as of today; but the HyperX Max 3.0 is recognized as a USB 2.0 device on the Macs that I have tested with it.
Inside the package we find the HyperX MAX 3.0 drive and a short USB 3.0 cable; both contained in a clear plastic clamshell. The HyperX MAX 3.0 is composed of aluminum casing, which is a similar shade of powder electric blue as the current Hyper X performance RAM heatsinks. Kingston's choice of a metal case makes the HyperX MAX 3.0 more durable than plastic house external drives and also doubles as a heatsink to protect for the SSD housed within. For today's review we will be looking at the 128 GB version of the HyperX MAX 3.0.
On the top of the casing we see the HyperX MAX 3.0 logo embossed in silver with the drive capacity printed below it. The Kingston logo is found on the lower right towards the front of the drive. There is a label towards the rear next to the USB 3.0 connector. Above this label is a LED that lights blue when connected to a USB 3.0 port and green when attached to a standard USB 2.0 port.
Flipping the HyperX MAX 3.0 over we see four rubber feet to keep the drive from sliding around. Beneath these rubber pads are four screws that keep the casing closed. One of the screws seemed to be covered by epoxy; which is a minor impendent as scraping it off was rather simple.
Opening the case reveals an SSD circuit board with a standard SATA power/connector attached to the USB 3.0 board. This SSD is labeled with the drive capacity. An adhesive thermal pad keeps the SSD attached to the top of the aluminum casing. Here is a view of the SSD and USB 3.0 controller.
Researching this product on the Internet it was determined that a Kingston V+ 100 SSD powers the HyperX MAX 3.0. My Kingston source did verify this information, so if you want a naked SSD for use outside of the ensclosure then you can always extract it from the HyperX MAX 3.0.
In terms of size, the HyperX MAX 3.0 is smaller than most 2.5 external hard drives as it is comprised of a SSD daughterboard instead of a 2.5" housing. dHere is a size comparison next to a Seagate FreeAgent Go drive.
Specifications:
For comparison the HyperX MAX 3.0 was tested against the Kingston DataTraveler Ultimate 3.0, and Seagate Black Armor USB 3.0 that is a mechanical 2.5" hard drive using a USB 3.0 interface.
Benchmarks were performed using Sandra 2010, HD Tune, CrystalDiskMark 3.0 and ATTO Disk Benchmark.
Here the HyperX MAX 3.0 was benchmarked at USB 2.0 and 3.0 speeds against the Kingston DataTraveler Ultimate 3.0 running USB 3.0. Sandra lists some comparable reference drives for comparison during each benchmark.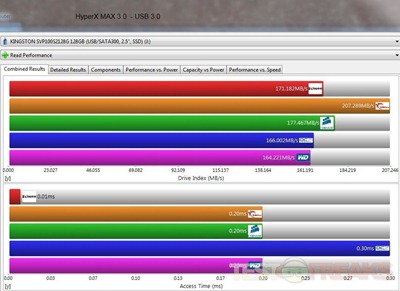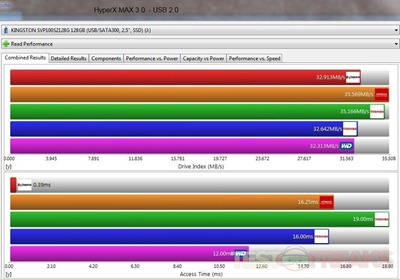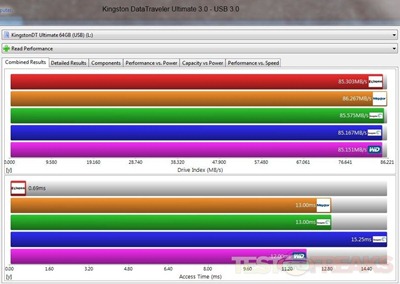 On HDTune we see the following results. The Kingston HyperX MAX 3.0 when operating at USB 3.0 speeds trounces the competition.
CrystalDiskMark shows similar results with the HyperX MAX 3.0 running against the portable Kingston USB 3.0 drive.
Finally on ATTO Disk Benchmark we see the same style of results with the HyperX MAX 3.0 coming out on top.
The HyperX MAX 3.0 came in as advertised with speeds consistently approaching 195MB/sec reads and 160MB/sec write speeds.
As USB 3.0 becomes more ubiquitous drives such as the HyperX MAX 3.0 will become more common. The lack of moving parts means you don't have to worry about accidently dropping the drive and corrupting your drive. Of course I would not recommend purposely dropping the HyperX MAX 3.0.
Since the HyperX MAX 3.0 uses an SSD which connects via a SATA to USB 3.0 bridge there is no ability for the Windows OS to run TRIM. Fortunately the Kingston V+ series of SSDs use firmware level garbage collection, which means the HyperX MAX 3.0 should not suffer performance degradation with multiple writes. Of course doing a periodic secure erase of the drive should hurt and may restore maximal performance.
Conclusion:
Overall the HyperX MAX 3.0 is an impressive external drive. The drive is stylish in appearance and lightning fast when paired with a USB 3.0 connection. It is one of the fast external devices that I have encountered as a reviewer.
The main drawback on the HyperX MAX 3.0 is the price. Since this is a cutting edge external drive utilizing an SSD, the price is going to be high. Yet when checking the price of a comparable capacity Kingston V+ Series SSD on Newegg the prices between the external drive and the internal SSD are not too dissimilar.
Kingston's HyperX MAX 3.0 provides internal SSD speeds and performance in a portable sleek package. If you deal with large files such as video or RAW files then this speedy external drive will be a huge time saver. Of course having a USB 3.0 capable PC is required as well.
If speedy file transfers are what you require then the Kingston HyperX MAX 3.0 is probably the best choice on the market.
Pros:
+Fast
+Did I mention fast??
+SSD inside
+USB 2.0 compatible
+Works on Macs
+No moving parts
+Shock resistant
Cons:
-Expensive
-Lack of included software
| | |
| --- | --- |
| Grades: |   |
| Overall | |
| Design | |
| Performance | |
To learn more about our review policy please visit this page HERE.