Kingston's HyperX moniker has always been assigned to their performance products whether it is computer memory or USB drives. Now you can add SSDs to that naming convention as they have released the HyperX SSD, a performance based drive geared towards the computer enthusiast market.
Featuring write speeds of 510 MB/s and read speeds of 555 MB/s this SSD is more Porsche than Toyota. These speeds are quite an upgrade from Kingston's previous consumer SSDs.
Kingston offers the drive in either 120 GB or 240 GB versions as either a standalone drive or an upgrade kit. These SSD drives feature the latest SandForce controllers which are some of the best currently available.
In the past the best way to speed up your computers performance was by adding more memory. With the advent of SSD technology, the best way to turbocharge your PC is by using the solid-state drive as ones boot drive.
Using the Kingston HyperX SSD it looks like you'll be nitro supercharging your computer.
The Kingston HyperX SSD comes in a stylish package with the drive visualized on the front along. The package we received had the incorrect read and write speeds listed on the front; the correct speeds are actually the ones listed on the Kingston website. On the back is a short feature list in several languages along with the package contents listing.
Taking a page from Apple, Kingston made the package seem just as stylish as the drive itself. The cover of the box slides up to reveal the HyperX SSD and the Installation CD. Below this foam SSD holder is the 2.5" USB enclosure and a HyperX branded screw driver. The rest of the package includes a 3.5″ bracket, mounting screws, SATA data cable and mini-USB cable for the enclosure.
Overall the packaging is first class with the HyperX brand found on almost every item.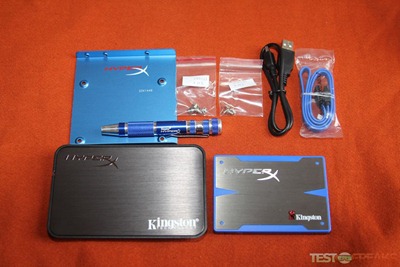 The Kingston HyperX SSD comes in 120 GB and 240 GB capacities. The drive itself features Kingston HyperX branding on a silver titanium colored X over the blue top cover of the drive; this gives it a look reminiscent of other HyperX products.
Like most other SSD drives the Kingston HyperX comes in a 2.5 inch form factor measuring 10.1 X6 .9 X9 .3 mm and weighing 94 grams. Internally the drive is populated with Intel 25 nm NAND using a second-generation SandForce controller. The drive supports OS capable TRIM and garbage collection at the firmware level.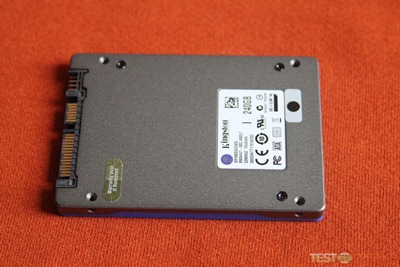 Setting the Kingston HyperX part from other SSD are the 25 nm NAND which are rated for 5000 erase cycles as opposed to the usual 3000 cycles found in other drives. Theoretically this means the HyperX SSD will last 40% longer than the competition using Micron or Toshiba NAND components.
As with most other SSD makers, Kingston offers a 3 year warranty on the HyperX line. Hopefully you'll never have to take advantage of this coverage.
In the upgrade kit Kingston provides a USB 2.0 enclosure along with a copy of Acronis HD for mirroring the users current drive onto the HyperX SSD prior to installation into the target machine. For such a fast SSD it's a shame that Kingston chose to use USB 2.0 instead of USB 3.0. The 3.5" bracket lets the Kingston HyperX fit into a PC case without any troubles.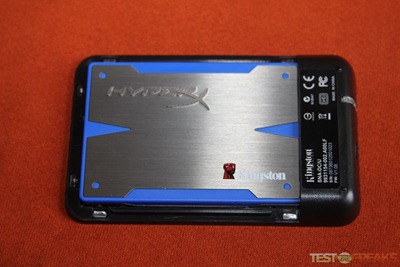 Specifications:

Kingston's HyperX SSD combines the latest SandForce controller technology with premium NAND Flash, reducing load times while increasing performance and endurance. It provides high-speed SATA Rev 3.0 (6 Gb/s) transfer speeds for larger bandwidth, which power users require for advanced gaming, multitasking and multimedia computing power. Kingston's HyperX SSD lets users load games and applications faster, increase frames per second (FPS) and quickly transfer and edit large media files. It's cool, silent and requires less power and no additional cooling requirements.
When configuring the HyperX SSD partition, the user can choose between having the maximum available capacity for data storage or giving up a little space to increase performance and endurance. This additional space is called over provisioning on an SSD. The amount of performance and endurance increase depends upon the type of data being stored on the HyperX SSD. The more data that is MPEG, JPG, ZIP or ARC file types, the greater the benefit for this increased over provisioning.
HyperX SSD uses an advanced wear leveling technology that distributes writes evenly across all the flash blocks in the SSD to maximize overall drive endurance. Additionally, wear leveling ensures that the individual Flash memory blocks are consumed at a very balanced rate, not to exceed a 2-percent difference between the most often written blocks and least written. This enables the HyperX SSD to provide the longest possible life for the user while maintaining optimal performance.
Features:
SandForce controller technology
High-speed SATA Rev 3.0 (6 Gb/s) transfer speeds
Performance — incredible speeds for advanced gaming, multitasking, and multimedia computing power
Reliable — much less likely to fail than a standard hard drive
Shock-Proof — dropping your notebook no longer means losing your data
Cool & Quiet — runs silent and with no moving mechanical parts to generate heat
Innovative — uses NAND Flash memory components
Supports S.M.A.R.T., TRIM, and Garbage Collection
Guaranteed — three-year Kingston® warranty, 24/7 tech support
Specifications:
Form factor — 2.5″
Controller — 2nd Generation SandForce® Controller SF-2281
Components — Intel® 25nm Compute-Quality MLC NAND (5k P/E Cycles)
Interface: — SATA Rev 3.0 (6Gb/s), SATA Rev 2.0 (3Gb/s)
Capacities2 — 120 GB, 240 GB
Sequential reads 6Gb/s3 — 555MB/s for all capacities
Sequential writes 6Gb/s — 510MB/s for all capacities
Sustained Random 4k Read/Write —

120GB – 20,000/60,000 IOPS
240GB – 40,000/60,000 IOPS

Max Random 4K R/W4 —

120GB – 95,000/70,000 IOPS
240GB – 95,000/60,000 IOPS

PCMARK® Vantage HDD Suite Score5 —

120GB – 81,196
240GB – 81,394

Supports S.M.A.R.T., TRIM, and Garbage Collection
Warranty/support: — Three-year warranty with free 24/7 support
The installation process is the same like most other SSD components. Once the drive is formatted you'll have to pay the gigabyte conversion tax meaning the 240 GB hard drive becomes 224 GB. The HyperX SSD was tested on the following platform.

CPU: Intel Core i7 2600K
Motherboard: Asus P8P67 PRO
Memory: 8GB Mushkin DDR3 1300
Video Card: Galaxy 460GTX
Hard Drive: Western Digital 250GB 7200RPM, Samsung 1 TB 7200 RPM
PSU: Ultra X-Finity 1000 Watt Power Supply
The latest Intel Rapid Storage Technology were installed to take advantage of the SATA Rev 3.0 (6 Gb/s) speeds of the SandyBridge Motherboard.
For comparison an 80 GB Intel X25-M SSD with 250MB/s read and 70MB/s write speeds and the Kingston SSDNow V+ 128 GB with 230MB/s read and 180MB/s write speeds were used. Benchmarking was performed with SANDRA 2010, HDTachRW, ATTO Disk Benchmark and CrystalDiskMark 3.0, AS-SSD.
Looking at the results will not produce any shocking revelations as the HyperX SSD is smoking fast and dusts the budget SSDs.
Sandra 2010 Physical Disk Benchmark's Drive Index Read Performance has the HyperX SSD operating at 509 MB/s.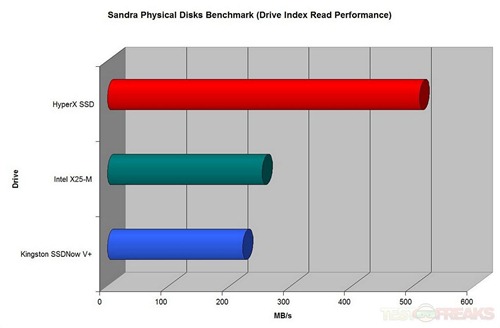 Next up, HDTachRW shows the HyperX SSD puts at 407MB/s burst and 395 MB/s sequential read.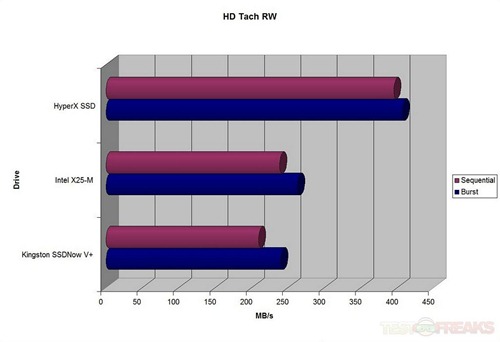 ATTO Disk Benchmark tests both the read/write speeds of the drives. The first two runs compare the Kingston HyperX SSD when connected to a SATA (3GB/s) versus a SATA (6GB/s) interface. The other two are the Intel and Kingston SSDNow V+.
CrystalDiskMark 3.0 also tests read/write speeds showing that the HyperX is lightning fast in both facets.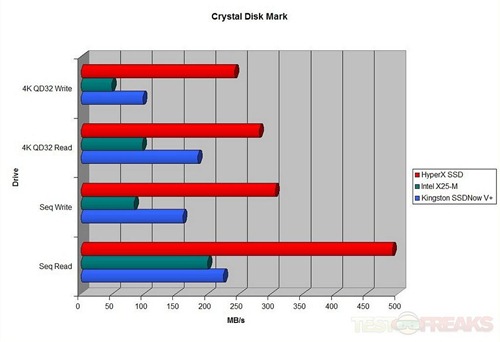 Finally AS-SSD was run using the Main, Copy and Compression Benchmarks.
Kingston advertises 40,000/60,000 IOPS for 4K Read/Writes and AS-SSD shows this to be accurate.
In real world performance, the installation of the HyperX SSD made a substantial difference in boot up time for Windows 7. Starting from the end of the BIOS screen it took slightly over 10 seconds for Windows 7 to be fully loaded and operational. Applications loaded significantly faster over standard platter based hard drives and slightly faster than the other budget based SSDs.
Overall the HyperX SSD is everything a solid state drive should be. It has both TRIM and garbage collection to keep the drive in optimal shape even after thousands of read/write cycles. Also it is designed to tolerate 5K erase cycles making it one of the longest lasting drives around.
Conclusion:

The Kingston HyperX SSD is an amazing way to turbo charge one's PC. Other than the price there is almost nothing else to critique with this product. The drives read and write speeds are phenomenal; although to take full advantage of them you'll need a motherboard utilizing SATA (6 GB/s) connections. Currently only Sandy Bridge-based motherboards have this controller already on board. The only other way to take advantage of the HyperX SSD's speed is to acquire an add-on card.
So if you do not have access to this faster SATA port then you may need to look for a consumer grade SSD as you will not be able to take advantage of the HyperX's speed gains.
The 40% gain in life expectancy makes the drive an even better value with its 5000 erase cycles. Plus you'll be getting Intel NAND which are tailor made for most motherboards as Intel is the most implemented SATA (6GB/s) interface.
If you have a SATA 6 Gb/S port and the funds then the HyperX SSD is probably the best upgrade you can make to your machine to speed up its performance. The included upgrade software and 2.5" enclosure allow quick and easy migration of one's existing system. Plus you'll have a spare 2.5" drive enclosure and a nice looking Kingston HyperX branded screwdriver for future PC upgrades.
Pros:
+Longer lifespan with 5000 erase cycles
+Upgrade kit is fully stocked
+Stylish HyperX appearance
+Lightning fast speeds
Cons:
-Expensive
-USB enclosure uses USB 2.0 interface
| | |
| --- | --- |
| Grades: | |
| Overall | |
| Design | |
| Performance | |
To learn more about our review policy please visit this page HERE.