The 70's are back again it seems as we're seeing many styles that they're calling retro on the market these days. Sunglasses back in the 70's were kind of big but they were fashionable and they're back and I'm not sure if that's a good thing or bad thing. Today for review I've got the i-Design ID1010 Screw Free Sunglasses which are as the name suggest screw free, there are now screws on the hinges and this a good thing in my opinion. These sunglasses are very well made and high quality, they're super lightweight at just over an ounce. Objectively these are excellent sunglasses, subjectively, not so much as they're just not my style at all. Read on to learn more…

Specifications and Features
i-Design ID1010 Screw Free 62mm Rectangular Sunglasses
The i-Design ID1010 Ultra Light Rectangular Sunglasses are SUPER COMFORTABLE with STYLISH FASHION DESIGN FOR MEN.
The TR90 NYLON LENSES ensure 100% UV PROTECTION of UVA, UVB, UVC and block harmful blue light up to 400nm while provide SUPERB OPTICAL CLARITY.
The 310 stainless steel shatterproof top quality frame makes the sunglasses SUPER LIGHT.
The synthetic rubber earpieces and nose-pads will give you the ULTIMATE COMFORT EXPERIENCE.
The unique screw-less design lead you to the edge of the fashion industry. If you like ray ban, oakley aviator and rayban sunglasses wayfarer series, you will also like these cool sunglasses.
All Sunglasses come with Original Sunglasses Box, Sunglasses Bag and Cleaning Cloth.
Features/Specs:
-Imported
-metal frame
-Composite lens
-non-polarized
-Lens width: 62 mm
-Lens height: 46 mm
-Bridge: 18 mm
-Arm: 138 mm
-ULTRA LIGHT RECTANGULAR 62MM FRAME: 310 Stainless steel shatterproof super light frame with unique durable design present the top class quality. If you like ray ban and oakley aviator or rayban wayfarer sunglasses, you will also enjoy these cool sunglasses.
-NYLON LENS 100% UV400 PROTECTION: the TR90 lenses ensure 100% of UV protection (UVA, UVB, UVC) and block harmful blue light up to 400nm & provide superb optical clarity.
-SUPER COMFORTABLE: synthetic rubber earpieces and nose-pads will give you ultimate comfort experience and ideal for outdoor sports such as golf, hiking, camping, outdoor party, and you name it.
-STYLISH FASHION DESIGN FOR MEN: new screw free design will lead you to the edge of fashion industry, make you look great and feel great.
-ORIGINAL FROM FRANCE & HANDMADE: this delicate screwless design is original from France and we use handmade process to make it perfect.
Product Dimensions: 7 x 2.5 x 2.5 inches; 1.1 ounces
Price: $59.99 (from Amazon at time of review)
The Review
Let's start with a video unboxing or overview:
The packaging is a brown box with just very basic information on it but inside you'll find a flashy and shiny sliver box wrapped in plastic with the i-Design logo on it
The sliver box opens and expands actually to reveal a white cloth carrying bag. The whole inside of the box is lined with a black felt, overall it makes a very nice presentation.  When you get everything unpacked you'll find the sunglasses, cloth carrying bag and a cleaning cloth with the i-Design logo on it.
The glasses are primarily black in color with a red stripe across the top or accent. They weigh only 1.1 ounces so they're very lightweight, they have metal frames and composite lens that are slightly tinted being darker at the tops and lighter at the bottom.  The lenses are what they call TR90 and are rated at UV400 and they offer 100% UV protection from UVA, UVB and UVC, and they do block out blue light as well.
Honestly I thought they were plastic frames, that's how light they are and how they feel. They're made of 310 stainless steel actually, but it's super lightweight and they're supposedly shatterproof. I like the finish on them, it's a matte finish and it's different as most sunglasses are glossy.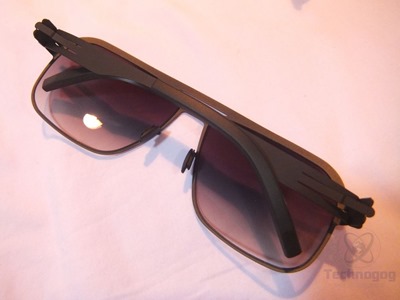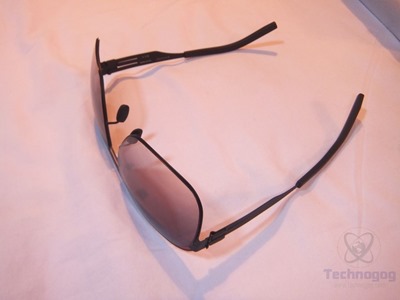 The hinges are screw free and kind of springy honestly, but they do stay on your head with no problems. The screw free design is very interesting, it does work and it seems sturdy and stable. I wasn't sure about it at first but after wearing them and using the hinges I've come to like it.
This is the selfie I used for Instagram with me wearing the i-Design sunglasses, but personally I don't care much for them as they're too big in my opinion, but that's the style now it seems. The 70's are making a come back, or they're back I guess, for better or worse. I put them on and my kids laughed at me, so that's not a good sign there. Objectively they're nice, but subjectively I just don't like them.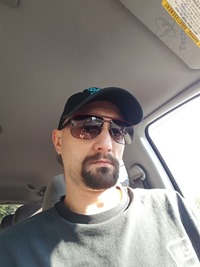 Conclusion
If I were to review these sunglasses subjectively or my personal opinion I would have to say they're not that good, but that's me, I just don't like them, they're too big, at least they are for my face I think. My kids laughed at me when I wore them so that's not a good thing?!
Objectively these are great sunglasses that are very lightweight and very well made. The screw free design is unique and I like it, there's no screw that might get loose or lost and that's a good thing as I know my kids always seem to loose them or need them tightened.
The frames are lightweight yes, but they seem sturdy and I like the non-glossy finish that they have.
The i-Design sunglasses are comfortable to wear for long periods, really it's almost like you're not wearing them.
The lenses look dark but they really aren't, you can see perfectly fine through them with only a slight tint to them.
The carrying case is a nice cloth bag and they do include a cleaning cloth, but you could use the shipping box as a case too if you wanted.
These sunglasses block out UV light and they would be great for any outdoor activity like hunting, fishing or camping and hiking or just driving.
All in all they're not bad sunglasses but you just have to like the style of them.
After seeing the excellent quality of these I will be taking a good look at the other designs and styles of sunglasses that i-Design has to offer and hopefully I'll find something more to my liking or style.
Pros:
+Excellent quality overall
+Screw free design
+Includes carrying bag and cleaning cloth
Cons:
-None that I could find objectively
| | |
| --- | --- |
| Grading | Scores Out of 10 |
| Overall | |
| Design / Aesthetic | |
| Value / Price | |
| Performance / Usage | |

Disclosure: This product was given to us for review by the company for review purposes only, and is not considered by us as payment for the review.
To learn more about our review policy please visit this page HERE.