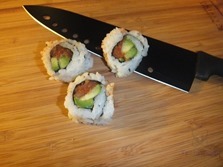 Up for review today we're back in the kitchen for a chef knife review, or more specifically what they're selling as a sushi knife. Yes it's called a sushi knife but it can be used for anything in your kitchen. The knife is from a company called Kovot and it surprisingly sells for under ten dollars on Amazon right now. The knife features a non-stick blade making the food not stick to it and this makes it very to clean as well. I've been using the knife for most everything and I've come to like it very much. it's not perfect but it's well worth the cost for sure. Read on to learn more…
Specifications and Features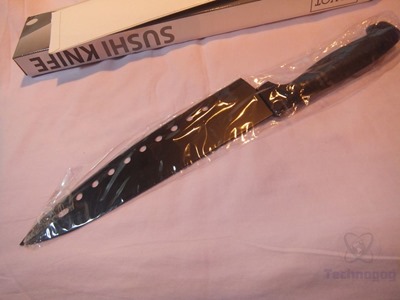 The knife is 12.5 inches long and the blade is 8 inches long and about 1/8 inch thick. The knife is made of stainless steel that's coated with a non-stick material so the food doesn't stick to it and it makes it easier to clean.The handle is made of a non-slip plastic material and it's slightly textured for grip. All in all it feels nicely made really, I would not expect it to cost below $10 if I didn't already know the price. The knife is lightweight and it weighs only a few ounces.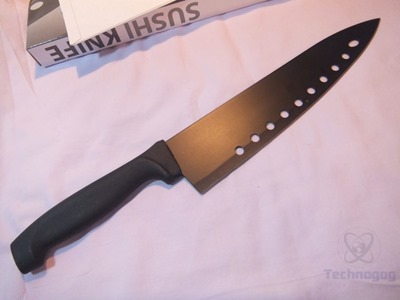 The Kovot knife is being sold as a sushi knife but it can be used for anything obviously, especially since it's non-stick. I used it for many things, sushi, steak, tomatoes, bread and more and it worked just fine for everything.
I've never owned a knife with a non-stick blade before so I was very curious as to using this one and I was pleasantly surprised by the non-stick coating for everything I cut, it didn't really stick like it did with my regular steel knives.
One small complaint about this knife is the handle thickness, it's a bit think in both width and height. I was a chef for many years and I've got decent knives from Mundial and Forschner, the Mundial handles are a polycarbonate and thin and the Forschener knives are rosewood and those are thick handles. The Mundial handles are actually thin compared to the Forschner knives but nowhere near as thin as the handle on this Kovot knife, it's just a bit too thin for my tastes. yes I can use it but it just took quite a while to get accustomed to.
The other small complaint could be that the knife wasn't as sharp as it could be when it arrived. I didn't actually have to get out my stone to sharpen it but I did run it a few times down my steel and that helped a lot, so it wasn't totally dull when it arrived but I like my cooking knives to be razor sharp. For most people the sharpness of the blade when it arrived should been fine really, I just personally prefer my knives to be as sharp as they can be.
Another very small complaint could be the holed in the knife, I noticed food gets stuck in them, especially when I was cutting beef. So you have to be careful when cleaning it for sure.
The knife does have a non-stick coating on it and that makes it very easy to clean.
Conclusion
The Kovot Non-Stick Chef Sushi Knife is very inexpensive but yet works very well, I was really surprised by how low the price was, I expected it to be higher.
The low price is a good thing though as I could easily take it with me camping and if I lost it wouldn't be as sad as if I had lost one of my expensive chef knives in my collection. I'm not saying it's a throw away type knife though, it is very well made, especially if you consider the low price. Even though it's low priced I would be sad if I did lose it.
The knife works very well, I was pleasantly surprised by the quality of it and how well it works really.
The non-stick edge keeps the food from sticking and it makes it easier to clean.
Overall I like the Kovot knife very much and it has earned a place next to my old chef knives in my kitchen for sure.

Pros:
+Non-stick knife blade
+Easy to clean
+Well made, especially considering the price
+Lightweight
Cons:
-Handle is a bit small for me
-Need to be cleaned carefully, food can get stuck in the holes
-Needed to be sharpened slightly before use
| | |
| --- | --- |
| Grading | Scores Out of 10 |
| Overall | |
| Design / Aesthetic | |
| Value / Price | |
| Performance / Usage | |
Disclosure: This product was given to us for review by the company for review purposes only, and is not considered by us as payment for the review.
To learn more about our review policy please visit this page HERE.