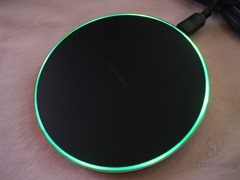 I love wireless charging, my last three phones have had it built-in and it would be odd for me to get a phone without it I think. Today I've got a quick review for you of a decent and well made wireless charging pad from a company called I Plus. The pad can charge normally with a regular USB port but with enough power it can enable fast wireless charging, but you'll need an external power source for that. Read on to learn more…

Specifications and Features
I Plus Certified QI 10W Fast Wireless charger Pad For iPhone X, 8, 8 Plus, Samsung Galaxy Note S9, S9 Plus Free Phone Holder Sticker
-FAST CHARGING: You get fast charging with this Oi wireless charging pad. It charges your iPhone 20% Faster than 5W chargers and also compatible with other smartphones. See list of smartphones compatibility below
-CHARGE WITH CASE 5MM THICKNESS OR LESS: It can charge your phone with case that's 5mm in thickness or less and when not charging with case, then you have to remove the case to charge. For charging to be perfect.
-POSITIONING: Ensure your phone is well placed at the center of the charging pad for faster, better and efficient charging. It is sleep friendly.
-FREE PHONE HOLDER AND PHONE STICKER INCLUDED: Included is free phone holder and phone sticker to mount your phone anywhere and anyplace whether in your car, on the wall, in kitchen or any other place you mount your phone for your own convenience. This is absolutely free and included in your package.
MATERIAL: Aluminum Alloy make it a light-weight and pocket size
Dimension 3.8 x 3.8 x 0.3 inches
Price: $14.99 (from Amazon at time of review)
The Review

Let's start with a video unboxing and then move on:

The I Plus wireless charging pad ships in a sturdy cardboard box which has foam inside to protect the charger and accessories. Once you get everything unpacked you'll find the charging pad, micro USB cable and user manual. As a bonus they include a pack of two sticky mounting pads so you can use one for your phone in your car or wherever and then one for the charging pad if you want, of course you can use them for whatever too.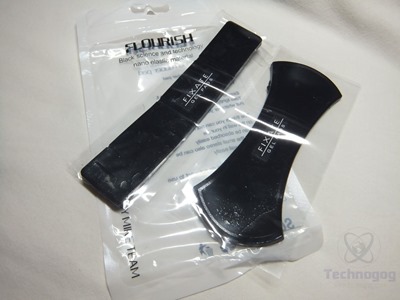 The pad I got for review has a black colored top with a red colored aluminum side and base, the base also has three non-slip feet. There are other colors available as well. On the edge is the micro USB port to power the charging pad. The pad seems very well made, I like the aluminum base as it not only makes it sturdy but it helps to keep it cool as it acts like a heatsink. The pad is thin at .3 inches thick and it's 3.8 inches across.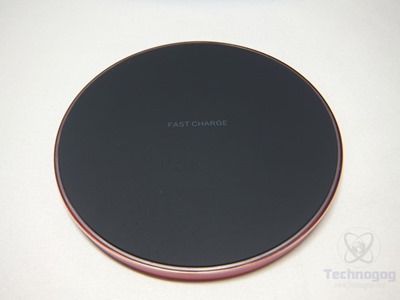 When plugged in and powered on the pad has a light green LED that breathes or blinks slowly around the edge of the pad to let you know it's powered on and ready to be used.
I'm using the I Plus charging pad with my Samsung Galaxy S9 and it works fine, charging is nice and fast but I'm happy to say that it works even with my Otterbox Commuter case on the phone so I don't have to remove the case to charge. The pad slowly blinks or breathes blue around the edges when charging your phone. I should note that to get full fast charging you'll need to use something other than a regular USB port on a computer, you'll need an adapter of some sort and I have one so that works for me fine as a fast charger or as fast as my other wireless charger that is supposed to be a fast charger. I had them both hooked up to power and and the phone said the same time to complete charge for both pads.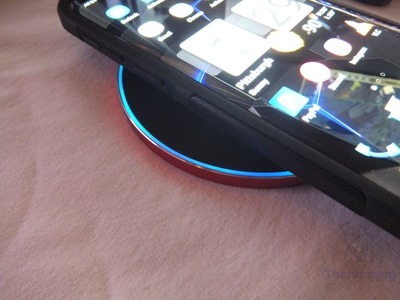 Conclusion

The I Plus charging pad seems well made and sturdy thanks to the aluminum base, but it's thin and won't take up much space on your desk or in your bag if you want to take it with you.
The pad seems to charge as fast as my other wireless pad, it works just a good, no issues there and I can charge my phone right through the case which to me is very important as who wants to take the case off their phone every time they charge it?!
For the price I think the I Plus Qi charging pad is worth it, it's just $15 on Amazon right now but they also include the sticky pads for you as a bonus.

Pros:
+Well made
+Includes bonus sticky pads
+Fast charging capable
Cons:
-None
| | |
| --- | --- |
| Grading | Scores Out of 10 |
| Overall | |
| Design / Aesthetic | |
| Value / Price | |
| Performance / Usage | |
Disclosure: This product was given to me for review by the company for review purposes only for free or at a discounted price.

To learn more about our review policy please visit this page HERE.