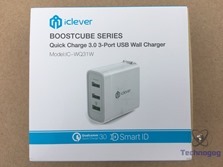 It's been awhile and I may be a little rusty with this review thing but here goes nothing……
Today I will look at an underappreciated item from a tech standpoint – the wall charger. While not an item that is not considered exciting or sexy, it is a necessity of modern life. Our friends at iClever have sent over the three port version of their BoostCube line of chargers.
The BoostCube+ 3-Port Wall Charger is designed to operate four times faster than conventional wall chargers. It is compatible with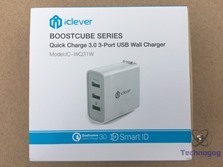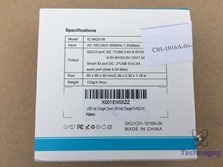 The charger is composed of white plastic on its exterior with the iClever lgoo on one side and Qualcomm Quick Charge 3.0 on the opposite side. The ends are a grey plastic with one side housing the three USB charging ports and the other with a foldable AC adapter plug. The BoostCube+ 3-Port Wall Charger measures 2.36" x 2.36" x 1.18" giving it its cube like dimensions. Size wise it is slightly bigger than an iPad Pro size charger. It weighs 4.34.
To keep the BoostCube+ 3-Port Wall Charger low profile the plug pulls down when in use and folds up when stored.
Installation is self-explanatory as it is a wall charger – plug on end into the wall outlet and the other end with the appropriate USB charging cable(s). For testing I charged devices ranging from iPhones to iPads to GoPros to FitBits. Unfortunately none of my devices had Qualcomm Quick Charge capability so the charging time was pretty much on par with the original chargers.
The BoostCube+ 3-Port Wall Charger works as advertised and was able to do the work of three chargers while taking up only one outlet plug.
Conclusion
If your home is like mine with a spouse and kids all needing to charge their devices at the same time then the BoostCube+ 3-Port Wall Charger is an easy way to accomplish this from one outlet. With the ability to accommodate three cables the BoostCube+ 3-Port Wall Charger saves space and limits the spread of charging cables within the home.
It is priced on par with other charger solutions and works with numerous devices including Apple iPhone 7, iPhone 7 Plus, iPhone 6, iPhone 6S, iPhone, Samsung Galaxy S7, S6 Edge, S6, S5, S4, S3, Note 5, HTC One 10 A9 X V S M9 M8 LG G5, Optimus F3, Nexus 5 6 7 9 10, Motorola Droid RAZR MAXX, Blackberry, External Battery Pack, GPS, PSP, PS4 Controller, Bluetooth Speaker/Headphones, and Mp3 Players.
Pros:
+Three ports on one charger
+Replaces multiple chargers
+Small profile
+Ability to use fast charging when using Qualcomm Quick Charge compatible devices
Cons:
-Apple devices do not take advantage of Qualcomm technology
| | |
| --- | --- |
| Grading | Scores Out of 10 |
| Overall | |
| Design / Aesthetic | |
| Value / Price | |
| Performance / Usage | |
Disclosure: This product was given to me for review by the company for review purposes only for free or at a discounted price.
To learn more about our review policy please visit this page HERE.