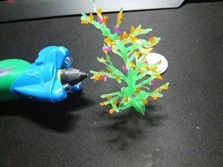 Up for review I've got another 3D pen set, sort of, as it uses resin for the ink and a UV light to harden the ink into a solid structure. The product is the IDO3D Vertical Five Pen Set and it comes with five different pens obviously and they are five different colors that you'll get. The light kit is detachable and you can just put it on each pen to change colors easily. The pens allow you to truly create or draw in 3D, you can simply and easily draw vertical lines straight up in the air. The kit is great for kids I think as it's not like ABS plastic pens where heat is used to melt the filament and you could get burned. Anyway, read on to learn more…
Specifications and Features
IDO3D Vertical Five Pen Art Set with 3D Vertical Light
IDO3D Vertical is the world's best-selling 3D drawing brand for kids! Children can create amazing works of 3D art by simply drawing, connecting and constructing. IDO3D Vertical uses a safe, heat-free polymer ink and a cool-blue LED light. Simple instructions for use are included, along with project templates and drawing accessories.This is a great STEM activity! Be sure to visit our site for FREE 3D art courses. This pen is not filament based, so there are no hot, electric parts, and it's recommended for kids ages 8 and up. Like any type of art, patience and practice are the key to creating beautiful works of art! Below is a list of tips that will make your experience even better!
-IDO3D uses a cool blue LED light and soft, squeezable 3D pens that enable you to easily draw 3D objects! The IDO3D Vertical light attaches to each pen by clicking firmly into place. The light can easily be removed from one pen, and placed on another by simply pulling it off, and popping it onto another. It's a snap!
-With IDO3D Vertical, you can draw vertically, straight into the air. To do so, turn on your light, and simply draw upward by squeezing your pen and moving the tip vertically, away from your drawing surface. You can also make solid sheets of material by drawing on flat or curved surfaces, first with the light off, and curing afterward by shining the light on your art. Draw on non-sticky textured materials or objects like coins or buttons, and then remove for very cool effects. Fun!
-Thin lines and shapes can be made thicker by drawing over the top of your finished work. And when filling in a large area, apply a thin layer of ink and allow it to settle. Then cure it with the light, and if necessary, cure on the back side of the included drawing sheet. Easy!
-IDO3D is easy to clean from your hands and work area with baby wipes, hand sanitizer and every day soaps and cleaners.
Price: $26.83 (from Amazon at time of review)
The Review
Let's start with a video which is a combination unboxing and review with a little demo of how these pens work:
The ID3d kit comes in a really large and colorful box with lots of pictures on it and inside you'll find two bags, one with pens and one with accessories.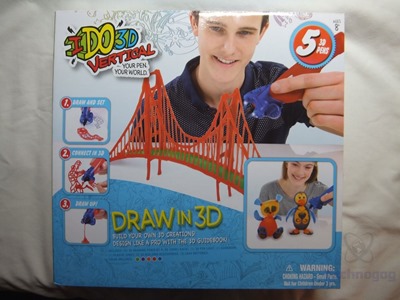 Once you get everything unpacked you'll find a user guide and template book along with five pens, five tips, a light attachment, clear flexible work sheet and two 3D oval templates.
The set comes with five pens in purple, red, blue, orange and green colors and there are tips that go with it as well that match. The tips are color coded to match the colors of the pens and ink inside of them. The pens with the tips on are six inches long and they're ergonomically shaped to comfortably fit in your hand. The pens aren't solid, they're rubber, or at least they feel like rubber, they're squishy. To control the flow of the resin or ink you just squeeze the pens and the ink comes out, squeeze harder and it comes out faster.
Included as well is the LED light which I would assume are UV lights, or at least they're purple and these are used to harden the ink or resin. The on/off switch in on the top and there are three LEDs that are focused on the tip when you attach it to the pen. You just slide it on sideways and twist to lock it into place, and reverse to remove it and place on another pen.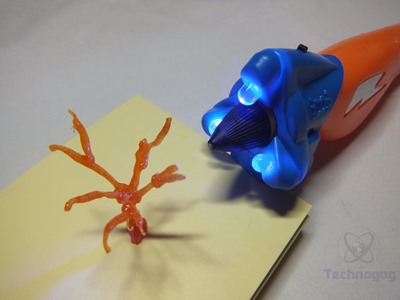 One of the things I love about these pens is that you can truly create or draw in 3D or vertically, you just have to draw with the light on and the resin will harden as it comes out of the pen. I created a small tree and then I used the other colors as well to sort of create a fruit tree, or at least that's what I was going for.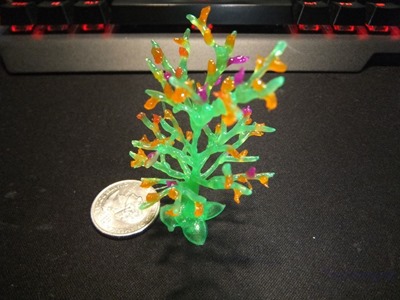 I used the large round template and tried to create a basic ball next and it worked out fairly well, but it's not exactly round, but you get the idea of what you can make or what you can do with it. I put the resin out on the pattern in liquid form and then ran the light over it to harden it. To connect the two halved together I just applied the liquid all around the edges, held the ball together and used the light to harden it making a seal.
The IDO3D pens are fun to use really but they're not perfect, there are some small problems.
The resin can be messy and what you create does have an oily residue on it making it feel oily and slick. Cleanup is fairly easy unless you get it on cloth and it soaks in.
Another problem is that I can't find where to find refills for it anywhere online, I'm guessing you just have to buy a whole new kit.
Not a problem but just something to be aware of, the UV light can reflect off bright surfaces and harden the resin coming out of the tip and clog it.
Conclusion
The IDO3D pen set is a unique product for sure, I really like the fact that you can very easily switch colors just by switching pens, you can create colorful drawings simply and easily.
3D printing is very popular and this isn't exactly 3D printing it is is 3D and it is a  lot of fun, I know my kids love using it and I like to see what they can do with it.
I think this is a great kit for kids, but I'm an adult and I like it as well, so it's one of those things that everyone in the family can enjoy.
Yes the IDO3D kit isn't perfect, but I can forgive it's flaws as it's just fun and can be educational really.
Pros:
+Fairly simple to use
+Easy to switch colors
+Can draw in 3D vertically
+Good battery life
+Lots of fun to use
Cons:
-Results are greasy feeling
-Can be messy
-Non-refillable
| | |
| --- | --- |
| Grading | Scores Out of 10 |
| Overall | |
| Design / Aesthetic | |
| Value / Price | |
| Performance / Usage | |
Disclosure: This product was given to me for review by the company for review purposes only for free or at a discounted price.
To learn more about our review policy please visit this page HERE.