Up for review today I have a unique set of Bluetooth headphones, the Jaybird JF3 Freedom. These are made for active people and they're actually the official headphones of the USA Triathlon Team, so that right there should tell you something about them. The JF3 Freedom headphones are meant to be used while running or working out, they're specifically designed with an active lifestyle in mind. These headphones are sealed to keep moisture out and even come with a lifetime warranty against sweat. In my time with them I've come to like them as a very good sounding set of headphones for listening to audio with. They do have a built-in microphone for making and receiving calls but I think that's a secondary function as that's not a feature you'll want to use often….

The Freedom JF3 headphones come in very attractive packaging.
It's a display style box that opens up to show the headphones and the included case.
Once you get the box opened you'll find instructions in a folder and stickers.
The stickers are the type you put in your care window. The instruction booklet is small and it's in several languages.
The case is a clamshell style and it's very hard with a magnetic clasp. The case is nice but it's very big, or very fat really. It will protect the headphones but if you're limited on space you're not going to be happy with this case.
The inside of the case is felt for protection and you'll also find a bag of accessories in there.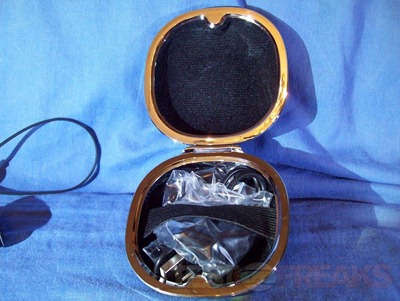 The accessories include a USB cable for charging, ear clips, three different sizes of ear cushions, ear clips and three different sizes of ear buds, one of which is already installed on the headphones.
The headphones themselves feature something I haven't seen before, a wire connecting them together. Sure I've seen regular headphones like that but never Bluetooth ones.
There are two pieces to the JF3 headphones, the let one is just a speaker really while the right one has the controls. On the front is a single button which is multi-use for pairing, playing and taking or ending calls. The earpieces themselves are plastic and very lightweight, they're also sealed to keep out moisture from your sweat while you're working out or running. All in all I think they're well made. The price is $100 so I would expect them to be.
The headphones are labeled R and L so you know which is left and which is right.
In addition to the multi-use button, on the side are volume buttons that are also to control your music for forward and backwards.
On the other side is the USB port which features a sealed rubber cover to help keep sweat out. I'll be honest it's really hard to get off, it's on there very tight.
Specifications:

The ear cushions are installed by removing the earbud and slipping them over the speaker holes. I found them to by surprisingly comfortable to wear, especially for long periods of time. After a while it was like I wasn't even wearing them really. I also found that I could wear them without the ear cushions and they would stay in during normal use with not much movement. You'll certainly need to use the ear cushions if you're running or doing any vigorous activities.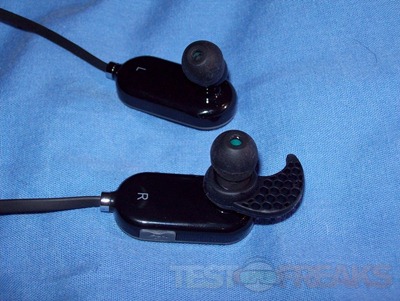 For testing I used the Freedom headphones with my iPod Touch 4th gen, PS Vita and my HTC Titan Windows phone. Yes it works with the Vita, I was surprised that it did as Sony advises that many things might not work. I also tried them with my Android tablet, the Le Pan and they wouldn't work at all. It's running Android 2.2 so that may be the problem, but other BT headsets I have work fine with it.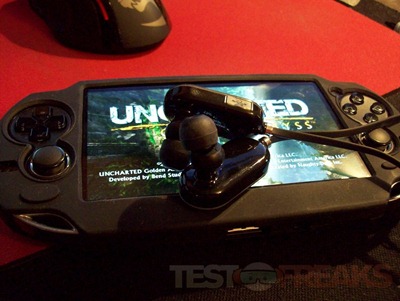 They're Bluetooth and pairing is easy, you just hold the multi-use button in for six to eight seconds and they enter pairing mode and you just need to select them on the device you're using. Very simple, no issues there.
Listening to music I found the sound quality to be just excellent really, it's full and very clear. The bass is decent and so is the treble.
The sound quality is very much on par with a wired set of headphones.
The buttons also work as controls for your music. The main multi-use button is for play and pause while the volume buttons are for next and back. I don't have any music on my PS Vita so I didn't test it there but the buttons all worked fine with the HTC Titan and the iPod Touch and worked as they were supposed to.
You can use the JF3 Freedom headphones for making and receiving calls but I wouldn't do it. The call quality is horrible honestly and that's on both ends. I was amazed at how bad the sound was  and it was in stereo which I think just made things worse. Sure you could use it for a brief call but I wouldn't want to talk for any length of time on them.
The cable or string that is between the headphones is flat making it pretty much tangle free but I did notice it can get stuck on your neck from the sweat there and that can be annoying and possibly pull the headphone from your ears.
Conclusion:
The Jaybird JF3 Freedom Wireless headphones are excellent for taking your music or any other type of audio with you. The JF3 seems to work with most devices out there and they work well, they sound very good and they're very comfortable for long periods of use. These are warrantied for life against sweat so you can work out all you want and not worry. If you're someone who works out and even if you're not I can recommend the JF3 to you as they're a very good set of headphones overall.
The JF3 do have the ability to make and receive calls but the sound quality is pretty bad honestly. I don't know of many people who would want to talk on the phone for any length of time while working out so I don't think it's that big of an issue.
Pros:
+Well made
+Comfortable for long periods
+Includes several accessories
+Excellent sound quality
+They stay in place through vigorous activity
Cons:
-Call quality not that good
-Case is big
-Connecting string can get stuck in sweat on the neck
| | |
| --- | --- |
| Grades: |   |
| Overall | |
| Design | |
| Performance | |
To learn more about our review policy please visit this page HERE.