I've got yet another watch for review, I like watches in case you haven't figured that out yet…. Anyway, the watch is from a company called JSC Luck and it is both analog and digital and the watch is rugged and has a military look to it. The watch has a chronograph, alarm and dual time modes and it has an EL blue backlight to help you see in the dark. Read on to learn more….
Specifications and Features
JSC Luck 30M Waterproof Dual Display LED Sports Military Watches Men's Analog Quartz Digital Watch
Features:
-Original Japanese Quartz Movement: provide precise and accurate time keeping
-Electronic LED Dial
-Military Time: 12/24H
-Second Time Function
-Calendar:Month/Date/Day
-Alarm Mode Function
-Black silicon rubber Strap and hardened wear-resisting resin glass with silver buckle
-EL Backlight
Size/Measurements:
-Case diameter: approx. 4.6 cm
-Case thickness: approx. 1.7 cm
-Band length: approx. 25 cm
-Band width: approx. 2.4 cm
-Watch weight: approx. 60g
Price: $13.99 (from Amazon at time of review)
The Review
Let's start with a video unboxing and then move on:
The JSC Luck watch comes packaged in a very attractive gift box, you won't even have to wrap it as they even have a bow on it for you. Inside you'll find the watch wrapped in plastic on a soft pillow for protection. Included with the watch is just an instruction sheet and then a tag on the band.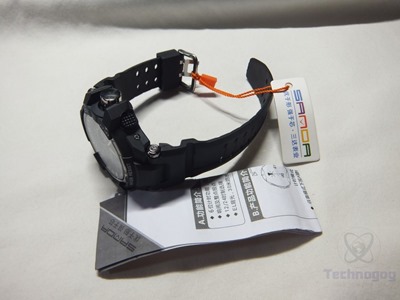 The watch is sold by JSC Luck but it's branded Samoa on the watch itself. The watch has a rugged military look to it and it's both digital and analog. The hour and minute hands are black with white on them that will glow in the dark, the second hand is thin and black and red in color. The watch doesn't have numbers on the face just white and black marks, but there is a 12 and 6 in chrome on the face. In place of the 3 is a windows that displays the seconds digitally. Below the twelve is a circle that looks like a pie with days of the week abbreviations around it, a slice will fill in for the day it is. Another semi-round window is located at the bottom above the six, this displays the time digitally and it can be 12 or 24 hour displayed. There are four buttons around the watch for Light, Mode, Start and Reset. On the right side is also a winder which is used to set the analog time. The watch has three modes for time, chronograph and alarm, which can be selected with the mode button, but it can also display a dual time if you want by pressing the Start button. Pressing the reset button will display what the alarm is set on.
The light button activated the EL blue backlight that lights up the digital displays so you can see in the dark.
The buttons on the sides are different, the ones on the right are round while the ones on the left are rectangular. On the left side is also a bright red something with a screw in the center, I don't know what that is, nothing is in the manual about I and it doesn't seem to do anything.
The watch band is made of a very flexible rubber with a dual clasp on it, it seems strong and durable overall.
The back of the watch is stainless steel with the Samoa logo and the water resistance rating which is 30 meters and that's good enough for swimming, showering etc.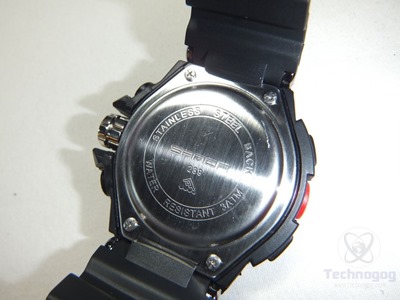 Conclusion
I can't find anything wrong with this watch at all so far, I've only had it for about two weeks and the time is accurate.
I like the look of it, it has a military rugged look that would be great for outdoor use like camping and hiking etc.
The watch is very inexpensive at only $13.99 right now on Amazon and it's well worth it for that, even if only lasts a year or so, it's inexpensive so you've got your money's worth for sure.

Pros:
+Rugged and waterproof
+Inexpensive
+Great for outdoors
Cons:
-None
| | |
| --- | --- |
| Grading | Scores Out of 10 |
| Overall | |
| Design / Aesthetic | |
| Value / Price | |
| Performance / Usage | |
Disclosure: This product was given to me for review by the company for review purposes only for free or at a discounted price.
To learn more about our review policy please visit this page HERE.