Kingston's HyperX brand originally garnered its reputation making high-speed memory for PC enthusiasts. During this past year Kingston has been branching the HyperX labeling into other products; most recently with their SSD drives and now with today's review item – the DataTraveler HyperX 3.0.
This USB 3.0 based thumb drive is their fastest model to date. It features blazing read/write speeds of 225 MB/S and 135 MB/S. Kingston designed the DataTraveler HyperX 3.0 with 8-channel architecture allowing for storage capacities of up to 256 GB.
Besides the functional aspects of the drive, Kingston's HyperX design is just plain cool looking.

The DataTraveler HyperX 3.0 comes packaged on a plastic blister card with the drive visualized on the front along with the Kingston HyperX logo. On the back of the package is a list of features in several languages.
Inside the package we find the DataTraveler HyperX 3.0 USB drive, a lanyard and installation/warranty card.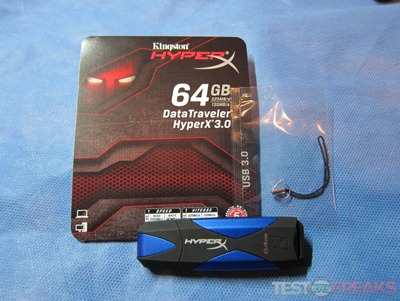 The HyperX 3.0 comes in three size capacities of 64 GB, 128 GB and 256 GB. For today's review we will look at the 64 GB version.
The drive is composed of an electric blue metal surrounded by a rubberized black material with the HyperX logo imprinted on the top of the casing along with the drives capacity and the Kingston head logo. When the drive is plugged into a PC a blue LED under this head logo illuminates during drive activity.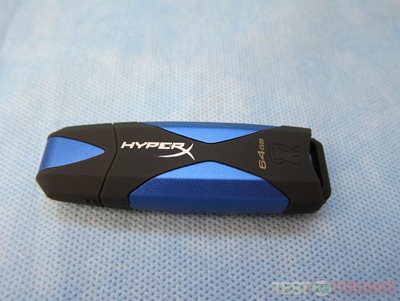 On the underside of the drive is an embossed Kingston name. A detachable cap that is removed by pinching the sides and can be stored on the backside of the drive covers the USB component of the drive. This backside also has an open area for attaching the included lanyard.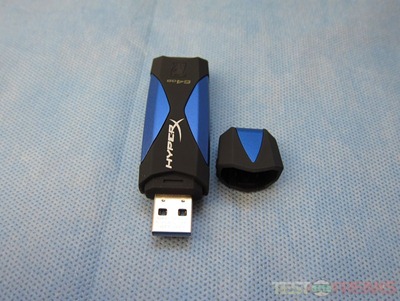 In terms of size the HyperX USB 3.0 is comparable in length and thickness to the Kingston DataTraveler Ultimate USB 3.0 drives.
Specifications:

HyperX performance, capacity and style in a USB drive
Power users have long known HyperX as the innovative brand from Kingston Technology and the new DataTraveler HyperX 3.0 Flash drive continues this tradition by featuring the fastest speeds and largest capacity Kingston offers for portable storage.
•  Supports Windows 7, Vista & XP
•  USB 3.0
•  8-Channel Architecture
•  Fast – 225MB/s read and 135MB/s write
•  Durable metal and rubber casing
•  Capacities up to 256GB
Featuring a high-speed 8-channel architecture that provides USB 3.0 data transfer speeds with capacities up to 256GB, DataTraveler HyperX 3.0 is the perfect solution for expanding a notebook's storage and for quickly storing, transferring and backing up any digital lifestyle. Users will save time associated with opening and transferring large files and applications between devices.
DataTraveler HyperX is covered by a five-year warranty, 24/7 technical support and legendary Kingston reliability.
Kingston DataTraveler HyperX 3.0 Part Numbers:  DTHX30/64GB, DTHX30/128GB, DTHX30/256GB
Features/Specifications:
•Practical — Durable metal and rubber casing with a solid lanyard loop
•8-Channel Architecture
•Backwards Compatible — with USB 2.0
•ReadyBoost Support
•Guaranteed — five-year warranty
•Capacities1 64GB, 128GB and 256GB
•Speed USB 3.0: 225MB/s read and 135MB/s write
USB 2.0: 30MB/s read/write
•Dimensions 2.952″ x 0.916″ x 0.626″ (74.99mm x 23.29mm x 15.9mm)
•Operating Temperature 0° to 60°C/ 32° to 140°F
•Storage Temperature -20° to 85°C/ -4° to 185°F
Price: $149.99
The Kingston HyperX USB 3.0 drive comes preformatted in FAT32 allowing it to work with Windows XP, Vista, Windows 7 or OS X once plugged into a USB port. The drive is backwards compatible with USB 2.0; however to take advantage of its speeds you'll need a USB 3.0 connector on your machine.
For testing a Core i7 2600K with ASUS P8P67 Pro motherboard, which has built in USB 3.0 ports was used. ATTO Disk Benchmark 2.46, Crystal Disk Mark 3.0.1 x64, HD Tach RW 3.0.1.0 were used for benchmarking the drives. For comparison the original DataTraveler Ultimate 3.0 64 GB, the DataTraveler Ultimate 3.0 G2 32 GB were included.
Starting with the ATTO DiskBenchmark we see the DataTraveler HyperX 3.0 has write speeds in the 125 MB/S and reads in the 220 MB/s range versus the DataTraveler Ultimate 3.0 Gen 2 with 65 MB/s write and 125 MB/s read while the first gen DataTraveler Ultimate has 75 MB/s write and 95 MB/s read.
Next the Crystal Disk Mark 3.0 revealed the DataTraveler HyperX 3.0 with sequential read speeds of 200.3 MB/s and write speeds of 70.87 MB/s versus 126.9/75.39 for the DataTraveler Ultimate 3.0 G2 and 96.78/67.87 for the DataTraveler Ultimate 3.0 G1. The read speeds on the HyperX were clearly ahead of the other DataTraveler's yet the write speeds were pretty comparable on this benchmark.
12/31/2011
Addendum – I just finished rebuilding my Asus P8P67 Pro Machine using the latest BIOS and drivers.  One thing that bothered me during this review was the abnormally low write speeds reported in the Crystal Disk Mark results.
I decided to re-run the Sequential test on the rebuilt platform and discovered a write speed of 110.4 MB/s which was more in line with the Kingston specs.  The take home is making sure your hardware is up to date when benchmarking these things.
HDTach RW average read speeds of 220.2 MB/s and burst speeds of 216.5 MB/s with the DataTraveler HyperX 3.0. The DataTraveler Ultimate 3.0 G1 had average reads of 87.3 MB/s and burst of 98.2 MB/s while the DataTraveler Ultimate 3.0 G2 came in with average read of 124.0 MB/s and burst of 90.0 MB/s.
On a USB 2.0 connection the HyperX 3.0 USB had expected speeds in the 30's MB/s for both read and writes.
Conclusion:

If you already take advantage of USB 3.0 technology than the HyperX 3.0 USB drive is the one to get. It is the fastest USB 3.0 drive that I've come across and its read/write speeds are terrific. In addition the blue and black HyperX style makes it a slick looking thumb drive.
Obviously for this performance you will currently pay a premium as this drive is currently priced at $149 at Newegg. Like most USB drive technology, expect the price of this drive to trend lower in the coming year. If you are looking for a svelte USB drive then you may want to look elsewhere; however if speed is what you desire then you'll want to get the HyperX USB 3.0.
Pros:
+Fast
+Solid build
+HyperX branding and style
Cons:
-Price
| | |
| --- | --- |
| Grades: | |
| Overall | |
| Design | |
| Performance | |
To learn more about our review policy please visit this page HERE.