Memory cards are great for capturing images, audio and video. However, transferring this data onto a PC or Mac can be tedious especially when using a USB 2.0 connection. Kingston has a product to help alleviate the data transfer bottleneck by incorporating the latest SuperSpeed USB 3.0 connection into their memory card reader.
The Kingston MobileLite G3 USB 3.0 Reader is designed to work with SD/SDHC/SDXC, micro SD/SDHC/SDX C and Memory Stick Pro Duo cards. Besides being fast this device is also portable and can easily fit in one's pocket or be tossed in a computer bag
The Kingston MobileLite G3 arrives in the typical Kingston clamshell plastic packaging. The device can be seen resting in the center of the packaging. On the back is a compatibility table for the various operating systems and a pictogram how the device inserts into the USB port.
For the MobileLite G3 Kingston Kingston uses the same color scheme as found on the popular HyperX memory line of electric blue and black. The mobile card reader has retractable covers on each side allowing the USB connector flash card slots to be protected from hazards when not in use.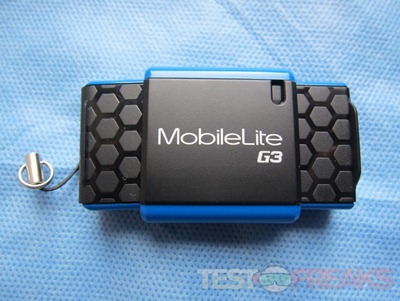 The device measures 2.45" x 1.16" x 0.646" and has a key ring tether attached on one end to keep it safely tethered to one's keys.
On one side of the card reader is a Kingston logo and on the other is the MobileLite G3 name. The extenders have a honeycomb pattern while the main body is a smooth texture.
One side of the MobileLite G3 has the retractable USB 3.0 connector, which is backwards compatible with USB 2.0 systems. The opposite end has two memory slots one for MPSD/SD/SDHC/SDXC and the other for microSD/SDHC/SDXC cards.
Kingston designed the MobileLite G3 to work with all three major operating systems – Windows, Linux and OS X.
While the MobileLite G3 will read most popular memory card standards, it does not handle such as Compact Flash and miniSD/SDHC/SDXC. However the latter usually come with an adapter to make those cards fit standard size connections.
Specifications:
USB 2.0 speeds typically peak in the 35 MB/s range while the real world USB 3.0 SuperSpeed can max out around 100 MB/s.
Using ATTO we see the Kingston SDXC perform at 14 MB/s for writes and 43 MB/s reads with the faster Kingston UHS-I SDXC card reaching 37 MB/s writes and 63 MB/s for reads.
With Crystal Disk Mark the Kingston SDXC has reads of 42 MB/s and writes of 23 MB/s. The faster rated Kingston SDXC 64 GB had read speeds of 58 MB/s and write speeds of 39.
The Kingston MobileLite G3 easily squeezes out fast performance out of these faster memory cards. As you move into faster UHS-I cards you will get even more performance gains. The reader was even able to mount both a microSD and standard sized SD/MSPD card simultaneously.
Due to its small form factor, the Kingston MobileLite G3 can travel easily with your mobile set up. When not in use, it can be easily stashed away without taking up too much room.
Conclusion:

For those looking for a memory card reader that can read the latest SDXC memory cards and want the fastest possible transfer rates, then the Kingston MobileLite G3 is a great solution. It can be found for less
Pros:
+Fast
+Low Price
+Portable
+Two-Year Warranty
Cons:
-Limited to SD, MSPD and microSD style formats
| | |
| --- | --- |
| Grades: |   |
| Overall | |
| Design | |
| Performance | |
To learn more about our review policy please visit this page HERE.