Portable speakers are great for beefing up the sound when you are on the go. There's a growing number on the market in all shapes and sizes, and at all budget levels. Most of them allow you to connect up to your smartphone, laptop or MP3 player with ease. The RocksteadyXS from Killer Concepts claims to be the best performing portable speaker on the market. That's a bold claim from a newcomer to the scene, so let's see if it really lives up to it.
It's a speaker designed to be taken anywhere. It's rugged, made of very tough Aluminum, it feels very much like my MacBook Pro in fact, except it's black. As a lightweight guy, I'm guessing I could probably stand on it without too much damage occurring. So you get my drift, it's rugged and would stand up to some knocks and drops either indoors or outdoors. It's not quite trouser pocket-able (although it did fit into my deep coat inside pocket), and will certainly fit into your back-pack, glove compartment or hand-luggage.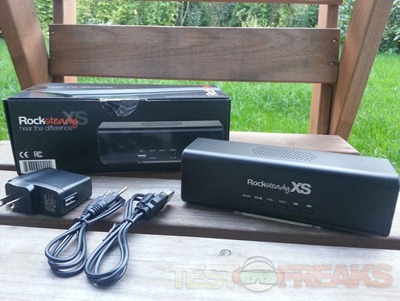 Getting the scales and tape measure out – It's a lightweight unit weighing just 250grams and measuring 16 cm long, 5cm high and 5cm deep. It's really not going to cause you much trouble with excess baggage when you travel.
I've seen cooler things in my time. For some reason it resembled an audio switch box I used to own but if you can get over that, it's worth investigating in more detail. The light at the bottom is pretty though, more about that later.
What's in the box?
RocksteadyXS Bluetooth Speaker
USB Cable (approx 70cm)
AC Adapter – for the US
Line-in cable (approx. 68cm)
Instruction booklet – in English.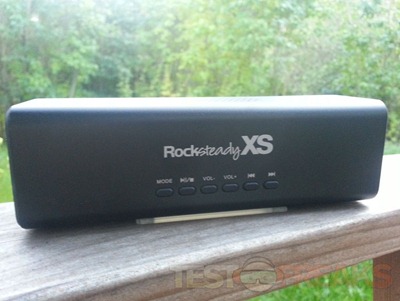 There are six small buttons on the front – Mode, play/pause/stop, Volume -, Volume +, Back and forwards tracks. I'd have preferred the buttons to be on the top, and easier to operate with one hand. As it is, you need to pick up the unit and hold it to operate the buttons. Not a big deal I guess.
The mode button switches the sound source between Bluetooth, Line-in and USB stick. When you first power up, you are in line-in mode, the LED light on the bottom of the unit will be a solid blue. Another press takes you into Bluetooth mode, the LED flashes and you'll hear a few bleeps from the speakers. One more press of the mode button takes you into USB stick play.
The play/pause/stop button is used when you are operating the device in USB stick mode, and the skip back and forwards are for use in this mode too. Of course there is no indication on the track you are listening to so if you are trying to find something on a stick with hundreds of tracks it's going to take you an eternity.
The volume up and down buttons do exactly as you'd expect. You can of course also control the volume on the source device without using these buttons. If you are controlling the volume on your smartphone using Bluetooth, it's as if you are using a remote control, although there is a slight lag before the unit responds to the volume change. It's not a big deal though.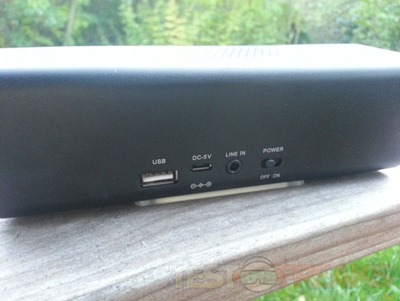 On the reverse of the unit there are three sockets – USB – to connect a memory stick, a Micro USB charging port and a standard 3.5mm Line in socket to connect your laptop or MP3 player for instance. There's also a Power ON/OFF switch.
Underneath there's a plastic cover holding a BL-5C 3.7v 1020mAh Rechargeable Li-ion Battery. The plastic surrounding the battery cover has four anti-slip feet, which do stop it from sliding off surfaces. The LED light illuminates this when in operation.
The top of the unit has speaker grill to help the sound escape, and each side has a speaker grill where you'll see the 2 x 3 W speakers themselves.
Specifications:
RocksteadyXS Bluetooth Speaker
Bluetooth 3.0 for easy syncing with your iPhone, Android, and many other devices.
USB port for MP3 playback, Micro USB charging port, 3.5mm line-in, Bluetooth wireless playback,Loud, clear, quality sound, Rechargeable Li-ion battery for over 10 hours playback.
Supports playback while charging, Playback via line-in or USB port, Line-in cable and micro USB wall charger included.
Specs:
Frequency Response: 150-18000HZ
Magnetically Shielded: Yes
RMS Power (watts): 3W+3W
Subwoofer Driver (in.): 1.77 inches
Subwoofer Size (in.): 1.77inches
Tweeter Type #-way: 4ohm 3W
Woofer Size (in.): 1.77inches
Number of speakers: 2 speakers plus a passive subwoofer
Impedance: 4 oumu
Peak Power: 6W
Price: $99.99 – $129.99
It's simple enough to operate. Charging the unit can be done by connecting to the mains, or using your laptop using the supplied cable. It took about an hour or so before it told me it was charged by turning off the LED Light, which in charging mode is purple. The battery life after a charge is quoted at around 10 hours. I've got no reason to argue with that, and it was still going several weeks after I charged it – I probably got a good 8-10 hours of use before it needed another short charge. I think that's acceptable, a full days usage without needing to plug it it – on par with the average smartphone these days.
Setting up the Bluetooth connection to my Samsung S3 took just a few seconds. I was happily walking around the room with my smartphone with the RockSteadyXS pumping out sound with no interruptions – until I walked too far of course. I'm guessing the range is good enough for most situations. Equally connecting the unit directly to the MacBook was easy using the supplied cable. It's a little on the short side, but you could get a longer one if the need arose.
So the important question is not so much how it looks, but how does it sound. Surprisingly good for a unit of this size is the short answer. If you goal is simply to amplify the sound of your tiny smartphone or laptop speaker, you'll find this fits the bill perfectly. Equally as a companion to an MP3 player, it does the job well. It's both loud and clear, only with a sign of distortion when you get to the absolute top of the scale. Don't get me wrong, the unit can still sound "tinny", it's not going to set audiophiles pulses racing with it's deep rich sound, but I don't think it's trying to do that. As a means to fill a small to medium sized room with audio, it works well. Whether you are on the street, on the move or washing up in the kitchen it solves a problem of making listening to your favorite tracks a lot more pleasurable than through those terrible little speakers many of us seem content with.
Conclusion:

With an asking price of $129.99, it's neither the cheapest nor the most expensive option, but expect to find offers well below that once availability increases. Currently the RocksteadyXS is only available at a few online stores, up-to-date information can be found on the www.KillerC.com website.
Pros:
+Easy to set-up
+Lightweight
+Robust
+Loud
+Clear sound with speech
Cons:
-Not that sexy
-Sound can be tinny in some situations
| | |
| --- | --- |
| Grades: | |
| Overall | |
| Design | |
| Performance | |
To learn more about our review policy please visit this page HERE.