Kingston's follow-up to the Wi-Drive, their portable wireless storage device is the MobileLite Wireless which incorporates wireless media streaming but in a slightly different fashion than its predecessor. The MobileLite Wireless is a BYOS (bring your own storage devices) as it works with both SD cards and USB devices but has no built in storage. This device is able to read and write to attached cards and drives streaming them over Wi-Fi. In addition the MobileLite Wireless functions as a mobile device charger with a built in 1800 mg lithium-ion battery.
Up to three users can connect to the MobileLite Wireless at one time. As opposed to the 16 GB and 32 GB Wi-Drive the MobileLite Wireless storage capacity is limited to what is attached to it. Kingston designed it to work with IOS devices including all iPads, most iPhones, iPod Touches and Android devices (2.2 and up).
Many electronic devices like to claim to have Swiss Army knife capabilities; the Kingston MobileLite Wireless seems to be one of these products that actually does this and performs them well.
Unboxing
The MobileLite Wireless arrives in a white and black cardboard box with the device pictured on the front with a description its features. On the side we find three additional images of the unit while the back lists more features in several different languages.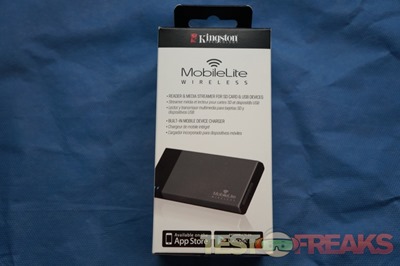 Inside the box we find the MobileLite Wireless device, a micro-USB cable, micro-SD card adapter, and instruction manual.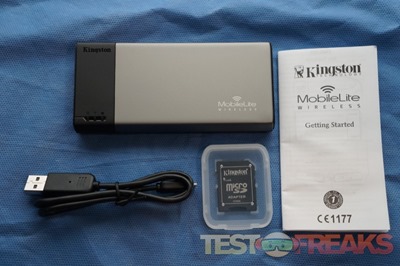 The MobileLite Wireless measures 124.8mm x 59.9mm x 16.65mm and weighs 98 g. It is composed of slate gray and black plastic and has the same height and width but twice as thick as an iPhone 5.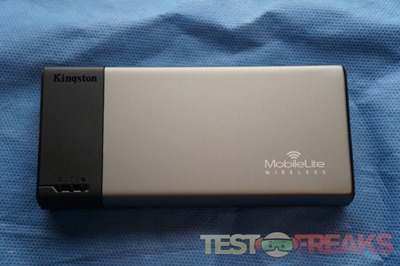 On the top of the device we see the MobileLite Wireless name on the bottom right, the Kingston brand name on the top left and LEDs for Power, Wireless and Internet on the bottom left. Just below these LEDs is the power button and reset switch.
On the left-hand side of the unit are micro-USB and standard USB ports. On the far right side is the SD slot, which is capable reading SD, SDHC, SDXC and micro-SD cards, using the included adapter.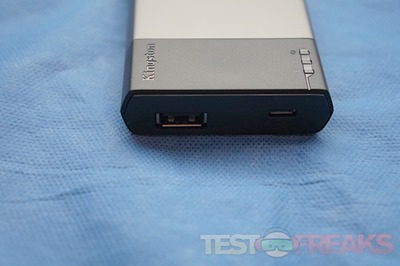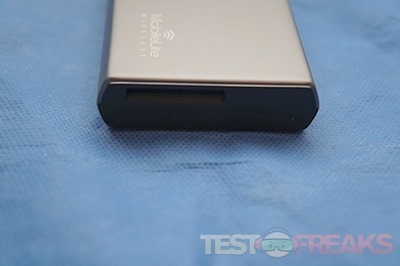 The bottom has four raised plastic dimples that act as feet; be careful as this unit can slide on a smooth surface.