The HTC One is the best Android phone out there today, at least I think it is, I love it and I'm very happy with it. The One looks beautiful, it's thin and lightweight but it's not what I would call rugged. Those good looks will quickly go away if you drop the phone sadly. I've been reviewing cases for the HTC One, quite a few of them, so right now I've got thirteen of them for you ranging from inexpensive, thin and lightweight and up to totally rugged and fully protective and everything in between.  I've got what I think is a nice representative sampling of the cases that are out there today that will fit any budget and or any need. What I've got for you today is thirteen mini reviews essentially with my thoughts and observations for each one. So read on…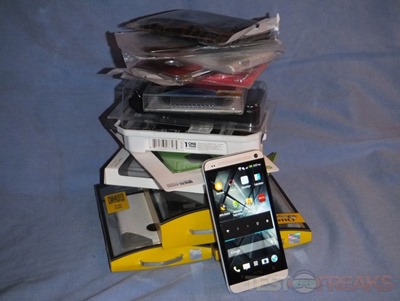 As you can see from the picture above I've got a few cases to cover so I'm going to break them down into sections, but it's hard to decide what goes into each category because many can fit into several categories really. I've reviewed all of these in the past but I've taken all new pictures for this and I've included full descriptions along with product, manufacturer and review links as well if you want to learn more.
It's just going to be two categories, thin and rugged essentially, and I'm ordering them by price, lowest to highest.
I've spent time with all of these cases and I've done full in-depth reviews of them all, what you need or want will ultimately depend on you personally..
Thin Cases
We're going to start this off with inexpensive and thin cases, so what we have here is some inexpensive cases, but then thin cases as well that might be a bit pricey.
The most inexpensive case I have is one I picked up on Amazon for under $7, but it's also a thin case.
Cimo Gloss Back Case Flexible TPU Cover
Complete with a cut-out design for the touch screen, this case allows you to keep the same tactile feel as using the HTC One (M7) without a case. Perfect for users who desire durable protection with a clean, modern design. If your in the market for a new case for your phone we highly recommend trying a new TPU case. The case is a plastic and silicone material hybrid. It's shock absorbent, doesn't dent nor will it tear or scratch. Retains the grip, soft feel and flexibility of a silicone case with the protection of a hard case. Installing the case couldn't be any simpler. Just place the phone into one end of the case then pull/stretch the other end over the opposite end of your phone. Your phone remains fully functional while in the case with access to all the phones futures. Case is bendable, flexible and always retains its original shape. This item ships in Cimo retail packaging.
Product Features:
-Made of thermoplastic polyurethane
-Raised edges recess your screen to protect it when placed face down
-Super-slim design and perfect fit that adds minimal bulk to your smart phone
-Anti-slip properties gives your smart phone more grip
-Designed for the HTC One (M7)
Dimensions: Size (LWH): 4 inches, 0.5 inches, 3 inches
Weight: 0.96 ounces
Price: $6.98
Product/MFG Link: http://www.amazon.com/exec/obidos/ASIN/B00BR340UK/dragonsteelmo-20/
Review Link: http://reviewthetech.com/2013/04/24/cimo-gloss-back-case-flexible-tpu-cover-for-htc-one-review/
For this case we've got little to no packaging, just a plastic bag really.
It's a very basic case made from polyurethane, it feels like a soft silicone really, but just a bit sturdier.
The phone fits into the case fairly easy, just pull it up and over the phone. I do like the fact that you can see through the back of the case so you can see the HTC One. The case looks nice and all, but the cut-outs for the ports and buttons really don't align correctly.
For about $7 you get some basic protection for your HTC One. It's not a horrible case, but it's not a good one either. Yes it will protect your phone, and the material should offer some protection for your phone, but it's just cut wrong.
Can I recommend getting this case, no, simply for the fact that the misaligned holes are annoyingly wrong. Plugging things in is a hassle. I didn't try it but it looks surely like the case will block the IR transmitter for the remote control.
Aesthetically the case looks nice, and it's inexpensive, so at least it's got that going for it. It does wrap around to the front of the phone to protect the screen edges, which is nice in itself. The case is thin so it doesn't add any bulk and it's semi-transparent so you can still see the phone.
If you need a cheap case, then I guess it's not bad but the misaligned holes annoy me. You get what you pay for really. For such an inexpensive case a screen protector is not included nor would I expect one to be.
For a score I'd have to give this case a 5 out of 10.
PROS:
+Inexpensive
+Offers thin protection
+Good grip
+Wraps around the screen edges
CONS:
-Doesn't really line up with ports etc
The next case I have is a unique one that I like, especially the style and looks of it. The price is about $12, so it's rather inexpensive.
Red Carbon Fiber Leather Case
– Carbon fiber leather coated surface, noble looking, and durable for long time use
– Super-slim shield that protects edges and corners
– Grips in your hand yet slides easily into your pocket
– Flexible, slimline snap-on design
– Material: Hard plastic
Price: 8,90 EUR / $11.42
Product Link: http://www.mytrendyphone.co.uk/shop/htc-one-hard-103190p.html
Review Link: http://reviewthetech.com/2013/07/05/red-carbon-fiber-leather-case-for-htc-one-review/
Here again we have no special packaging, just a plastic bag.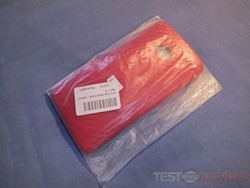 The back of the case is a red leather but it's a carbon fiber pattern. The inside of the case is a thin padded lining.
The case is stiff so getting your phone in can be a chore, but you can do it simple enough really. All of the ports and buttons and cameras are uncovered for unimpeded access. You will need to remove the case to access the microSIM card slot but I don't think that's an issue as you most likely won't have to access it.
Leather is nice and it's something that never goes out of style I think. Carbon fiber looks great, it's something that happen to like the look of very much. Combing leather and carbon fiber makes for a great looking case that should be durable and protective.
The inside of the case does have a thin layer of protective rubber that will not only protect the phone from the case itself but should add another layer of protection overall.
The price of this case is about $12 and I'd say it's more than worth it, it's actually a very nice case that I could see costing more than it does.
The case doesn't come with a screen protector sadly, so you'll need to buy one.
For this case I've give it a 9 out of 10 score, so it's not bad overall.
PROS:
+Nice looking case
+Leather and carbon fiber combination
+Access to all ports and buttons
+Good, minimalist protection for the HTC One
+Inexpensive
CONS:
-No screen protector
The next case I have only costs about $13.
Red Aluminum Shine Cover
Ultra slim and lightweight case coated with aluminum will "freshen up" Your device while giving it maximum protection.
– Made of durable hard plastic, coated with aluminum
– Unique texture and high shine effect
– Precise cutouts allow full access to all buttons and ports
– Provides maximum protection while adding minimum bulk
– Protects Your phone from dust, shock, scratches and bumps
Price: 10,20 EUR / $13.16
Product Link: http://www.mytrendyphone.co.uk/shop/htc-one-shine-104982p.html
Review link: http://reviewthetech.com/2013/07/04/red-aluminum-shine-cover-for-htc-one-review/
Again we have basic packaging. All of these with just plastic packaging aren't a bad thing, it's just a way to keep the overall cost down and for the most part you don't need anything special for a case.
The case gets its name from the back which is a shiny red aluminum, but it's also textured for grip.  There is nothing inside of the case, the silver is the back of the red aluminum part.
Getting your phone into the case is simple, it's a hard case yes but you can still pull it up over the phone fairly easily, it just snaps on essentially. The cases offers full unimpeded access to all the ports and buttons etc and again here the microSIM card slot is covered by the case.
Objectively this isn't a bad case overall, it offers good protection I guess but there is no screen protector included.
The case protects the back and sides of the HTC One and is fully open on the top and bottom for full access.
It's one of many budget HTC One cases on the market and in that area it's not bad for the price.
Personally I just don't like the case, I don't like the looks and feel of it really, it's just me, there's just something about it I don't really care for.
I'd give this case a 9 out of 10 score.
PROS:
+Nice looking case
+Fully open on top and bottom
+Decent protection
+Inexpensive
CONS:
-No screen protector included