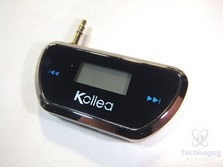 Up for review today I've got another FM transmitter from Kollea but this one is tiny and it's rechargeable over USB. This transmitter works just like any other and it has a small LCD display on it with two buttons for tuning on both sides of it. It's not bad, but it's not perfect either. Read on to learn more…

Specifications and Features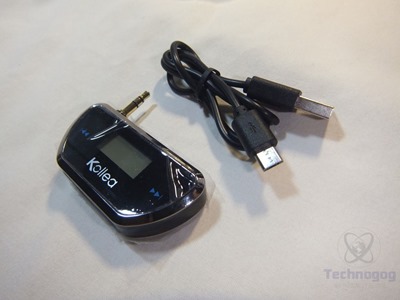 The transmitter comes covered in plastic for protection. On the bottom is the micro USB port for charging and then on the top is a gold plated 3.5mm audio jack to plug into your phone or MP3 player.
The transmitter is about 2.5 inches across and about an inch tall and then less than half inch thick. On the front is the LCD display that lights up blue when powered on and red when charging, on the right and let side of the display are buttons to change the frequency.
I used the Kollea transmitter with my ZuneHD in the car and it seemed to work just fine but a bit of static at all times on all frequencies when there was silence. It's just like any other FM transmitter really, none that I've come across are perfectly free of static.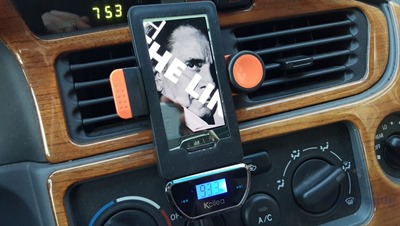 Conclusion
The Kollea mini FM transmitter works fine, it does seem rather well made.
I found I could play music over my radio with no real issues, just a bit of static in the silence, but that's to be expected with every FM transmitter I've used so it's no surprise.
The main issue I have with this product is that there is no power button to turn it off. You can turn it on with the left button and it's supposed to turn off automatically after one minute but it didn't seem to as I used it one day for not even an hour and then went to use it again the next day and it wouldn't turn on as the battery was dead. I charged it again and it worked fine, sometimes it turns itself off and sometimes it doesn't, it's weird.

Pros:
+Small and portable
+Rechargeable
+Simple to use
Cons:
-No auto power off sometimes
-No power button
| | |
| --- | --- |
| Grading | Scores Out of 10 |
| Overall | |
| Design / Aesthetic | |
| Value / Price | |
| Performance / Usage | |
Disclosure: This product was given to us for review by the company for review purposes only, and is not considered by us as payment for the review.
To learn more about our review policy please visit this page HERE.