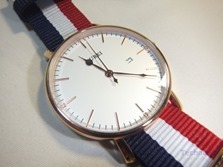 Up for review today I've got a watch from a company called Burei, this watch is inexpensive but yet it looks very nice, it looks like it costs much more really. The watch features a minimalistic yet elegant design with a rose gold colored watch housing and matching hands along with matching buckle. The band is nylon and it's red, white and blue in color which is a bit odd in my opinion but it grows on you after a while. Read on to learn more..
Specifications and Features
The free gift they included is a leopard themed small hair clip which is nice and well made, I gave it to my wife as I don't use hair clips, but it was nice of them to include the gift.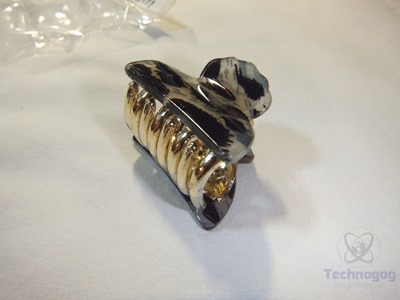 The watch box is heavy and when you open the box you'll find the watch on a very soft pillow for protection. The box is nice, again a nice presentation here. The box is black and tan with the Burei logo in silver and it's about 4.5" x 4.25" x 3" in dimensions and it's heavy duty.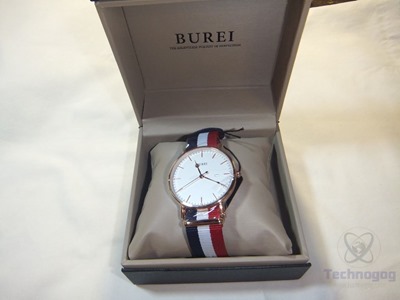 When you take the watch out of the box the face and watch itself is wrapped in a protective plastic and there's a small tag attached to the band. The specs say the band is red white and blue for the French flag but it can be for Britain or the US as it works there as well. It certainly looks very patriotic, but not a novelty, it has more style than novelty item.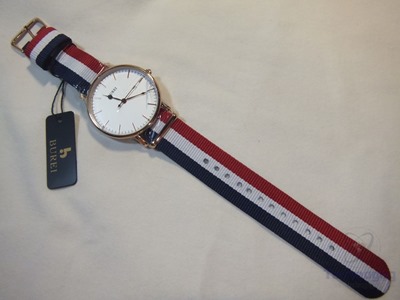 The watch band is a thin textured nylon that is slightly stiff but yet it's soft and comfortable to wear. The bottom half of of the band has 12 holes in it for sizing, it can be worn on large or small wrists, men or women. The buckle is the same color as the watch itself is, a rose gold color. The band seems well made, but I'm not sure I would keep it as I'm more preferential to solid colors myself.
The face of the watch is an off-white or ivory color with the hours marked in thin rose colored gold lines with 12, 3, 6 and 9 also having a small 'diamond' to the sides of them. The minute markings are just thin black lines with smaller and thinner graduations between them as well. The face does have a date indicator window but it's very small, it can be hard to see really, but I didn't have much of a problem with it, I could see it from 12 inches away easily once I figured it out. The date is actually set back into the watch and it can create a shadow on the number so you may have to twist your wrist a bit to see it correctly though. Honestly the date could be bigger, it would be nice if it was larger for sure. The watch face is a bit large at slightly over 1.5 inches across, it's certainly a man's watch or a woman could wear it as well I guess. The watch hands themselves are plain looking but yet they do look elegant with their slight accents and they're the same color as the hour markings.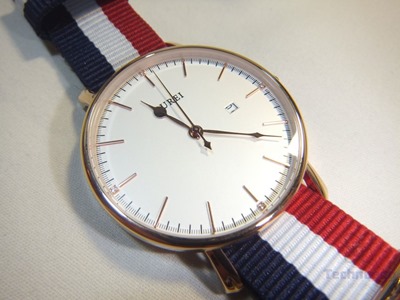 The watch itself is very thin and lightweight and I should note the watch doesn't actually touch your wrist as the band goes behind it. It's interesting to me as I've never seen a band like this before.
So I wore the watch and it's a bit big for me personally but I do like it. It is comfortable to wear, it fits well, I wasn't sure about the band, but it grows on you as it were.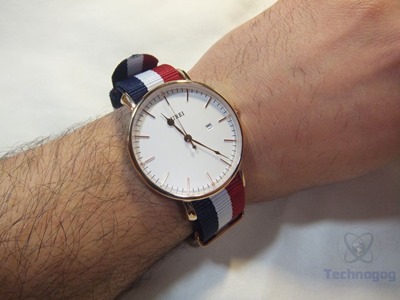 Conclusion
The Burei BM-13002-01A watch is a nice looking watch, it's simplistic but yet has an elegant look and style to it.
The watch can be worn by men or women and it has a patriotic look to it as the band is red, white and blue but it's not a novelty for sure, it's much more than that.
The presentation for this watch just amazed me, I wasn't expecting all that was included and how well everything was made and how good it all looked.
The watch seems to keep time well, I wore it for a few days and the time was correct. Only time will tell, as it were, as to the actual time keeping abilities of it.
Overall the Burei watch is nice, it's a nice presentation and the watch itself is well made and it looks good.
Pros:
+Inexpensive
+Very nice presentation
+Very nice looking watch
+Well made watch
Cons:
-Tiny date window
-A bit flashy for me personally
| | |
| --- | --- |
| Grading | Scores Out of 10 |
| Overall | |
| Design / Aesthetic | |
| Value / Price | |
| Performance / Usage | |
Disclosure: This product was given to us for review by the company for review purposes only, and is not considered by us as payment for the review.
To learn more about our review policy please visit this page HERE.