More power is needed for our mobile devices and today I have another portable battery pack for review from our friends over at Lumsing. Today I have a 10400mAh portable battery pack or power bank that features two USB ports that can charge tablets or phones or both at the same time or virtually anything else that charges via USB. The 10400mAh capacity of the battery will allow you to charge you devices multiple times so it's a great power pack for just a day or even a weekend on the go and it will make sure you've got power when you need it most. Read on to learn more..
Unboxing
We'll start off with a video unboxing for you:
The packaging is certainly different, it's brown box with what looks almost like a sketch of the battery on the front and then specs and other info listed on the back. The box has a rope or cord style handle on it which I found interesting.
Once you get everything unpacked you'll find the battery, USB cable, cloth carrying bag, user guide and Lumsing power user program pamphlet. The Power User Program is so customers can join and possibly test new products before they come to market, a testing program essentially. you have to go to their website and fill out the form and they'll let you know if you're picked. A nice idea I guess.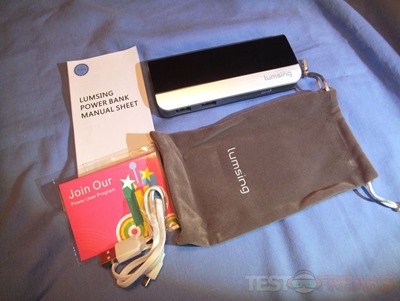 The carrying bag is cloth style with drawstring and the USB cable has a microUSB connection on one end and a standard USB connector on the other. The cloth bag isn't exactly protective like a hard case would be but it should keep the battery clean and free from scratches and scuffs while you're transporting it.
The name or description on Amazon says 'Lumsing 10400mah Harmonica Style Portable Power Bank External Battery Pack Backup Charger' and yes it is kind of shaped like a harmonica, a very nice looking harmonica for sure. The dimensions are 5.43x 2.35 x 0.86 inches and on the top you'll find a glossy black finish with a brushed aluminum band across the bottom with the Lumsing logo.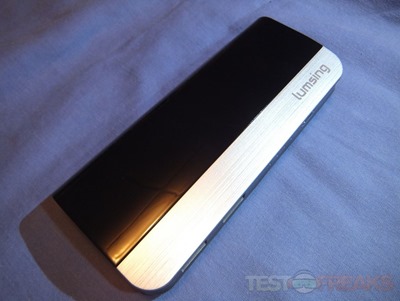 It weighs in at a little over 12 ounces and it looks great and it feels well made. It has a solid construction with a nice design over all.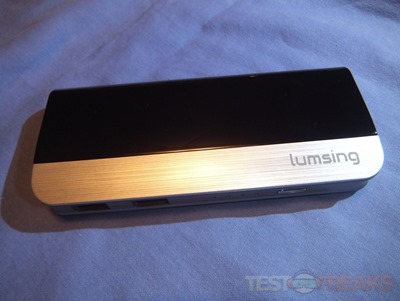 On the left side you'll find a microUSB port that's labeled 'IN', this is for charging the Lumsing battery with the supplied cable. The right side of the battery is just plain, nothing there, so it's not pictured.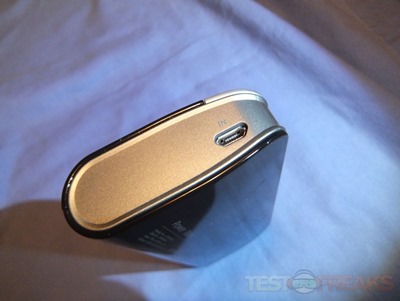 On the Front edge is where you'll find the two USB charging ports that are labeled Out 1A and Out 2.1a. There's four LED indicators that will light up blue, they indicate battery charge or capacity levels and are 25% each. There's also a silver oval shaped button to power the battery on to begin charging.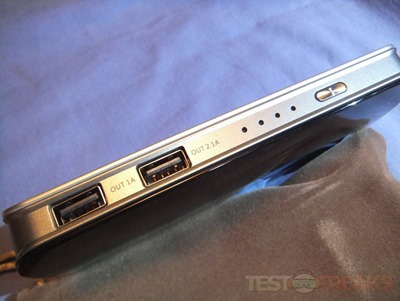 The glossy back from the front continues all the way around to the back and here you'll also find the basic specs listed as well.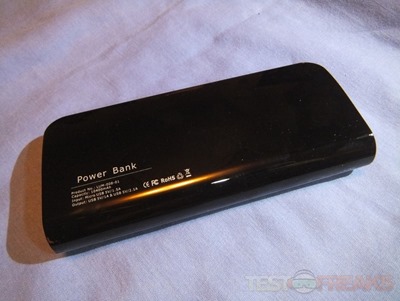 The black looks nice but I found it attracts dust and fingerprints like a magnet and it quickly will get smudged and lose its glossy shine.
Specifications and Features
Lumsing 10400mah Portable Power Bank
Keep connecting, keep simple. Time is limited, but things needed to be done are so many. Lumsing aims at helping you release your time and enjoy wonderful life. Want to be always on the go? Lumsing can help!
Specifications:
–Brand:Lumsing
–Capacity: 10400mAh
–Battery Type: High quality 18650 Samsung battery Cell
–Input: Micro USB 5V 1.5A
–Output: USB 5V 1A&5v 2.1A
–Size: Mini Size 5.43x 2.35 x 0.86 inches; Weight: 12.5 oz
–Shape:harmonica style design
–Product Warranty: One Full Year
Product Features:
-High Capacity,10400mAh of capacity. Charges all iPhone four to five times, a Galaxy S3 thrice, or an iPad / iPad 2 once.
-Made with Original SAMSUNG cells and premium microchips, plus high quality Li-ion battery,within CE, FCC, ROHS certification ensures reliability; 500 + recharge cycles over the life of the battery.
-4 LED indicators reveal the battery level; One indicator represents 25% of remaining power. Input: Micro USB 5V 1.5A; Two Output: USB 5V 1A&5v 2.1A ensure charge two devices the same time to enjoy simple life .
-Stylish & portable harmonica style design; ergonomic design for easy handle by one hand; The UV craft, high wear-resisting; The side wire drawing process,the product more high-grade
-Multiple protection system inside for safety. It's designed for avoiding overcharge, overvoltage, overcurrent, and short circuit to ensure reliability.PERFECT for long plane flights, road trips, or whenever you need to charge your mobile devices wherever you are.
Popular Compatible Models:
USB Output – 5V/1A & 5V/2.1A Designed for iPhone 5S, 5C, 5, 4S, 4, 3GS, HTC, Samsung, Motorola, LG, Nokia, Blackberry, Sony Ericsson cell phones
(Note: Lightning cable/adapter not included, but can be charged directly by all your own iphone/ipad's original cables and adapters)
Price: $19.99 (from Amazon at time of review)
Usage and Testing
The first thing I did was charge the battery with the supplied USB cable and it didn't take long as it was already at about 75% capacity when it arrived to me. The LEDs will light up and blink to let you know it's charging and then they'll fill up and turn solid when charged. Since the battery was already at about 75%, only one LED was blinking for me, but if it was lower more LEDs would blink to and turn solid as the battery filled up.
To test the battery I charged a few things like my HTC One cellphone, Motorola Bluetooth GPS and my Joby Blade rechargeable flashlight. I charged all of them to full and when done with all three I still had about 75% capacity on the Lumsing. Yes all three of the devices weren't quite dead, but they were used. The phone was about 75% capacity, and I'm not sure about the GPS or the flashlight as neither have a battery level indicator on them. The use the battery you need to press the button to begin charging your devices, some batteries start charging automatically, but with the Lumsing you must press the button.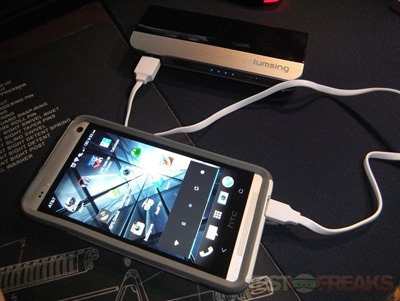 As far as charging speed, it seemed the same as if I was charging from the USB ports on my computer, so no real complaints there as I charge pretty much everything from my computer since it's readily available. Yes you can charge two devices at the same time if you want, but it will drain the battery faster obviously, but it's to know you can do it if need be.
The Lumsing battery does include overcharge, overvoltage, overcurrent, and short circuit protection to make sure your devices will be safe.
I should note that this Lumsing battery will not charge my PlayStation Vita. I've found this to be common among the majority of these portable battery packs, not sure why, it should but yet it doesn't.
I do feel I have to mention the size of this battery, it's small. I have the Eagletech Neptor 10000mAh battery and I pulled it out for comparison and the Lumsing is smaller in physical size but yet the Lumsing has a larger battery at 10400mAh. The Lumsing is slightly thinner in height and width. Both batteries have two USB ports on them so they are similar in that respect but the Lumsing is smaller making it more portable and personally I think it looks nicer as well.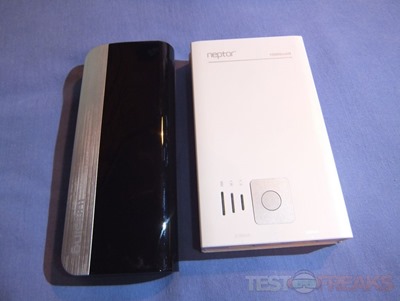 Conclusion
The Lumsing 10400mAh is a handy battery to have for sure, you can keep your phone an tablet charged while on the go and virtually anything else that charges via USB so you can always power while you're out and about.
Aesthetically the Lumsing 10400mAh battery just looks great, it has a glossy black finish with silver accents that just makes for a nice presentation overall. Lumsing included a cloth carrying bag to help protect it while you're on the go.
The battery is small enough to fit in your hand or pocket making it very portable, you can of course just toss it in your bag and go.
The Lumsing 10400mAh battery does let you charge two devices at once if need be which can come in handy as we all have more than one rechargeable device.
The only real complaint I could have about the Lumsing 10400mAh battery is aesthetic, the glossy black finish really picks up fingerprints and smudges from your hands and fingers making it not exactly nice looking anymore. They should have included a cleaning cloth surely as it really needs one, but you could just use the outside of the cloth carrying bag if you wanted to.
At the time of this review the Lumsing 10400mAh battery was listed at $19.99 and it's well worth it for that price. If you're looking for portable power then I can recommend this battery pack to you as it will provide plenty of power for multiple devices.
Pros:
+Inexpensive
+Small and portable
+Charges tablets and phones
+Large capacity battery
+Aesthetically pleasing
+Simple to use
Cons:
-Glossy black collects dust and fingerprints
| | |
| --- | --- |
| Grades: | 9 out of 10 |
| Overall | |
| Design / Aesthetic | |
| Value / Price | |
| Performance / Usage | |
To learn more about our review policy please visit this page HERE.