Hello ladies… or anyone who likes a little color in their life (don't want to be mistaken as sexist…) Today up for review is J6M Pink Metal Earbuds and Mic by JLab. This particular model has the dual earbuds plus the mic for phone, video calls and voice search. This model is sold in several different colors such as Black, Silver, Blue, Pink (reviewed below), Black and Yellow, and Black and Pink.
Unboxing
The J6M earbuds come in an easy to open pink and silver plastic bag that you tare along the top to open. It has their logo tiled on the front. On the back is some information about the earbuds in several different languages.
Inside the bag you will find the contents listed here and pictured below: a travel carry case, 7 different size feather soft cushions for your ears, in two different styles, a lapel clip that attaches to the cord and a warranty information card with a QR code that will link you to the owner's manual and a pamphlet with other products JLabs sells.
The earbuds come in 7 different sizes and two different shapes, ranging from small to large. There are 4 pink feather soft cushion tips (S, M, L, XL) and 3 white Double Pro tips (S, M, L). I tested both kinds, in medium, and both fit very well and were very comfortable.
You will also find a spring style lapel clip the easily attaches to the cord by securing it between a plastic clip that is attached to the lapel clip. The when the cord is stretched out, it is approximately 4 feet long.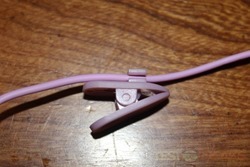 A warranty card is included in the package with the serial number of your purchase on it. The serial number is used for registering your product for their 1 year limited warranty, which their website boasts as a "world-class warranty and service." The card also has a QR code on it that is used to download the Manual for your item.
There is also a fold out advertising card which shows you other products for purchase from their website. It also gives you information about customizing your own set of earbuds.
The last item included is a vinyl travel pouch which comes in the same color as your earbuds. The pouch fits all of the items that come with your purchase. The pouch opens by squeezing together the opening at both ends.
Now on to the main event. The earphones have several different features on them. The first being the in-line Mic and Mic control button. This allows you to play music (as tested as the Galaxy S5) by pressing the button.
It will also allow you to pause by pressing the Mic Control button once, skip a track forward by pressing it twice, and move back a track by pressing it three times, as listed in the owner's manual.
One issue I have had with this is that pressing the Mic control button three times has not allowed me to move back a track, the rest of the functions work as stated.
The approximately 4 foot cable is Kevlar reinforced and has 3.5 mm metal jack that is 24 karat gold plated and angled at 45 degrees. I have found this to be useful when pulling headphones (while attached to the phone) out of your pocket, because it does not get caught like 90 degree angled 3.5 mm jacks of other brands.
As mentioned earlier, you will find a lapel clip that can be attached to your clothes to keep the cord in place. The cord has an in-line divider that splits the cord left and right.
On this particular model, the right side is where you will find the microphone and the push button that allows you to pick up and hang up calls as well as pause and play music. It was right where I needed it to be since I am right handed, you may not have the same experience if you are a lefty.
While testing them I found that the call quality was very good. I could hear very well, and I was understood easily.
Their website boasts the in-line microphone as having crystal clear calls and so far I have found that it is pretty close. I have not heard any distortion, feedback or low quality sound from using the microphone to talk with others.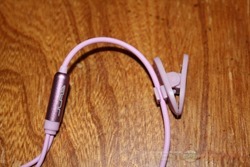 The earbuds are ergonomically designed for comfort when used with the cushions. The 6mm micro drivers offer "unparalleled audio fidelity." The earbuds are slim and rounded for comfort. They fit very well in the ear and are lightweight. Wearing the headphones does not feel cumbersome.
Specifications and Features
Tired of uncomfortable earphones with disappointing sound? Looking for a slim, ergonomic fit and high fidelity sound that was made to please your ears? Meet the new JBuds J6M.
The JBuds J6M high-performance earbuds combine a blissfully slim, soft rounded shape with the very latest in ultra-compact titanium micro drivers, delivering an unparalleled experience of audio fidelity and supreme comfort.
The JBuds J6M feature an in-line microphone with button control for crystal clear calls, JLab's brand new 45° metal jack (24 karat gold plated), Kevlar-reinforced cable, feather soft cushions in 7 sizes and two styles for a perfect, custom fit (Single: S, M, L, XL, Double Pro Tips: S, M, L), cable clip, and an elegant vinyl carrying pouch.
Compatible with JLab's removable ear hooks.   
FEATURES
– Ergonomically engineered for supreme comfort plus 7 cushion sizes for the perfect fit
– Features an inline microphone and track control for iPhone, iPad, Android, Tablet, Blackberry, HTC
– Advanced 6mm micro drivers for unparalleled audio fidelity
– Kevlar reinforced cable with 24 karat gold plated jack
– Includes cable clip, vinyl pouch, and JLab's world-class warranty and service
SPECIFICATIONS
– Drive unit 2 x 6mm 16 Ohm
– Frequency Response 20-20khz
– Impedance 16ohm +/- 20%
– Sensitivity (at 1kHz) 90 +/-3dB
– Cord length: 122cm
– Plug Type: Dia. 3.5mm Stereo Gold Plug, 45 degree angle
– Max. Power: 10mW
– Channel Balance: 3dB at 1kHz
LIST MSRP:$89.95
SALE PRICE:$34.95
Testing and Usage
For testing I used my Galaxy S5 for music and for making and receiving calls. What's real nice about the J6M is that it has the microphone on it for making calls, but provides you with the ability to hear great sounds. The speakers in the J6M are small but powerful and they produce a good sound that is clear depending on the quality of the music source.
Sound Quality
As I just mentioned, the sound quality is clear. Headphones are in general about preference, how they fit, how they sound. But if you are looking for a good sound out of something that is not bulky, then this pair, in any color, is a good choice.
The music sounds great and the call quality is very clear. The titanium micro drivers offer great sound in the high and medium pitches, but not a lot in the lows (bass). But these are tiny speakers, so I don't know how much bass you are really going to get out of them.
Controls
As I mentioned earlier, the Mic control button, which is the only button on the head phones, allows you to move between tracks and pause and play music. It will also allow you to answer and end a phone call.
However on the package it does not tell you how to operate all of these functions with just one button. After some research on their website to find the manual it stated that to play music you press the button once.
To move forward between tracks, you press the button twice. The move a track backward you have to press the button three times. However after some testing, I was unable to get it to move a track backward. The forward function works well and pressing the button twice is recognized by the earbuds. However, I have yet been able to get it to move a track backwards…
Call Quality
The call quality is good, I was able to test another product by the same company and it seems so far they make great headphones for making phone calls. When using it I was able to hear the other person clearly without any issues and they were able to hear me without any issues.
To answer a phone call with the J6M, press the Mic Control button and you will be connected, to end a phone call, press the same button.
Cord
The cord is a simple and seems to be durable. It is stated on the website that it is Kevlar reinforced and throughout testing it has held up without any issue.
Noise reduction
The J6M does not offer any active noise reduction, but they do a good job of blocking out the noise when the correct ear buds are used for your size ear. As with anything this small, you may pick up some outside noises if it is too loud, but overall it is clear when making and receiving calls.
Comfort
This particular model comes with two types of ear buds, the single (round ones) and the double pro tips. Both fit comfortably in the ear and did not fall out throughout normal use.
On the website it states that this pair is compatible with their removable ear hooks which will allow you to use them for sport or activities. I did not get the chance to run in these, so I do not know how well they work without the ear hooks.
Build Quality/Design
The Kevlar reinforced cable is durable and so far seems to be holding up very well. The entire headphones are lightweight and comfortable. Overall I would say that the quality is the best thing they have going for it, they seem to be very durable and built strong. As in, the pieces fit very well together, no part of it is loose, and the important parts of the headphones are made of metal (mic control button, in-line splitter, 3.5 mm gold plated jack and the actual headphone pieces).
Conclusion
Overall I would recommend these. They are a good pair of head phones that sound great. They are not top of the line with many features (active noise reduction, volume control, etc..) but they are good whether you are looking to listen to music or make and receive clear phone calls. I did some research on price and it varies from approximately 20 + dollars on amazon to 35 on the JLab Audio website. They are worth the price because you are getting a good solid headphone that provides quality sound. Also, they are available in several colors to suit your taste and style. They are light weight and have so far been durable in my hectic life. The Mic Control button is useful for playing music, however like I said previously, moving backwards between tracks is something that has eluded me. The microphone for talking with others sounds great as well and is clear on both sides of the conversation. If you are looking for a good pair phones but not looking to break the bank, I would recommend looking at this pair as well as any of the headphones Jlab Audio puts out.
Pros:
+ light weight
+ clear on all levels of sound
+ durable
+ good sound and voice quality when making and receiving calls
Cons:
– not all capabilities functioning properly
– very simple, no frills
| | |
| --- | --- |
| Grades: | 9 out of 10 |
| Overall | |
| Design / Aesthetic | |
| Value / Price | |
| Performance / Usage | |
To learn more about our review policy please visit this page HERE.