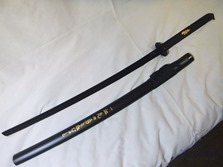 Up for review today I've got something a little different, a sword from a company called Maxam. I've never posted a review of a sword but I have several of them as I do collect them or I did before I had kids really, but I was offered a chance to review on and thought why not?! The sword is just plainly called the Maxam Sword and it resembles a cross between a Samurai and Ninja sword I think with more leaning toward the Samurai style. I've reviewed collectibles before here on Technogog so this is considered one but it could also be used for cosplay I would think as it really doesn't have an edge on the blade so it should be safe for cosplay usage, but not sure how those rules work for conventions and such, but for other things it would be ok I would think. The Maxam sword is inexpensive at about $30 and for that price I wasn't expecting high quality, but it's not bad overall. Read on to learn more…
Specifications and Features
Carbon Steel Blade
Cord-Wrapped Handle
Wood Sheath
Measures 38-3/4″ Overall, with a 26-1/4″ Blade
Price: $30.94 (from Amazon at time of review)
The Review
Let's start with a video unboxing and review of sorts and then move on:
The Maxam sword comes in an elongated brown box and inside you'll find the sword packaged well for protection. The sword is wrapped in plastic and then there's six pieces of foam in the box as well around the sword.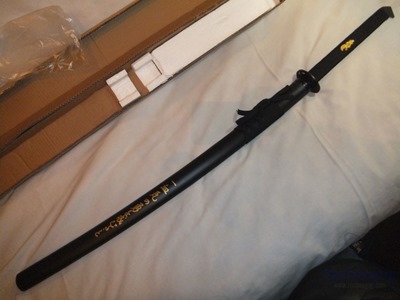 The sword is 41 inches long overall while inside of the scabbard. The sword itself is 38.5 inches from blade tip to back of handle. The scabbard is 28.75 inches long.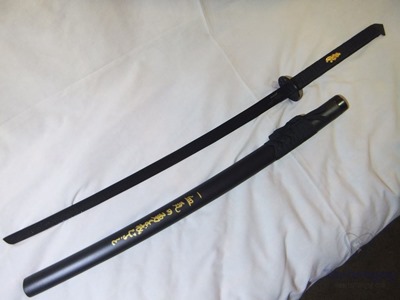 The Tsuka or handle is wrapped with a black nylon cord but there is wood underneath on each side, I should note that the wood is not painted so if you move the cord you can see plain wood. I would have much rather liked if they painted the wood underneath black to match, just a small detail yes, but it would make things nicer. There is a Menuki or ornament on the handle and it's a gold dragon that's made of plastic and it's actually glued to the cord wrapping. Traditionally the Menuki would be under the cord wrapping but the way this is wrapped that wouldn't quite work so having it on top works for this I guess. Normally there would be a cap on the back of the handle called the Kashira but they way this is made they just continued the metal of the blade all the way through the end and created sort of a hook and this works, it gives it a distinctive look. The one thing that's odd is the handle seems and feels overly long, I have other swords and the proportion is a bit off for the handle for this one, I could fit three hands on the handle and still have a couple inches left.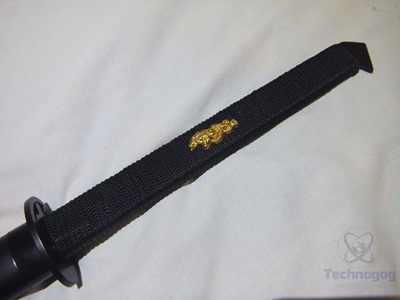 The Saya or scabbard is made of wood which impressed me, I was honestly expecting it to be plastic but it fells nicely made. The scabbard is painted black and the sword fits in firmly, not too tight but not too lose, you can turn it upside down and the sword won't fall out but it only takes a little pull force for it to come out. The scabbard does have a Sageo or fancy knot on it below the guard which is decorative but was traditionally used to attach the scabbard to a Samurai's belt. The scabbard does have decorative gold Japanese writing on it but I have no clue as to the meaning of it, but it looks nice.
The blade is oiled a lot for protection and it's black in color actually. One side has the Maxam logo while the other says "Mfg in China, Nat'l Headquarters, USA". I should note that the blade has no edge on it at all, you couldn't even cut yourself if you tried and I did, it's beveled like an edge would be but just not to a blade edge, just not sharp at all. Not being sharp isn't bad thing though as this is for decoration and not for actually cutting things, but some people might prefer a cutting edge on it and I guess you could put an edge on it if you wanted to and had the skill and tools to do so. The blade of the sword is supposedly made of carbon steel, I have no way of verifying that, but the blade is fairly thick at the back edge and it's just slightly flexible, not bad I think as it's not really going to be used for fighting or anything like that.
The Tsuba or guard is made of black plastic and it has a ninja figure cut-out on about half of it. The quality of the detail is very questionable, there's a lot of extra tiny plastic pieces sticking out and off of the design and it's not completely finished either as only one of the eyes goes all the way through. Sure I could and will take a hobby knife and/or my Dremel and trim the excess plastic and make it look better, but I don't think I should have to.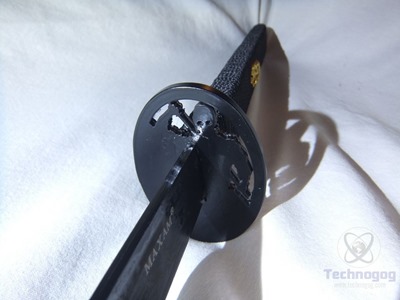 Conclusion
This is one of those products where you really have to take into account the price and for a sword it's surely inexpensive and honestly it's better than I expected for such a low price.
Obviously this is a decoration so it's just most likely going to hang on your wall and for that it should be fine. The all black color of it is different, I have several swords and this is the only one with a black blade and it's sort of striking really.
The sword itself seems nicely made, the blade is sturdy for what it is and what it needs to be.
The details need a bit of work, the Tsuba or guard has a lot of extra plastic hanging off of it and there's visible glue around the Menuki or decoration. I would have liked to have seen just a little more attention to details.
Since the blade is dull I would think you could possibly use it for cosplay if you wanted to, so there's another optional use for it.
Pros:
+Decently made for the price
+Full tang
+Looks nice overall
+Wood scabbard
Cons:
-Not sharp at all
-Detail needs a bit of work, extra plastic on Tsuba
-Wood under wrapping not painted to match
| | |
| --- | --- |
| Grading | Scores Out of 10 |
| Overall | |
| Design / Aesthetic | |
| Value / Price | |
| Performance / Usage | |
Disclosure: This product was given to me for review by the company for review purposes only for free or at a discounted price.
To learn more about our review policy please visit this page HERE.