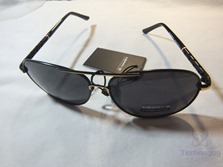 I got something different for review today, it's been a while since I've taken a look at any glasses but I wear them all the time. I need sunglasses as my eyes are very light sensitive, if I go outside, sunny or not, I'm wearing them especially for driving so a well made and comfortable pair of sunglasses is important to me. Today for review I've got a pair of classic aviator style sunglasses from a company called Merry's and they're inexpensive but yet well made and comfortable and they even include two styles of cases, a hard case and a soft cloth bag style. Read on to learn more…
Specifications and Features
The glasses have black frames with gold accents on the front and sides or arms. They're what I would call aviator style sunglasses and they're a bit large in my opinion but most glasses of this style are made that way. The glasses are a combination of metal and plastic and you can easily adjust the arms and nose bridge to fit you.
The glasses are very lightweight and one of the reasons is on the arms you'll find seven holes on each side removing material and making them slightly lighter in weight. The holes make for a nice design as well of course. The arms still feel sturdy though despite the holes. Overall the glasses do look and feel well made.
The sunglasses are polarized and they include a sample card to show you how it works. Looking at the card without the glasses on all you see is an empty road but looking through the glasses makes three cars appear on the road. Kind of a neat trick or example of how polarization works.
So I wore these for a week instead of my regular sunglasses and they're fine, I was surprised by them actually. The lenses look dark from the outside but when you look though them they're not really, they're very bright and let a lot o light in but yet keep the glare down to a minimum. I found the glasses to be comfortable to wear, they're very lightweight.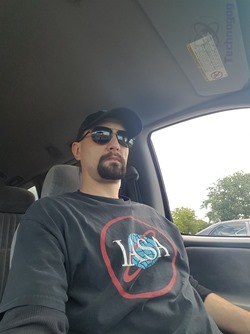 Conclusion
These sunglasses look dark, they look black really but they're not when you look through them, they let a lot of light in. I've got light sensitive eyes so I'm always wearing sunglasses when I go out, even on overcast days, and these are fine for bright or darker days.
They are comfortable to wear, I did have to adjust the nose pieces quite a bit to fit me, but that's to be expected. The glasses are lightweight but still seem sturdy and I like the fact that they come with a hard case and a soft case and even a cleaning cloth. For about $20 you get a decent pair of sunglasses that look good and are made well.
I'll be honest here, these glasses just aren't my style, they're a big too large for my face in my opinion, but objectively they're a decent pair of inexpensive sunglasses that come with some nice extras. I gave these to my wife and she's very happy with them, she wears them everyday for driving. She told me that she sometimes wears them in the dark as well because of the glare from the headlights and she can still see just fine through them even in the dark and they really cut down on the glare.

Pros:
+Lightweight
+Look dark but not really when worn
+Well made
+Nice extras included
Cons:
-A bit large in my opinion
-Not very dark really
| | |
| --- | --- |
| Grading | Scores Out of 10 |
| Overall | |
| Design / Aesthetic | |
| Value / Price | |
| Performance / Usage | |
Disclosure: This product was given to me for review by the company for review purposes only for free or at a discounted price.
To learn more about our review policy please visit this page HERE.