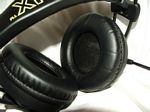 Hmm.. see a trend here lately with audio stuffs? Well don't worry this would be the last headphone / earbud review I've got for you. In the last week I've taken a look at regular headphones and earbuds, so today I have a gaming headset to round things off a bit. Mionix is a company based out of Sweden actually, and they're trying to get into the market on this side of the ocean so they're not very well known here. They do however make some pretty good products, I've got a couple of their mice and like them quite a bit, using one right now actually. They've recently released a gaming headset called the Keid 20 and that's what I've got of review for you today. The Keid 20 is a very comfortable headset that's nicely made and designed with decent audio but it does have one flaw, so read on to learn more…

First up is an unboxing video for you.
The Keid 20 headset comes in a rather large box, but it's needed because it's a big product…
Included with the headset is a brief manual and a very nice drawstring carrying bag.
It features two audio connectors, one for sound and a microphone connection. The cable is nice and long and it's a braided style cable so it should last quite a while.
The Keid 20 also features an inline remote for volume control and to turn the microphone on or off, and it also has a nice little clip on the back of it.
Moving onto the headset itself. It's a big headset yes, but most gaming ones are. The thing that surprised me though is just how lightweight they are.
The top has a padded band that automatically adjusts to the size of your head beneath the frame itself.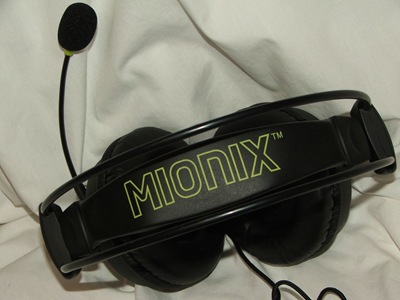 The speakers are well padded and comfortable to wear, they do cover your whole ear as you might expect.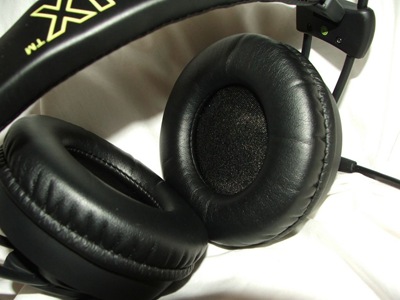 The outside of the speakers do have an interesting design to them.
On the left side you'll find the boom style microphone that moves up and down and flexes to be positioned where you need it.
Specifications:
The Mionix Keid 20 is a comfortable, high quality headset, specifically developed for gaming. The 50 mm driver is optimized for clear and precise sound. The large-size ear pads have an ergonomic design and are equipped with a special memory foam that forms after your ears. The headband is flexible and auto adjusts to your head. The ergonomic design, superior comfort and an optimized sound makes Mionix Keid 20 to a perfect choice for long sessions of intensive gaming.
FEATURES
-Ergonomic design
–Truly ergonomic design with memory foam that forms after your ears
-Clear and precise sound
–Optimized sound to give a clear and precise sound suitable for gaming
-Passive noise reduction
–Passive noise reduction filter that clarifies your voice from background noise
-Braided cables
—Braided cables to prevent cable breakage
-Volume control
–Volume control with microphone mute function
TECHNICAL SPECIFICATION:
• Type: Circumaural / Full-size stereo headset
• Driver: 50 mm
• Magnet type: NdfeB
• Frequency response: 20Hz – 20 000 Hz
• Speaker impedance: 32?
• Sensitivity (@1 kHz): 100dB +/- 3 dB
• Max input power: 400 mW
• Connection type: 3.5 mm gold plated plugs
• Cable length: 3 m braided cable
• Cable diameter: 3 mm
• Volume control: On cable, from mute to full volume
MICROPHONE
• Frequency range: 300Hz- 3 300 Hz
• Mute Microphone: Yes
• Directivity type: Omni-directional
• Sensitivity (@1 kHz): -36dB +/- 5dB
• Max. Operation Voltage: 10 V
WARRANTY INFORMATION
Warranty for Mionix products only covers defects caused by manufacturing. The warranty does not cover defects caused by any kind of usage that is not attributable to the manufacturing process.
All of our products have 2 year warranty. Defect products will be replaced with a new product. For more information read our FAQ or contact your local vendor.
Price: $75.29

The Mionix Keid 20 headset is very comfortable to wear, you can easily wear it for long periods of time with no issues and that's partially due to how lightweight they are as well. The automatically adjustable and padded headband is a nice touch, and it works well, just slip them on your head and pull down to fit your head and they stay in place.
I used them for both gaming, movies and music and I found the sound quality is very clear and overall it's good but I did find there's a distinct lack of bass. Personally I don't like booming bass in any type of earbuds or headsets, but I do like some in moderation, with the Keid 20 though there is almost no bass at all really, it's there yes but very faint.
I've got a decent sound card in my gaming system, it cost about $225 for this card and the main reason is I like good sound especially for music but also for gaming. I've got it hooked up to my Sony sound system and I like to not only hear explosions and such but I like to feel them too when I'm playing. So with the Keid 20 headset you can hear the explosions yes, but you really can't feel them like other headsets I own. I man I don't want my head to vibrate from an explosion but I do like to fell it somewhat, it adds to the fun of the game really and with the Keid 20 it's really lacking in that area.
They are nice and loud and even at high volumes there's no distortion.
Another small issue is with ambient noises, they don't do well at keeping them out. I could plainly hear myself typing while wearing these, yes I could turn up the volume but I don't like my headset blasting in my ears, I'd like to keep my hearing.
The cables are nice and long and the braided cabling is a nice touch.
The construction is excellent, they're flexible and they should survive daily use and tossing them around a bit.
The microphone works fine, it's clear and I was able to be heard fine by others. The boom style mic works well, it stays where you put it after you get it adjusted.
The cost I think is a bit on the high side especially with the lack of bass and the ambient noise that gets let in by them. I own SteelSeries and eDimensional headsets as well and I still prefer the SteelSeries I've got over the others, so far they're the best I've had the chance to review, they cost a bit more but it's worth it.
Conclusion:
The Keid 20 Gaming Headset is the first attempt by Mionix to get into audio and it's not a bad first try really. They've got most of the major features down like comfort especially and build quality, but they just lack the bass and they need to work on keeping the ambient noise out.
For what they are they aren't bad, if they lowered the price a bit then I could say that they're worth it, but as is I think they are a bit over priced for what they are lacking.

Pros:
+Very comfortable
+Inline controls
+Nicely made
+Lightweight
+Comes with carrying bag
+Clear sound
Cons:
-Almost complete lack of Bass
-Not great at keeping out outside noises
| | |
| --- | --- |
| Grades: | |
| Overall | |
| Design | |
| Performance | |
This product was given to technogog for review by the company for review purposes only, and is not considered by us as payment for the review, we do not, and never will, accept payment from companies to review their products. To learn more about our review policy please visit this page HERE.