The Motorola Droid is undoubtedly one of the most popular Android phones on the market today, for good reason it's a great phone. The Droid name is taken from Star Wars so it's no surprise that they released an R2D2 themed phone complete with special edition live and still wallpaper and the phone of course aesthetically looks like that famous little droid. I've already fully reviewed the Motorola Droid 2, so this isn't exactly as in-depth of a review, but it does focus on the special Star Wars parts of the phone. So read on to check it out…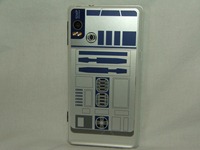 Let's stat off with a video unboxing of this very special phone:
Of course the since this is a special edition phone it comes in a special package.
Inside you'll find documentation, headphones, USB cable, phone, battery, cover, USB AC adapter, AC adapter and a dock.
The dock is white and it has the Droid R2D2 logo and Star Wars logo on it.
The phone is the Motorola Droid at heart obviously.
On the left side of the phone you'll note the volume and camera buttons.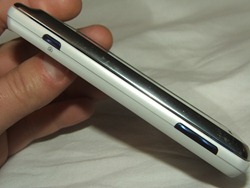 The left side has the USB port while the top has the audio and power button.
On the back of the phone you'll see the 5mp camera with flash and of course the battery and microSD slot.
And here is what the back of the phone looks like with the cover on:
The R2D2 Droid is a slider with a nice full qwerty keyboard.
Specifications:
R2–D2: He's arguably the most famous droid in history—location aware, computer fluent, intensely loyal. He's the sidekick everyone dreams of having.
DROID R2–D2: It's a natural combination— R2–D2 with the inner workings of the Droid 2. Only Droid 2 has the guts and technological supremacy to truly bring R2–D2 to life. Droid 2 and R2–D2, in fact, share many of the same traits—Navigational Masters, communication experts, foreign linguists, Golden Retrievers of information. Hand–held towers with warp speed processors.
Camera:
* 5.0 megapixel
* Auto–focus
* Touch–to–Focus
* Face detection
* Panoramic modes, and more
* Dedicated Camera Key
Video:
* DVD–D1 Video capture
* Direct upload to Youtube
* Slow–motion capture
* Fast motion capture and more
* Blockbuster Mobile Application for downloading full–length movies the same day they are available on DVD.
Specifications:
Design:
* Custom, authentic Lucas Films R2–D2 designed Droid 2
* Exclusive Empire Strikes Back Binoculars App
* Star Wars Live Wallpapers: Millennium Falcon and Space Slug
Dimensions:
* Dimensions: 4.58" (H) x 2.38" (W) x 0.54" (D)
* Weight: 5.96 ounces
Operating System:
* Android 2.2 (Froyo) OS with Motorola Application Platform
Display:
* 3.7" Touch Screen
* 480×854 wvga display
* Supports up to 16M color
Keyboard:
* Physical slide out QWERTY Keyboard
Battery:
* Battery: 1400 mAH Li–Ion
* Usage time: up to 575 minutes
* Standby time: up to 315 hours
* SAR: Head: 1.49 W/kg; Body: 1.50 W/Kg
Memory / Processor:
* TI OMAP 1GHz processor with Dedicated GPU
* 8GB Internal memory for emails, texts, and apps
* 8GB pre–installed microSDcard for music, videos, and pictures (expandable to 32GB)

The included dock is used to charge the phone, but it can also be used for viewing etc.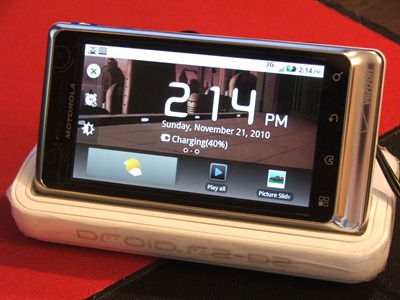 When you initially turn the phone on you're greeted with a 'Best of R2D2' video that plays automatically.
I'm trying a different approach here for reviews, instead of using my camera I'm using a screen capture program so they should look very good.
The phone has the Star Wars logo set as the background, but of course you can change it with one of the many still and live wallpapers included.
The lock screen is done up with Star Wars theme logos as well.
Here's several screen captures of the main screens:
As I mentioned several live and still wallpapers are included. The live wallpapers are unique surely. In one you can control R2D2 and make him move around your home screen.
There's more still wallpapers than there are live though, but they are still just as interesting.
On the phone you'll find plenty of Verizon apps of course.
There isn't as much as I expected in terms of Star Wars themed things though.There is a link to the same Best of R2D2 Video, and there's an app called Star Wars ESB Binoculars. The app is just looking through the binoculars like they did on Hoth. It's interesting for all of about 5 minutes, I would rather have seen some real Star Wars games on the phone.
Need for Speed Shift is included, well at least a trial version of it is. The game plays well on the phone, so any similar games should doo good.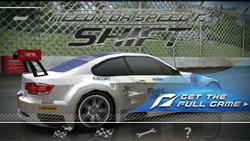 It's Android 2.2 on the phone but it doesn't look like it, at least not like other versions I've seen, I've come to like the colored icons on the Settings menus.
The phone is nicely made, and who doesn't like R2D2 right? It's the basic Droid 2 phone so hardware and form factor are the same, it's just the aesthetics that have changed.
The Verizon network is good in my area, but for some reason many times the phone did not have 3G. If you look at many of the screen shots you'll see a 1X for the network, not sure why though as I've never encountered this before here in my area with Verizon.
I did access the web and YouTube, it seemed slow at 1X but it worked and it went back to 3G.
I had no problem making calls and they call quality is very good. The dialer is nice and large and easy to use.
I've already reviewed the Droid 2, and found the camera to be decent, but here's some of the setting as a refresher:
Anyway, you can hop on over here and read my full review of the Motorola Droid 2 for my full impressions: https://technogog.com/review/review-of-motorola-droid-2/
Conclusion:
This new version of the Droid 2 is certainly unique,  it's R2D2 and who doesn't like him right?
The phone itself is fast and responsive as one might expect. The full qwerty keyboard is very nice to use, I've grown accustomed to not having a hardware keyboard but using the R2D2 phone I've realized just how much I miss it.
Personally though give me basic black and I'm happy, not sure about holding R2D2 up to my head to make calls..
Pros:
+It's R2D2
+Phone is well made
+It's the Motorola Droid
+Nice extras included
+Decent call quality
Cons:
-Didn't get rated battery time
-Camera could be better for indoor shots
-Have to remove battery to access microSD card
| | |
| --- | --- |
| Grades: |   |
| Overall | |
| Design | |
| Performance | |
To learn more about our review policy please visit this page HERE.