Not long ago I review the Augen Gentouch78 Android tablet and it wasn't bad for what it was, but it had several flaws. Today for review I've got what has to be the best Android tablet on the market today, the Samsung Galaxy Tab. The one I have is the Verizon version so it works on their network an includes a lot of Verizon apps on it as one might expect. The Tab is of the 7" variety at a resolution of 1024×600 and is running Android 2.2 with a speedy 1ghz Hummingbird CPU in it. It includes a 3mp camera on the back and a front facing 1.3mp one and it only weighs about 14 ounces so it's powerful and portable.

So let's start with the video unboxing:
The Galaxy Tab comes in a nice little box with a picture of it on the box.
There's not much included with it, just some documentation, power adapter and a USB sync/charging cable.
The AC adapter is the USB style, but it's the type that can be used around the world with different tips.
The Galaxy Tab doesn't have your normal micro USB port like most cell phones have these days, sadly it uses a special connection that's similar to the one on Apple products actually.
On the back you'll find the camera and flash.
On the right side are buttons for power and volume and there's a microSD card slot.
On the left is is a microphone and on the top (not pictured) is the audio jack.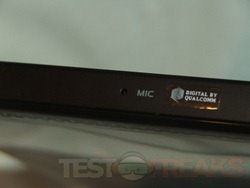 On the bottom you'll find the speakers and the charging/sync connection.
The tab can be used in portrait or landscape mode and can be rotated any which way.
Specifications:
The new Samsung Galaxy Tab: Beyond Entertaining
7" BRILLIANT DISPLAY
The TFT display with WSVGA 1024 x 600 resolution & full touch–screen has a bright and clear display for the ultimate viewing experience.
FULL SUITE OF ENTERTAINMENT ON–THE–GO
With super fast 3G download speeds and a powerful 1GHz Hummingbird processor, the Galaxy Tab provides a full suite of entertainment on–the–go. Enjoy easy access to gaming, social networking, videos, music, web and more.
FAST & EASY MESSAGING
With an onscreen virtual keyboard, threaded text messaging, work & personal email, plus Swype text input technology, the Galaxy Tab provides the ultimate in messaging options in a fun and easy–to–use design.
ONE-TOUCH ACCESS TO APPLICATIONS
The Galaxy Tab's one–touch access to pre–loaded and downloadable apps via Android Market puts your most frequently used tools, just a click away.
Go above and beyond entertaining with the Samsung Galaxy Tab, the tablet that delivers enhanced capabilities with advanced portability. A large 7–inch screen offers plenty of room for the thousands of interactive games and apps available for the Android platform, and its slim design makes it perfect for travel and one–handed grip. The built–in Media Hub gives you the ability to watch as you download popular television shows, movies and other media, or use the Galaxy Tab to relax and enjoy an e–book. With so many options for customization and interactivity, the Galaxy Tab gives you everything you want, anywhere you go…and beyond.
Specifications:
Dimensions:
* Dimensions: 7.48″ (H) x 4.74″ (W) x 0..47″ (D)
* Weight: 13.58 ounces
Operating System:
* Android 2.2 (Froyo) + Samsung TouchWiz (User Interface)
Display:
* 7.0" Touch Screen
* 1024×600 WSVGA TFT LCD display
* Supports up to 16M color
* 6–Axis Motion Sensor and Accelerometer
Keyboard:
* Virtual QWERTY Keyboard with Swype and Samsung keypad options
Battery:
* Usage time: up to 780 minutes
* Standby time: up to 500 hours
Memory / Processor:
* 1GHz Cortex A8 Hummingbird Processor
* 2GB internal memory & 16GB microSD card pre–installed
* Up to 32GB microSD Optional Removable Memory Supported
Camera:
* 3.0MP rear–facing camera
* Auto–focus
* Flash
* 1.3MP front–facing camera
Video:
* 3.0MP rear–facing camcorder
* DivX HD video playback
Price: $599.99

The Tab has a great looking display, it's not the AMOLED like on the Galaxy S phones, but it's still very nice looking. Everything is crisp and clear and colors are very bright and vivid. I found that turning up the brightness makes things look a lot better than leaving it at the stock setting which is about 50%.
The Tab looks just like an Android phone really and as such you'll find the Settings, Home, Back and Search buttons on the bottom.
The Verizon version of the Tab comes with a slew of Verizon crap on it as you might expect, and they didn't even try to hide it, they put it right on the home screens. There are five home screens on the Tab which are rather empty, but I'm sure we can fill them up quickly.
Here's the installed Apps, not much really sticks out though, just the same old stuff. I installed Angry Birds to test it out. NOVA and Let's Golf are included as a couple games to really show off the capabilities of the Galaxy Tab. You'll also find the Blockbuster and Kindle apps.
The Settings are familiar, common to most Android based devices. Here's an assortment of screen shots for you to peruse, not really any explanation is needed.
The Tab has a Task manager built in and it's really nice actually. There's tabs across the top to let you access things like Active Applications, Package, RAM Manager, Summary and Help.
Angry Birds played very well on the Tab.
Let's Golf is a nice little golfing game, it takes a while to load but it looks great.
Another game on the Tab is NOVA, which is a first person shooter that is a lot of fun and it looks great in terms of performance and graphics.
I used both the Verizon network and Wi-Fi to do some web browsing, and I found the experience is nice and fast on both. The Tab is equipped with 802.11n. The browser uses the familiar pinch to zoom, or you can tap the screen.
The YouTube app comes with the Tab and load speed are very good for videos.
Included with the Tab is the Media Hub for TVs and Movies. I didn't buy anything, but it's a nice option to have.
The Tab keyboard comes with Swype, and using it is easy since it's on such a large screen. it's almost like using a regular full sized keyboard.
The Tab is a decent product overall but I ran into a few slowdowns and freezing every once in a while. There is a bit of lag when closing an app and going back to the home screen, it takes a few seconds to get everything to show up again. Especially when you first turn it on, I found the screen and buttons are unresponsive for a several seconds before you can actually use it.
The interface is your normal sliding back and forth, it's very responsive yes while you're using it. I noticed though that if set the tablet down for a minute or so and come back to it it takes a few swipes to get it to work even though I set it to remain on for a long period of time.
The battery life is supposedly 780 minutes for run time and up to 500 hours for standby time. The battery life varies as to what and how many things you're running, of course wi-fi limits the battery life but not that much. I didn't get anything really close to that, I got about 3/4 battery life really.
I did install other things on the Tab, and found that not everything scales correctly, but they still work.
There is a front facing camera but it's only 1.3mp, and honestly it's not that great, the images are rather blurry. A front facing camera is nice for video chatting but there's nothing installed to actually utilize that function. I guess you could find an app for it, but I think it should come with one. I thought maybe I could use it with GTalk but I saw not option for it.
Speaking of GTalk, for some reason it sets you as available while the app loads even though my computer with GTalk status was set to Invisible. It also seems to take a long time to load the app.
The sound is great from the Tab for movies, music and games, I'm impressed truly.
I don't care for the proprietary connection at all, why not just use the microUSB like a phone has?
The Galaxy Tab has a camera yes, both still and video, and honestly it feels rather awkward to use such a large tablet as a camera.
Here's some sample pictures I took indoors in a well lit room.
There is no actual Macro mode for the camera but it is auto focus and getting in close does produce a decent picture. The camera button has two modes, just push it to take a picture or hold it in to let the camera focus and then let it go to take the picture.
Conclusion:
So in my time with the Galaxy Tab I've come to like it a lot, too bad it's a loaner and I don't have an extra $600 to buy one. Yes the Tab is selling for a whopping $600 from Verizon and that's not including service charges either.
Don't get me wrong it's a great product, but just not at that price point.  I can get a full blown touch screen laptop for about that much, with DVD player, faster processor and everything else in it.
The Tab is small and portable and very easy to use mostly. There are times when the Tab lags but it's not too bad.
The back camera is decent but the front is not so great.
The included crapware from Verizon needs to go, these carriers need to allow their customers to remove stuff they don't want. On the bright side though it is unlocked or at least it allows you to install non-market apps so that does allow more flexibility.
Pros:
+Small, portable and well made
+Easy to use
+Good sound
+Fast and responsive mostly
+Great looking screen
Cons:
-Slight lag at many times
-Proprietary connection
-Didn't get the rated battery life
-Some apps don't scale correctly
-High price
-Front camera not the greatest
| | |
| --- | --- |
| Grades: | |
| Overall | |
| Design | |
| Performance | |
To learn more about our review policy please visit this page HERE.