It seems everyone is putting out PC cases, I didn't know MSI was until this one arrived for my review, in fact it's not even listed on their website yet, but I have it and it's not bad. Today for review I have the Interceptor Series Nighthawk ATX Mid Tower PC case from MSI. The case is a bit small, but it still has plenty of room for even the largest of video cards along with room for several hard drives and more. The case features tool-less installation, three fans pre-installed including a 200mm sized one on the side. The Nighthawk also comes equipped with a built-in card reader, that reads pretty much everything, to make your life a bit easier.

The box isn't what I expected, but then again I don't know what I expected. It's a box with the case inside and it's well packaged to protect it.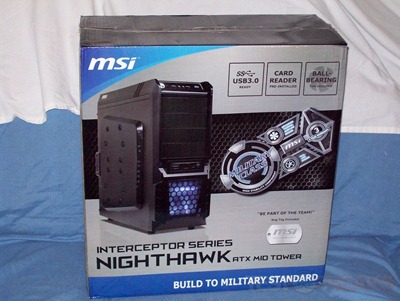 The Nighthawk case has a very unique look to it, one that I like honestly.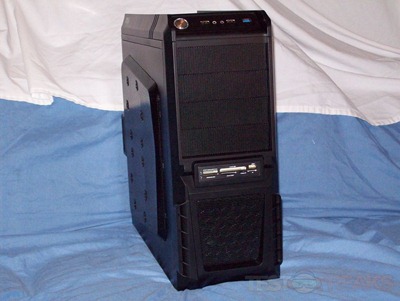 On the top of case is space for four 5.25" devices and above that you'll find the front control panel which has power and reset buttons along with audio ports, USB 2.0 and a USB 3.0 connection.
Below the 5.25" bays you'll find the card reader already installed for you. The reader has an extra USB 2.0 port as well.
On the bottom is a 120mm fan behind the mesh. The fan does have blue LEDs in it which you'll see later.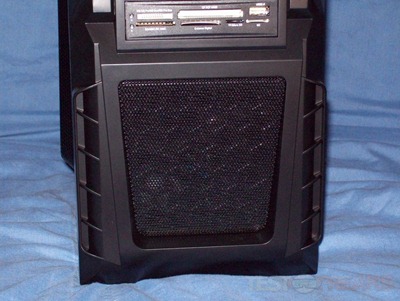 On the top of the case is more mesh and you can put two more 120mm cooling fans there for added cooling performance.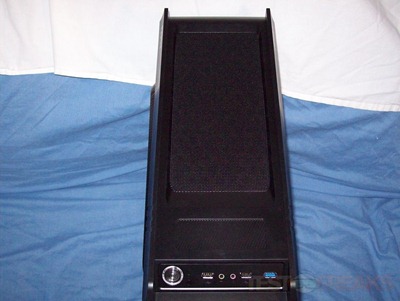 Part of the left side of the case is mesh as well, but there's a 200mm cooling fan here to keep things cool. The mesh part on the side sticks out a bit, just an observation….
The right side of the case is just plain black. On both sides of the case you'll see the MSI logo and on the side panels are handles to make removal easy. The case is metal and it feels study and just look good overall.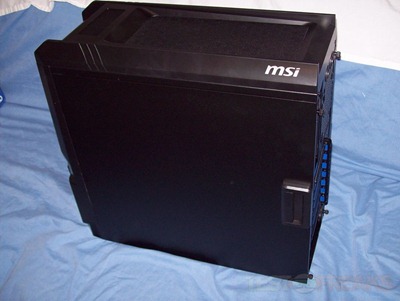 Moving to the back you'll see the side panel are held on with thumbscrews and you'll immediately notice the blue accents of the fan and PCI slot covers. There's also spots to enable you to run tubing for liquid cooling, and the case is the bottom mounted PSU style.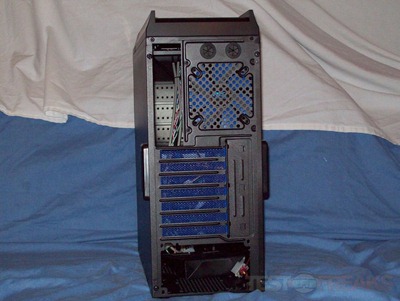 Here's the front of the case without the bezel on. You can get a better look at the fan and you can see the 5.25" mesh bay covers have filters on them.
On the bottom of the case you'll notice tall feet and venting for another 120mm fan and for the power supply.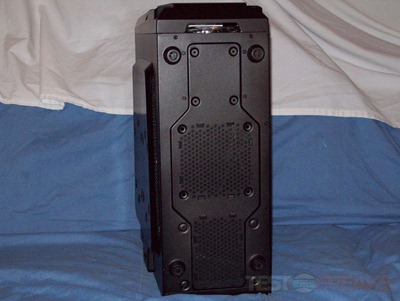 Here's the view with the right side panel removed or the back of the motherboard tray. There is a large cutout where the CPU is so you can easily swap coolers.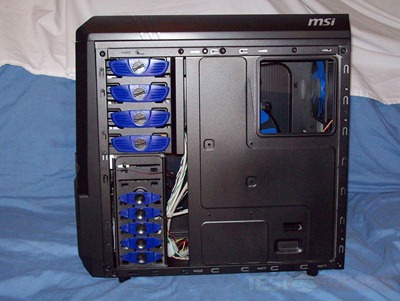 The hard drives and 5.25" devices are tool-less, on both sides you'll find plastic lock to hold them in place.
Here's the left side panel off so you can see the fan from the back side, yes it's blue. I'm not too sure about the whole black and blue color scheme, but I've seen worse.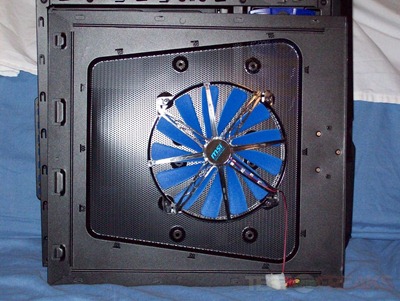 Then now we can get a look at the inside of the case. It's all black inside of the case to match the outside.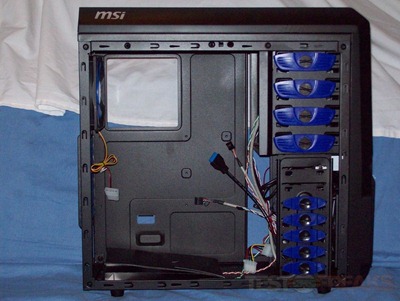 Here's the view of the back. The 120mm fan has both Molex and 3pin connections for power.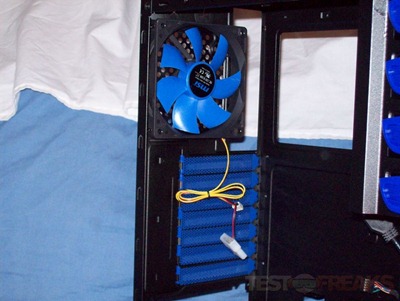 The bottom of the case has four rubber stands where the PSU goes to help keep it just a bit quieter.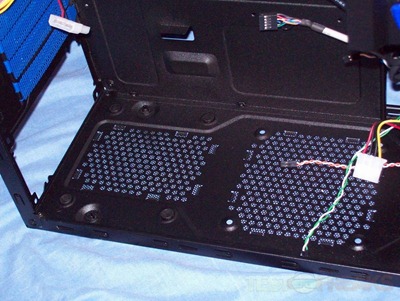 Here's views of the 5.25" bays and the hard drive cage:
Inside there are connections for audio, motherboard headers, USB 2.0 and USB 3.0.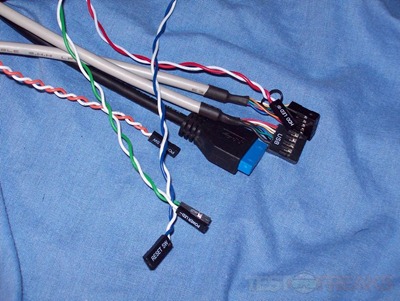 In the accessory bag you'll see the familiar installation kit with screws and standoffs, user manual, plastic straps for wire management and an MSI dog tag.
Specifications:

Interceptor Series Nighthawk ATX Mid Tower
Utilizing reinforced steel armor plating that protects your vital gear, the Nighthawk also comes fully equipped to ensure your system effortlessly survives even the most rigorous gaming and overclocking sessions.
Advanced Thermal Airflow Design
The Nighthawk includes three high performance fans for top quality cooling, maximized ventilation, and silent operation.
-120mm Rear Ball-Bearing Fan
-120mm Front Blue LED Ball-Bearing Fan
-200mm Side Fan (Can also be replaced with two 120mm fans)
-Three additional 120mm fan openings are available for flexibility and customization.
-Easy to access back panel for performance cooler installations/replacement.
-Bottom-placed PSU greatly improves thermal efficiency and for easiest installation.
-Cable management clips for cleaner installs and additional airflow improvements.
-Elevated stands to prevent airflow blockage on carpet flooring.
Tool-less Drive Bays
Lock n' load your drives and peripherals conveniently with the tool-less wing clip design.Turn the lock counterclockwise to unlock and remove the wing, insert your device and place into the proper openings, then lock the device in by placing the wing back in and turning it clock-wise.
Gamers can be assured their high-end graphics card will fit, with support for cards up to 310mm. (ex. Radeon 6990 = 305mm, nVIDIA GTX590 = 280mm)
Water Cooling Ready Includes pre-cut rubber holes for advanced hydration systems.
Built-in Card Reader Included free with your MSI case is a 12-in-1 card reader with an additional USB 2.0 port. (Uses USB 2.0 motherboard header)
Supports:
-MS/MS Pro/MS Duo/MS Pro Duo
-CF I/CF II/MD
-SD/MMC/RC MMC
-Extreme Digital
-TF/Micro SD
-M2
Front Panel USB 3.0 Port
SuperSpeed USB 3.0's 5 GB/s offers 10 times the bandwidth compared to traditional USB 2.0 ports. Simply connect the USB 3.0 connector directly to the port on your motherboard and gain blazing fast file transfer speeds from the front of the case.
Angled Top Panel I/O
Easy to access Power and Reset buttons; Headphone, Mic, USB 2.0 (x2), USB 3.0 (x1) ports.
Mid-Tower – ATX/Micro-ATX Compatibility
Series Interceptor
Name Nighthawk
Model IN-9390
UPC 4712523621650
Case Type ATX Mid Tower
Material Steel
Color Black
Front Bezel Material Mesh
Motherboard Compatibility ATX/ Micro ATX
3.5" Drive Bay Internal 6
5.25" Drive Bay 4
Expansion Slot 7
USB 2.0 3
USB 3.0 1
HD Audio Yes
97 Audio Yes
Card Reader 1
Power Supply Mounted Bottom
Liquid Cooling Ready Yes
Cooling System
Pre-installed Fans
1 x 120MM Front Blue LED Fan
1 x 200MM Side Fan
1 x 120MM Rear Ball Bearing Fan
Optional Fans
2 x 120MM Top Fans
3 x 120MM Side Fans
1 x 120MM Bottom Fan
Advanced Thermal Air Flow Design Yes
Multi-GPU Supported (up to 310mm) Yes
Tool-less Design Yes
Cable Management System Capable Yes
Dimension (Chassis)180(W) x 428(L) x 410(H)MM
Dimension (Case)180(W) x 475(L) x 448(H)MM
MSRP $79.99
Warranty 3 Years
more review text
The next step of course is to install a system in it and I went about it.
One interesting thing to note about the installation process is that you don't have screws inside of the case to secure your PCI/PCIE cards. There's a bracket on the outside of the case that you remove them put back on once your cards are in place.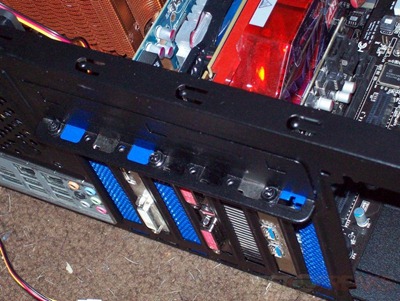 I did use one of the clips to hold the wires in place at the bottom of the case.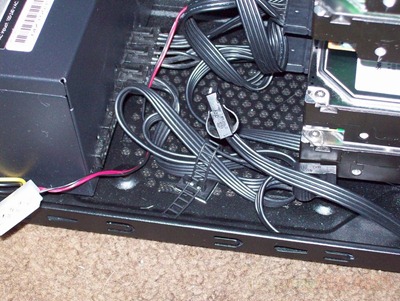 Here's everything installed in the Nighthawk, and it's a bit cramped but I got it all to fit.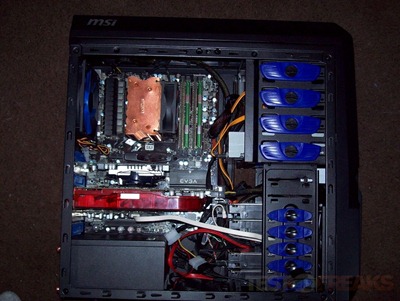 There's really nowhere to run the wires so I pretty much hard to cram a lot in the bottom of the case.
Here's the view from behind the motherboard: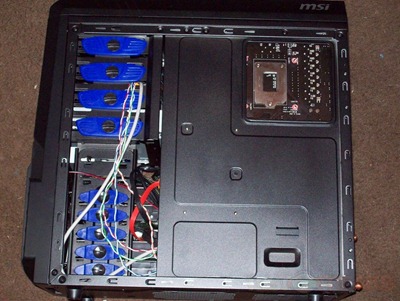 I only use one optical drive a blu-ray reader and DVD burner. I normally also have a card reader installed but the Nighthawk came with one so I don't need mine.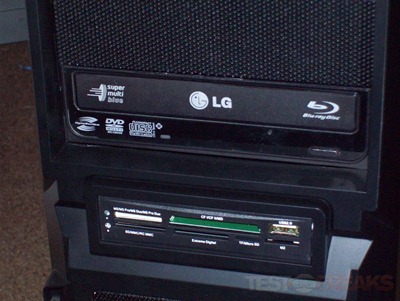 Here's the front fan lit up: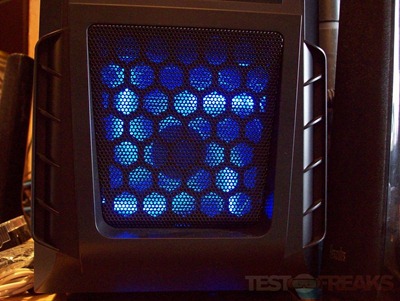 There's a ring around the power button that lights up blue also when the system is turned on.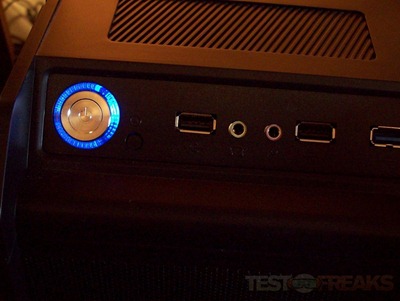 The fans seems to do a decent job of keeping things cool. I should note that the fans are a bit loud for my tastes, but I prefer a very quiet system so I have a low tolerance to loud fans. Keep in mind though, what I think is loud might be fine to someone else.
The side fan seems to suck in a lot of dust, it seems every other day I'm wiping it clean because dust has accumulated on the side in a circular pattern. It is winter though so, the furnace is on keeping up dust around the house.
The Nighthawk feels a bit cramped to me, but there is plenty of room for everything to fit. I just like a bit more room to run wires and such around and through the case.
Conclusion:
The MSI Nighthawk case is a decent looking one, there's no doubt about that, it's stylish and just really looks good. The case does have some good qualities like the built-card reader and the fact that it's mostly tool-less making installation a tad bit easier. The cooling system seems to work well at keeping everything cool inside of the case. You can use the included fans and leave it at that or replace them or the case does have spaces so you can add more fans for even more efficient cooling. There is plenty of room for several hard drives for lots of storage and there's still room for even the largest of video cards. I really like the addition of the card reader, it is very helpful as I use it often.
The noise level of the fans is a personal preference, I think they're a bit too loud but that's me. I like my case to be very quiet as it sits on my desk no more than three feet from me. If it was under the desk then I would guess the sound level would be bearable then. It just depends on how close you are to it really and where you'll have your case set up, and of course your tolerance to noise from case fans.
The side fan sucks a lot of dust in, in a day or two you'll be wiping a dust ring from the side. It's winter so the furnace kicks up a lot of dust in our houses so that's one of those things that you just have to deal with I guess. It would be nice if there was some kind of filter on the side fan that you could remove and clean but there isn't so any dust not on the outside fan cover is obviously going to the inside and getting on your components.
To me the case feels a bit cramped as there's really nowhere to run cables as the motherboard tray isn't cut-out to allow cables to pass through or even hide behind the tray. Everything kind of has to be jammed in the bottom of the case or wherever else you can.
The cons aren't that bad really, just small gripes on my part. Overall the case isn't bad, it's small and well made so it can be portable if need be. The price is about right, it's low, more of a budget minded case I guess.
Pros:
+Very well made
+Keeps things cool
+Great design and good looks
+Tool-less
+Built-in card reader
Cons:
-Feels a bit cramped
-Fans are loud
-Really nowhere to run cables
-Sucks a lot of dust in
| | |
| --- | --- |
| Grades: | |
| Overall | |
| Design | |
| Performance | |
To learn more about our review policy please visit this page HERE.