Let's take a break from all of the CES news and mix a review in here with it all. Today for review I've got an excellent GPS navigation program for Android based devices called Navigon MobileNavigator and it can certainly get you form one place to another quickly and easily. MobileNavigator has plethora of features that everyone can appreciate, one example is the Navigon Reality Scanner that uses the camera for a live view of your surroundings and overlays roads and points of interest on it so you can visually see where things are in real time. MobileNavigator is much more than just your basic GPS system, it's so much more.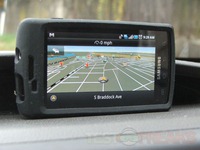 It's a download from the Android Market, no unboxing or nothing like that but read the specs and features listed below to get an idea of what Navigon MobileNavigator has to offer. I installed it on my Samsung Galaxy S Captivate.
Specifications:
NAVIGON MobileNavigator Android
Turn your Android phone into a mobile navigation device with lots of useful functions that will delight you! The pocket navigation device will show you the right way with functions such as Reality View Pro and Lane Assistant Pro. And functions such as automatic switching between day and night mode, direct access and navigation to contacts in the phone book and intelligent address entry will make your navigation even easier. However, your safety is also taken into account: with the Speed Assistant and Real Road Sign functions, you will always have your wits about you. Thanks to POI, many points of interest en route are also already integrated into the maps and can be navigated to directly. The new navigator on your mobile – ideal for those who are always on the move.
Traffic Live
Thanks to traffic information in real time, NAVIGON users can find out where the roads are clear with Traffic Live. You will be recommended the best route for you at all times – taking the current traffic situation into consideration.
Reality View Pro
With NAVIGON Reality View Pro, you'll be informed in good time about motorway junctions and when you need to change lanes. Thanks to photo-realistic displays of exits and the actual junction number, you'll be able to follow the signs. So you will always have your bearings.
Enhanced target information
Get to know your destination before you even start your journey
Want to know what parking options are available at your destination and where you can satisfy your hunger pangs after your journey? This function has the answer. With Extended Destination Information, you can find out interesting information on your destination area before you even set off on your journey.
NAVIGON Reality Scanner
Find nearby special destinations
The new kind of POI search and the easiest way of finding special destinations in the immediate neighborhood. Just select your map view and point your phone in the direction you want information for. Thanks to the combination of camera and integrated compass, the display then shows restaurants, hotels, filling stations, etc. close to your position.
Enhanced pedestrian navigation
Straight to your destination, even on foot
With MobileNavigator, you will never take a wrong turn again. Enhanced pedestrian navigation* offers you considerably more convenient directions than the traditional city map. The principle behind it is simple but effective. One arrow always points in the direction in which you are walking and another points in the direction of your destination, making your city stroll even more relaxed.  *The GPS profile has been specially designed for pedestrian navigation.
NAVIGON MyRoutes
Recommends the route that suits you best
Whatever kind of driver you are, NAVIGON MyRoutes recommends the best route every time, adapted to your personal driving style, the day of the week and the time of day. In addition, your MobileNavigator also displays up to two further possible routes.
Google Local Search
Local Search with the world's largest search engine
With Google Local Search*, the world's largest search engine provides you with support when searching for destinations in your immediate surroundings. Using keywords such as "cocktail bar New York City" or "flower shop Los Angeles", you can find all the interesting special destinations along your route. And as well as telephone numbers and addresses, customer reviews tell you whether or not it is worth the extra mile.  *Depending on your chosen tariff, you may be charged for data connections.
Coordinate entry
Enter your destination as coordinates
Coordinate entry offers the option of entering a destination by its coordinates. This provides a valuable alternative to the standard address entry for finding campsites, for example.
Lane Assistant Pro
Always in the right lane
Lane Assistant Pro helps you to make your way through even the most hectic traffic situations. It provides you with a clear look ahead, showing you whether you need to change lanes for this turn and the next.
Speed Assistant
Never drive too fast again
NAVIGON keeps an eye on your speed: the Speed Assistant provides audio-visual warnings as soon as you exceed the legal speed limit.
Real Road Sign
So you'll always know where you are.
Traffic signs are displayed realistically for easier orientation
Direct access and navigation to contacts in the phone book
Access your Android address book directly
This function offers you an option to directly integrate addresses stored in the phone book on your mobile into the navigation, making it easy for you to set an address from the phone book as your destination and be navigated there. So there is no need for any time-consuming entering of addresses –  and you will get to your destination even quicker!
2D/3D map view
You choose the view: 2D or 3D mode
You have the choice between different map displays: either navigate in the classic 2D mode, or in the 3D mode from a bird's-eye view. The automatic scaling adjusts the map scale to the car's current surroundings. So you always have a view of the route.
Day and night modes
Automatic adaption to light conditions
This option adjusts the map material display to the current light conditions. In darkness, the navigation switches automatically to night mode, and is displayed in darker colors. The light intensity is lessened and, therefore, will not startle you.
Points of Interest
Your favorite destinations
Found out more about points of interest (POIs): if you touch on a point of interest displayed on the map, such as service stations or tourist attractions, you will receive valuable information, including addresses, opening hours and telephone numbers. You can also choose to be navigated there directly.
Smart Speller
Addresses that make sense
Never make another mistake when entering addresses. The intelligent address entry shows you only letter combinations that make sense. This way, you will only be offered addresses that really exist.
Take Me Home function
So you'll always find your way home!
Home sweet home: simply save your home address once as your 'Take Me Home' address and the Take Me Home function will always lead you home safely and quickly.
Important notes:
* Compatible with Android operating system versions 1.5, 1.6, 2.0.0, 2.0.1, 2.1, 2.2
* Resolutions supported: 320×240 ; 320×480 ; 480×320 ; 480×800 ; 800×480 ; 480×854 ; 854×480
* Depending on map configuration, you will need up to 2 GB of free memory in order to install MobileNavigator on your device.
* You may be charged for an Internet connection and for downloading data. You can find out details about these costs by contacting your mobile network provider.
* Languages: Czech, Dutch, English (US and UK), French, German, Italian, Polish, Russian, Spanish, Turkish
Price: $39.46 (Until January 6th only Special)

When you first turn the program on actually you'll see the warning that's on all GPS units, not pictured. After that you're taken to the main screen with four main choices for Enter an Address, Search for POI, Take Me Home and Show Map.  If you press the Android Settings or menu button the menu will pop up with choices for Quit, Traffic, Product Information, Route Profile, Coordinates and Settings.
We'll take a look at the Settings first, there's a lot here really. MobileNavigator does feature the ability to map red light cameras and let you know where they are and you can turn it on or off. The Settings are broken down into sections, the first is General and you can change the Distance Units, how the map displays in 2D or 3D, turn Nightmode on or off, turn the internet connection on and off and Optimize Traffic Recognition which allows you to or not send data back to Navigon about traffic patterns you may encounter.. The next section is Route, then there's Map Management, Voice Output, Speed Limits, and Traffic.
Back on the pop up menu if you select Traffic you'll be taken to an update for traffic so you can know what's going on at a glance.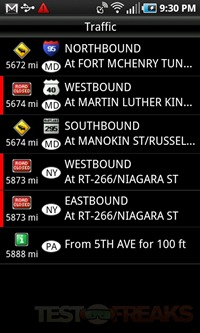 The next menu choice is Route Profile. Here you can select how you're traveling either by car, truck, motorcycle, bicycle or even on foot. Under the Type of Route you can select Fast, Optimum, Short and even Scenic. The last options are self-explanatory I think.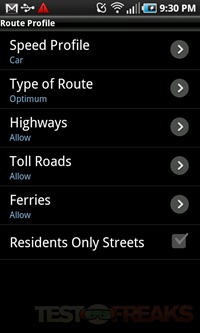 The menu option is for Coordinates. Here you enter the latitude and longitude basically so you can get exactly where you are going. This can also be useful for places like a camp maybe that doesn't have an actual address.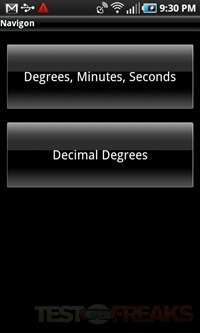 Back on the main menu if you select Search for POI you'll be taken to another menu with choices for In a City, Statewide, or Nearby. Under those are three more choices for searching for gas stations, parking or even restaurants. Then at the very bottom you've got the choice to just use Google to search for things.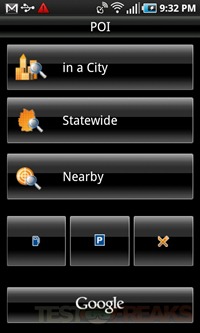 If you select Enter an Address up will pop the keyboard and an input box for the City to start with, then you can just continue entering information until you find your destination.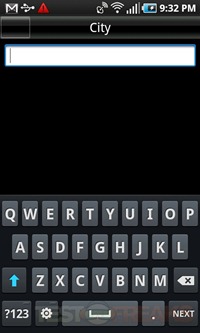 The Take Me Home option is your home home address, or whatever you have home set to be, it could be your place of business if you want. If you press Take me Home you'll get pretty much instant direction to get there.
The last choice is Show Map which is another of those self-explanatory options, it shows the map. There's also a pop up menu with the map which can take you back to Settings, allow you to adjust the volume, change Route Profile and see GPS information. I took the screen shots indoors so there's a red bar at the top indicating there's no GPS signal.
The map can be shown in 2D or 3D of course and you can zoom in and out. One of the interesting things I noted when zoomed in is actual logos for like Starbucks, and Subway and most other big chain places are shown.
Navigon MobileNavigator can be used in either portrait or landscape mode of course and I found that it switches very quickly back and forth with little or no lag time.
Here it is in my car with a GPS signal, no red bar on the map.
The software works very well for navigation, as it should right?! I used it to get to and from around town and some highway use. Living here of course I know a few better ways to get from point a to point be, especially in rush hour but that's with any GPS. I found the map updates very quickly when you go off of the route.  The actual GPS updates quickly as well, but I think that has more to do with the GPS unit and not the software, or maybe it's a combination of both, but it updates quickly as you're driving, near one to one movement. One of the better features of the MobilNavigator is real road signs, while you're driving, on screen you'll see a picture of the highway signs, like the exit you need to take. This helps a lot I think as you don't really have to stare at the map. The Speed Assist function is I guess useful, but I live in an area where there's a lot of schools and a lot of speed changes so it's hard to really test something like that unless I go in and keep updating the speed it's supposed to be in the software. For highway driving it would be very useful to know when you're going over the speed limit.  There's also a feature called Lane Assist Pro that shows you when you need to change lanes and what lane you need to be in visually so there's no more guessing or frantically trying to change lanes.
Finally here's the Reality Scanner to show you what it looks like. It's unique but I wouldn't want to use it while driving.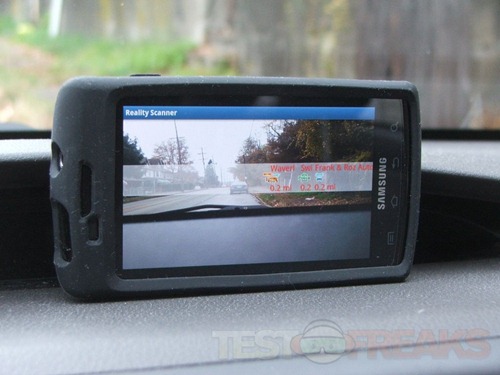 Conclusion:
There's plenty to like and really nothing not to like about Navigon MobileNavigator for Android, it's a very good program for navigation really. MobileNavigator is a feature rich program that will do much more than help you get from place to place. With a car mount for my phone this could easily replace my TomTom stand alone GPS unit, and as of now will.
I like it quite a bit, much more than TomTom that I was accustomed to using on my Windows Mobile phone.  If you're looking for a very good GPS program for Android then make sure you take a second look at Navigon MobileNavigator.
Remember until January 6th it's only $39!
Pros:
+Tons of features
+Easy to use
+Works very well
Cons:
-None really
| | |
| --- | --- |
| Grades: | |
| Overall | |
| Design | |
| Performance | |
To learn more about our review policy please visit this page HERE.