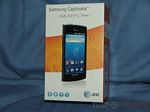 Let me start this off by saying that I think it's about time AT&T has finally gotten a decent Android phone! The Samsung Galaxy S or Captivate is here to save us from the mediocrity that is what AT&T is offering now for Android phones. So yeah, I've got the Samsung Galaxy S or Captivate for review today and I love it, I truly do. Sure I miss the hardware keyboard, but with this phone I think I could learn to live without it. I also miss having a flash to take picture, but without it the pictures are fairly decent, even those taken indoors. The Captivate though is what an Android phone should be, it's fast with its 1Ghz processor and it has a gorgeous 4" screen that looks wonderful for general usage all the way up to movies and gaming. The Captivate truly is a great phone… and I've got no issues with GPS either…

The Captivate comes in a nice looking box.
There's several things included with the phone like USB charger, USB cable, wired headphones and extra ear buds and a lot of documentation.
The phone itself is very nice, it's thin and lightweight. I really like the design it feel nice in your hand, and it just slides into your pocket. Like most Android phones, below the screen you'll find four touch sensitive buttons.
The back has textured cover and you'll find the speaker and 5mp camera there.
The sim card and microSD card go under the back cover. You'll need to remove the battery to get at the sim card, but the microSD card can just pop in and out. You'll notice there's no microSD card in there, a lot of phones today come with one, but the Captivate has got 16gb built right in so you most likely won't need a memory card right away.
On the top of the phone is the audio jack and the micro USB port which is behind a little sliding door.
There's not many buttons on the Captivate. On the right side is the power and lock button while the left has the volume rocker button.
Specifications:
See brilliance on display. The Samsung Captivate with its 4-inch Super AMOLED display brings to life Hollywood blockbusters and your own 5.0MP pics like never before. Revel in the beauty of vivid clarity and awe-inspiring colors – even when the screen is drenched in sunlight. Experience the Web with the full HTML browser, choose from thousands of games and productivity apps from the Android Market, and stay in touch with everybody with pre- loaded social apps. Do it at blazing speeds with the 1GHz processor, Swype technology and up to 32GB of expandable memory – all with the phone as captivating as life itself.
Super AMOLED Touchscreen
Your world just got brighter and you don't even need shades. Experience HD-quality video recording that's clearly detailed, extraordinarily vivid and astonishingly colorful on the brilliant 4-inch Super AMOLED screen. Movies, games, websites, they all come to life even in broad daylight thanks to an anti-reflective screen. One of the thinnest, most responsive smartphones in the world, it also uses less power to give you longer battery life. Play on.
Social Networking Integration
Keep up with friends as easily as you make them. The Captivate integrates all your email, social networking and phone contacts into one address book. It also combines your Google Calendar and social networking calendars into one so you always know what's up. Instantly post your status and upload pics on Facebook, MySpace and Twitter with the Feeds & Updates app. Since it's not just about you, recent postings from friends and family instantly appear on your home screen thanks to Buddies Now.
Android 2.1 Platform
Do you want the whole world in your hands? How about the whole universe? Tens of thousands of apps populate Android Market – everything from popular games to productivity tools to constellation maps. Powered by the latest Android platform (and upgradeable to 2.2), the Captivate fully integrates with Google Mobile Services. You're now at one with your Gmail account, Google Maps, YouTube videos and more.
Swype Text Input Technology
There is simply no faster way to text, and there is the 2010 Guinness World Record to prove it. The virtual QWERTY keyboard with Swype technology lets you input text lightning-fast without lifting a finger. Follow all the back-and-forth text conversations with threaded messaging. Partial to instant, photo or video messaging? All available too. While you're at it, stay on top of work email via Exchange.
Samsung Media Hub-Ready
Hollywood blockbusters and popular TV shows: coming soon to the brilliant Super AMOLED screen. A powerful 1GHz Hummingbird processor and surround-sound stereo quality ensure performances equally as brilliant. It comes with 16 gigs of built-in memory and is expandable up to another 32GB, so you can store loads of videos and MP3s. There's a 3.5mm ear jack so you can use your regular headphones. Direct your own flicks with the 5.0MP camera and camcorder with autofocus and HD video recording (720p), and then stream it to your DLNA-enabled HDTV.
Full HTML Browser
Explore what the Internet has to offer in full-color glory at blazing speeds. The full HTML browser lets you experience the Web just like you do on a desktop. Unlike your desktop, the WiFi-enabled Captivate gives you total mastery over the web page with advanced touchscreen capabilities such as Pinch-to-Zoom, drag & drop and Vertical & Horizontal swiping . Whether you're accessing location-based services or uploading pics to Facebook, you're doing it on the nation's fastest 3G network.
Size:
Weight: approximately 4.5 ounces
Dimension (HXWXD): 4.78" x 2.5" x 0.39"
Display: 4 inches WVGA 480×800 pixels Super AMOLED
Battery:
Talk time: up to 5 hours 50 minutes
Standby: up to 300 hours
Camera:
Camera Resolution: 5.0 megapixel camera
Digital / Optical Zoom: 4x
Auto Focus: Yes
Shot mode: Single / Beauty / Smile Shot / Continuous / Panorama / Vintage / Add me / Action shot / Cartoon
No Commitment Pricing: $499.99
2-yr Contract Price: $199.99
Total Due Today: $199.99
Price from AT&T Online at time of review

Let me start this off by saying I had no issues whatsoever with the GPS in this phone. I made sure I tuned off cellular/wireless location and loaded up the Google navigation app, within 20 seconds I had a GPS fix that was as near as my car GPS gets, or any other GPS I have for that matter. So I have no clue as to what these other reviewers are complaining about in regards to GPS.  I guess I got lucky for once in my life and got a good one…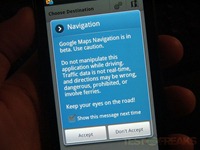 This phone is running Android 2.1, it's got seven panels, three on each side of the home screen. Some of the panels are setup already but the others are blank allowing you to add whatever you want to them to truly customize the phone to your own liking.
On the home screen you'll find eight icons by default:
Pressing the menu button and up pops the little settings menu: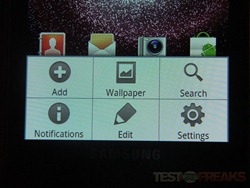 Pressing the applications button brings up three pages of app by default, on my phone here I have four pages because I added quite a few things to test the phone and other devices. I like the interface but what bugs me is that it doesn't wrap around, meaning you can't slide to the left or right and wrap around.
If you look at those screens up there you'll see quite a bit of AT&T bloatware which I hate and I think everyone hates. Many of the apps are pay for ones which when you open them you'll have to pay to use them, it's usually a monthly fee. If you don't pay attention and just keep hitting continue you'll end up with a surprise on your bill come month's end.
The interface itself is Android 2.1 yes, but I, unlike others, aren't going to fault the phone because it doesn't have the latest and greatest operating system on it yet. So what if it's running 2.1?! It works and works great, I can wait until it gets 2.1, that's not a big deal to me. Now if it was like running 1.5 or something then I'd complain, but as is i have no complaints about the version of Android it's running out of the box.
The interface is fast and responsive, I really didn't notice any slow-downs unless I had like 10 things running at one time and that's just not something the average person is going to be doing.
Here's the Settings, very similar to other Android phones.
There is a free App from AT&T though that's kind of useful, it's one that helps you find AT&T HotSpots.
One of the other apps is the Find Places, this is used in conjunction with the GPS to, well, find places.
The keyboard is nice, I like it better in landscape mode of course, I find it a bit cramped in portrait, but I prefer a hardware keyboard over this type.
Web browsing is fast, I had no issues there at all, either on WiFi or 3G, both worked perfectly fine.
Related to the internet you'll also find the YouTube app. It's YouTube, not much special going on here.
I run my email through Gmail and it works great, I had no reason to use the other email options with the Captivate so I can't comment on them right now.
The dialer is nice and large. I'm on AT&T so I just popped my sim in the Captivate and used it as I would normally, I had no issues with call quality. Calls were clear and I had no problems hearing or being heard.
Included is a calendar, clock, alarms, stopwatch and timer as well.
There's three different memo apps, Memo, Diary and Write and Go.
There's another app included called AllShare that allows you to stream from phone to another player, or play a file from a server or play a file from the server on another player.
Music and Movies are great. One thing I noticed is that the Captivate is capable of 5.1 surround sound, but only through headphones. The screen for gaming, movies and just using it in general is just beautiful, the 4" AMOLED screen is just excellent overall.
Speaking of music and movies, the built-in speaker can get very loud, and it doesn't sound too bad. It's still a little phone speaker, but it's not bad, I've heard a lot worse. So if you don't have headphones handy you can get by with the built-in speaker if need be, and it's not a horrible experience at all.
Included is the Samsung Media Hub, but it's not quite ready yet.
The Captivate has a 1Ghz processor in it and it handles 3d gaming easily, the graphics are great and the action is smooth.
I've got two major complaints with this phone, the AT&T garbage that's on it as I mentioned and the fact that it's locked down and doesn't allow for any installations except those through the Marketplace. I feel if you buy something then you own it right? They should not be able to tell you want to do with something you bought and paid for. I could say the same thing about the iPhone as well.There are ways around this of course though, and it's fairly easy to load apps onto an Android phone. Despite how easy it is, I or We shouldn't have to work-around anything though.
As far as the battery is concerned, I wasn't expecting much since it's a smartphone, but I was pleasantly surprised that I didn't have to charge it every day. I used it for email, a little web browsing and gaming, and of course making calls and I didn't have to charge it every day which is a good thing. Your battery life will vary of course depending on what you do and what you have running all of the time.
Now let's take a look at the camera. I was a bit surprised when I heard that there's no flash on this phone, all higher end phones these days have at least one flash if not two. Obviously in very low light situations, not having a flash will be an issue, but indoors in fairly low light I found the pictures to be decent.
There is no hardware camera button, kind of a let down, but the button on the screen works well. You can just push the button to take a picture quickly and hope it was focused, or you can hold the button and wait until the viewfinder turns green and then let go to take the picture. Yes it take a few seconds longer, but it's well worth it, especially for indoor pictures. For outside you can quickly take a series of pictures just by pushing the button over and over again, or you could change to continuous shooting mode, but you get the idea.
From the left side menu you can access Scene and Shooting modes:
At the bottom on the of the left side is the Settings menu which is broken down into two sections.
Here's some sample pictures just taken normally from varying distances. I just used 'normal' or 'none' for scene mode, and 'single shot' for the shooting mode.
There really is no macro mode, but as you can see you can get very close with no problems.  These were taken indoors with just overhead lights on and they're not too bad I think.
And here's some of the special effects:
Conclusion:
If you're on AT&T then you finally have access to a decent Android phone. If you've been waiting for one, then your wait is over, it's here in the Samsung Galaxy S or Captivate. The phone is thin and lightweight, many smartphones out here are big and bulky but the Captivate is svelte and stylish.
The 4" screen is beautiful,everything you do from web browsing to playing games to watching movies and checking email will look great. Call quality is great as is battery life, most smartphones require charging every day, but with the captivate you should get two days with average usage.
The phone itself is fast and responsive, the interface is great and it works well, I've got no complaints there. Sure it's not Android 2.2, but who cares, I know I don't really, but I know some people might and if that's a deal breaker for you, then I feel bad for you because you're going to be missing out on a great phone..
Pros:
+Very nicely designed phone
+Fast
+Good call quality
+Decent pictures even without flash
+Quick GPS acquisition
+Beautiful screen
Cons:
-No Flash
-AT&T garbage included
-No microSD card included
| | |
| --- | --- |
| Grades: | |
| Overall | |
| Design | |
| Performance | |
To learn more about our review policy please visit this page HERE.