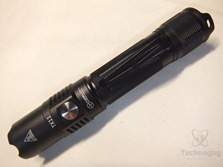 If you paid attention to the reviews here you'd know I have a thing for flashlights, I've got quite a few of them, and now I have another one, probably the best one so far really from a company called Night Provision. The light is the TX11 and it's rated for 1000 lumens which is really bright, and yes it is 1000 lumens, or at least it's the brightest of all the lights I own. The light has six modes and two buttons, it can use a single 18650 rechargeable battery or a CR123A Lithium battery. The light has a throw distance of over 200 meters and a battery life rated for 1200 hours when the light is in low or what they call firefly mode. The light is tough and durable, it's made from aircraft grade aluminum and it's waterproof and impact resistant, I have to say it's just a damn good flashlight. Read on to learn more…
Specifications and Features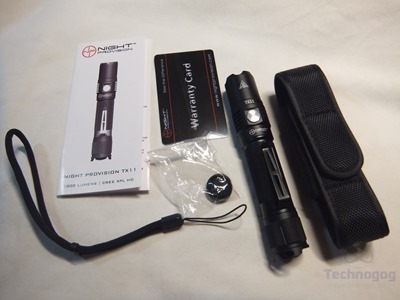 The TX11 flashlight comes with a nylon carrying pouch or case which is well made. The sides are elastic and the closure is velcro or hook and loop. The top has a small metal ring so you can hang the light or you can use the belt loop which has a button clasp top make it easier to take off and put on. The TX11 flashlight fits very snugly in the pouch, it will protect it and it won't fall out either.
The light is very well made with great attention to details. It's about 5.5 inches long and just less than 1 inch in diameter. The light is made of aircraft grade aluminum and it's water proof and impact resistant. The light has a knurled pattern on the handle for grip and it does come with a metal clip attached to the light so you can clip it as need be. I have many other LED lights that use the 18650 batteries but this one is the smallest of them and I have to say it really is the nicest one, and yes it's the most expensive of them as well.
On the top of the light and towards the front is a silver button for changing the modes of the light, yes there are two buttons on the light, one for power and one for modes. The front of the light around the lens has a sort of serrated look to it as you could use the light for self-defense if need be. The LED is a Cree XP-L HD (HD for high density) which is a higher performance LED when compared to the standard ones, it uses less power for lumens per watt and it's a different hardware or chip. If you look at a lot of LED lights you'll see a common square pattern in the beam, this one doesn't have that, it's pre-focused as a spotlight but it does have light coming over the edges to further light up in a wider area. Essentially it's very bright in the center like a spot light, but a dimmer light spreads out around the center more like a flood, so you get a combination of both really. The LED is behind a glass lens, and the front section can be removed and inside you'll find a rubber o-ring to keep the weather out. You can put the battery in from the front or the back.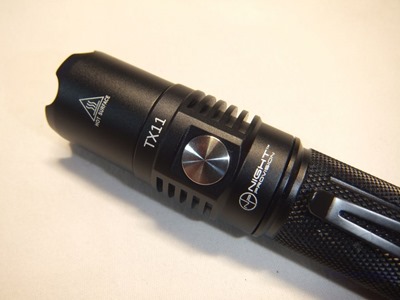 Towards the back of the light you'll see the pocket clip and also the tail button which is for power on and off. The tail section does have two slots that can be used for the included wrist strap. The tail button section can be removed by twisting it and inside you'll find another o-ring to keep water and dirt out.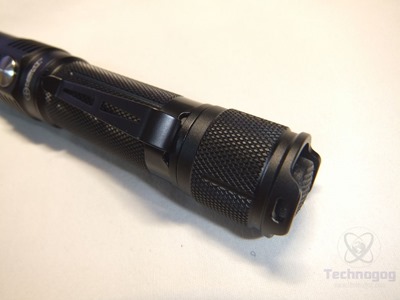 The light is very bright, I can believe the statement that it's rated for 1000 lumens, it's the brightest light I have currently, even brighter than others I have that are stated to be 1000 lumens. This light has six modes, firefly, low, medium, high, turbo and strobe. I should note the light can get warm when on high, and it does have a warning on the light about that actually, but it's not overly hot at all. Firefly mode is very dim, but it's enough light to use in a tent or to find something in your backpack in the dark without disturbing anyone else who might be in the tent with you. You can cycle through the modes just pressing the silver button but to activate the strobe mode you'll need to hold in the silver button for at least two seconds.
Conclusion
I have to say this is the best light I've ever owned or reviewed and I have many and name brand ones like Mag and StreamLight. The TX11 is a high quality light, it's very well made, it's really built to last, I'm very impressed by this light, it's small but bright and rugged. This light would be great for emergency responders, police, or just for the average person to use around the house or perfect to take camping and hiking.
I very much like the two button system and I should note the light does remember what mode you were in last, so if turn it off on high it will turn back on in high mode or whichever mode you last used.
Yes it doesn't come with a battery but 18650 rechargeable batteries are very popular and inexpensive so you can pick them up cheaply many places.
Pros:
+Two buttons, one for power and one for mode
+Waterproof and impact resistant
+Extremely bright
+Long runtime on low mode
+Very well made
+Includes versatile carrying case
Cons:
-No battery included
| | |
| --- | --- |
| Grading | Scores Out of 10 |
| Overall | |
| Design / Aesthetic | |
| Value / Price | |
| Performance / Usage | |
Disclosure: This product was given to me for review by the company for review purposes only for free or at a discounted price.
To learn more about our review policy please visit this page HERE.