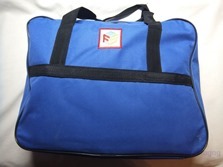 I've reviewed a couple first aid kits but emergencies can happen on the road as well. Today I've got the First Secure 90 piece auto emergency roadside kit which has most everything you need for an emergency while on the road, and it's all in a handy carrying bag. There's too much to go into in the intro, so just read on to learn more…

Specifications and Features
First Secure 90 Piece Auto Emergency Roadside Kit- Premium Road Safety & Survival Kits- Accessories/Tools for Car Travel- Bag Includes Battery Jumper Cables, Air Compressor Tool, Tow Cables, First Aid
Complete Emergency Roadside Kit Containing:
-6 Gauge 300 Amp 10 Foot Jumper Cable
-250 PSI DC (Cigarette Lighter) Portable Air Compressor
-11 Ft. 10,000 Pound Capacity Tow Rope
-1 Reflective Warning Triangle
-Multi-Tool Unit with 9 Tools, including Knife and Screwdrivers
-1 Roll Black Electrical Tape
-2 Bungie Cords
-20 Cable Ties
-1 Pair of Work Gloves
-Headlamp with Batteries
-8 Piece Tire Repair Kit
-48 Piece First Aid Kit includes:
–6 Povidone-Iodine Prep Pads, 6 Alcohol Pads, 2 Antiseptic Cleansing Wipes, 10 Regular Size Adhesive Bandages, 3 Cotton Sponges, 1 Bandage Triangular, 2 Rolls PBT Bandage, 1 Roll Medical Tape, 10 Cotton Swabs, 1 Pair Gloves, 1 Pair Scissors, 5 Safety Pins
-1 Storage Case
Price: $59.95 (from Amazon at time of review)
The Review
Let's start with a video tour and then move on:
The kit comes in a plastic bag, but inside of the bag is a cardboard insert that helpfully lists all of the contents for you.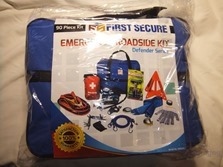 The bag is blue in color with the First Secure logo on it and it's made of nylon, not sure if it's waterproof or anything, but it will be staying in your trunk most likely so it should be fine. The bag has two handle straps on it, it's about 14 inches by 11 inches in dimensions and it's about 5 inches thick.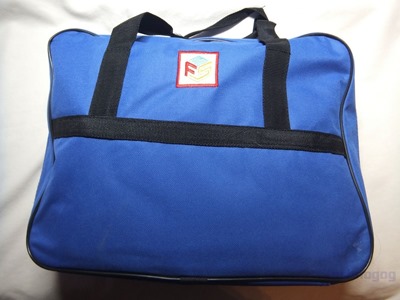 When you open the pack or bag you'll find everything sort of just floating around. There are two straps on one side, but everything else is just there.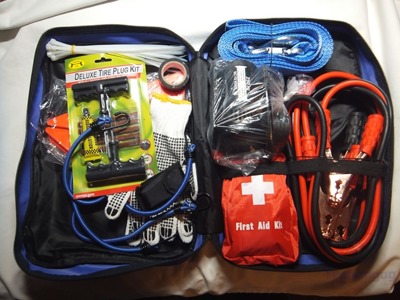 In the kit you'll find several small items and then a few larger ones on the other side. The small items include a pair or rubberized work gloves, a headlamp that uses two small button batteries, 2twenty 9.5 inch cable ties, two 24 inches bungie cords, small roll of electrical tape, complete tire plug kit and a small multi-tool. The multi-tool comes in a nylon pouch and it's about 2.75 inches when closed, it's metal with a sort of skeleton frame and for what it is it seems well made enough.  You get the pliers of course, then inside you'll find screwdrivers, knife, saw, bottle opener and file. Multi-tools can be very handy, so it's nice to have in there.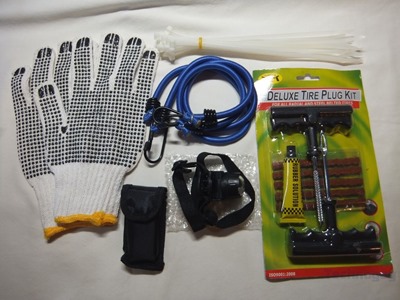 The hazard triangle is orange with reflectors on it, it's about 9 inches tall and about 10 inches wide at the base. The triangle comes in two pieces and just slides together to be used as a warning on the road to other cars.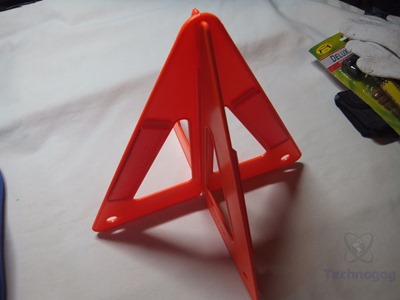 The tow strap is 11 feet long and it's blue in color with two rather heavy duty hooks on the ends. The cable is about 2 inches wide and it supposedly has a 10,000 pound towing capacity. I haven't actually tested it to tow anything, but I think it should hold for a tow or two. I'm sure it's not meant to be used over and over, it's just a temporary solution really as this is an emergency kit.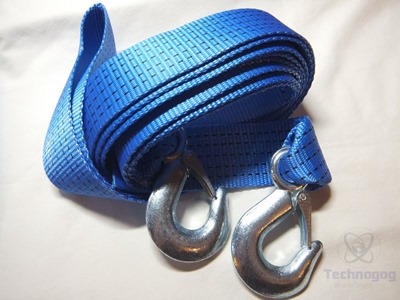 The jumper cables are what they are, they made to conduct electricity from one battery to another. The cables are 10 feet long and they seem like they'll do the job. They're not exactly the best quality I've seen, but they'll work to jump a car surely.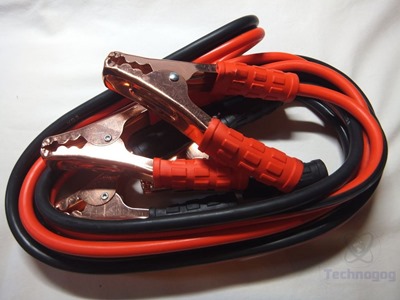 The air compressor is small at about 5.5 inches by 4 inches in dimensions and it's about 3 inches wide. The air cord is about 20 inches long and it's thick and braided with a locking lever on the end. You can also use the compressor to blow up balls as well since they even included tips for you in a small bag.  The compressor plug into a cigarette lighter in your car and the cable is about 120 inches long which is long enough to reach all of your tires from in the car.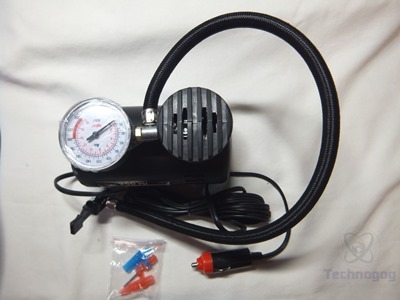 The last thing included in this kit is a small first aid kit with plenty of things in it.  In the kit you'll find 6 Iodine Prep Pads, 6 Alcohol Pads, 2 Antiseptic Cleansing Wipes, 10 Regular Size Adhesive Bandages, 3 Cotton Sponges, 1 Bandage Triangular, 2 Rolls PBT Bandage, 1 Roll Medical Tape, 10 Cotton Swabs, 1 Pair Gloves, 1 Pair Scissors, and 5 Safety Pins. The kit is basic yes, but in an emergency if should be enough until you can get to help.
Conclusion
I think the price for the First Secure kit is less expensive than if you were to buy all of these pieces individually, so in that respect it's worth it.
The parts, or what's included, aren't exactly what I would call the best quality but I they they'll be fine as they're not something that will be used all the time, just in emergencies and hopefully you'll never have to use them. That being said I think this kit is fine for what it is, it has everything you need in an emergency while on the road and if anything else comes up. The only thing missing really from this kit is one of those emergency blankets but you can pick those up cheaply.
Pros:
+Most everything you need in a roadside emergency
+Cheaper than buying everything individually
+Carrying bag included
Cons:
-Quality might be questionable
-Missing emergency blanket
| | |
| --- | --- |
| Grading | Scores Out of 10 |
| Overall | |
| Design / Aesthetic | |
| Value / Price | |
| Performance / Usage | |
Disclosure: This product was given to me for review by the company for review purposes only for free or at a discounted price.
To learn more about our review policy please visit this page HERE.