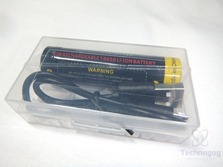 I have lots of flashlights and other gadgets that use 18650 batteries, they've become very common for sure. Up for review today I've got a different sort of 18650 battery from Nitefox. This battery is 2600mAh in capacity so it should last quite a while in most devices but what makes it special is the fact that it has a micro USB port for charging the battery right from any USB port. Read on to learn more…

Specifications and Features
The UR18-26 battery looks like just a standard 18650 battery but if you look closer you'll see a micro USB port at the positive end which you'll use for charging the battery. When it comes to 18650 batteries there really doesn't seem to be a standard size, I have longer ones and shorter ones and this one is longer than others I have. Not much of an issue though, it fit fine in the flashlights I tried it in.
At the positive end of the battery, where the micro USB is, you'll find two indicator LEDs, one is red to indicate charging and then one is green to let you know charging is complete.
Conclusion
I can always use another 18650 battery that's for sure, but when you're battery dies and you don't have a charger handy you'll be happy to have USB charging built-in like the UR18-26 does from Nitefox.
The battery is high capacity and it works fine with everything I've tried, it seems to last just as long as other similar capacity batteries I have on hand.
The included storage box is nice to have to protect the battery and to keep the charging cable handy. The battery can be charged with just a standard micro USB cable and any USB port so you'll always have somewhere to charge the battery if the need arises.
The battery is slighter larger than other 18650 batteries, but for me that's not an issue, it fit all the devices I tried it in with no problem.
All in all I like the UR18-26 battery, it works fine and the ability to charge right over USB is nice.
Pros:
+Includes storage box
+LED indicators for charging
+High capacity battery
+Direct USB charging
Cons:
-A bit larger than other 18650 batteries
| | |
| --- | --- |
| Grading | Scores Out of 10 |
| Overall | |
| Design / Aesthetic | |
| Value / Price | |
| Performance / Usage | |
Disclosure: This product was given to me for review by the company for review purposes only for free or at a discounted price.
To learn more about our review policy please visit this page HERE.