The cooling fan isn't the most exciting thing to review, surely I'd rather be reviewing a video card or maybe a game, but the cooling fan is something that is truly needed in your system as without it you will no doubt run into problems! When it comes to fans, I think Noctua is probably the leading company out there as they are one that puts everything into design and innovation of their cooling products. Today for review I have one of their latest fans, the model NF-A15 PWM, which is a 150mm fan, but it actually has mounts for 120mm sizes. The special design of the NF-A15 allows you to mount a 150mm fan wherever you can install a 120mm fan giving you full 150mm airflow performance but in a smaller sized area. Read on to learn more about a great fan…
NF-A15 PWM 150mm Cooling Fan Review
The Noctua NF-A15 fan comes in a small thin box with the familiar Noctua coloring scheme.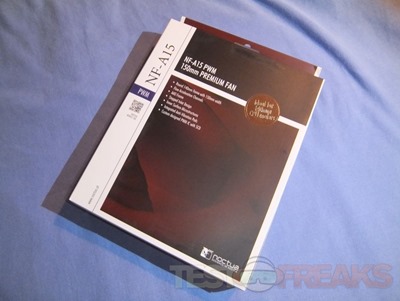 The front of the box opens up to show you the fan in a small window along with the silicone vibration dampening bolts on the side. The left panel of the package list the design features of the fan and has some nice schematics.
The back of the box opens up as well, it lists the features more in depth for you.
When you open the box you'll find a plastic box and a brief instruction manual.
Here's everything unpacked:
Included you'll find both standard metal mounting screws and anti-vibration silicone bolts.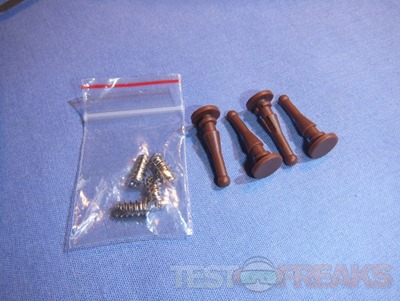 Also in the box you'll find an extension cable, a 'Y' style cable so you can connect two fans to one fan header on your motherboard and a Low Noise Adapter to lower the speed of the fan making it a bit quieter.
So here's the fan itself, which is colored in the distinct beige and brown of Noctua.
The fan is 150mm in size but the mounts are 120mm. The NF-A15 is well made like every Noctua product I've ever reviewed or owned.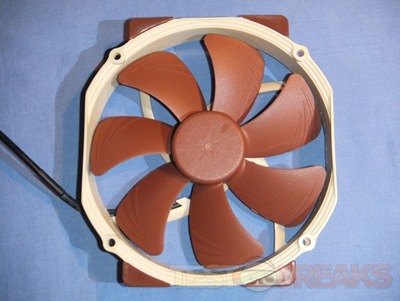 The back of the fan shows the ID label and you can see the frame is a bit unusual and it's rather small or thin as to not impede airflow.
On four corners on each side of the fan you'll find silicone rubber coverings where the fan will touch the case or CPU cooler, these help to further dampen vibrations while in use thus keeping the fan that much more quieter.
Noctua is known for innovative designs, and if you looks closely at the blades and the inside of the frame of the NF-A15 you'll see these design innovations. They're not just for looks though as they do serve a purpose to improve airflow and more.