If you want the best possible cooling solution for your CPU, then you go to a company known for their performance cooling solutions. If you're like me then you like your system to be as quiet as possible but yet remain cool and it's hard to find a nice balance of noise levels and cooling performance. One company that's known for quiet and good performance is Noctua, they make some of the best performing but yet quiet CPU coolers and fans on the market today.
Noctua has recently introduced two new CPU coolers to the market, and I have one of them for review today, the NH-U14S. This cooler is a tower style, and it's rather large, it can accommodate two of Noctua's NF-A15 150mm fans but it's designed so that you can also use larger style performance ram with it and to fit with most every socket configuration out today. The cooler is also designed to work well with SLI or Crossfire setups, it's made to not get in the way but yet still provide excellent performance. I've put the cooler up against several others and as expected from Noctua it performed very well even with an overclocked CPU, but yet remained virtually silent. So read on to learn more about an excellent cooling solution…
Unboxing
The box for the NH-U14S is kind of plain looking but it's got pictures and lots of information on it for you to read all about the cooler inside.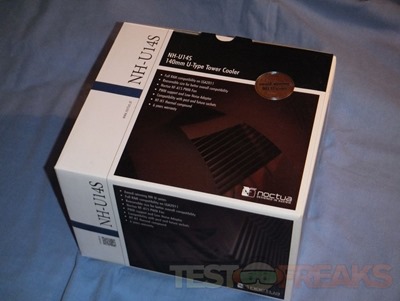 When you open the box you'll be greeted with three labeled boxes and then under those you'll see the cooler, or at least the NF-A15 fan that is pre-installed for you.
We'll take a look at the box first and then the actual cooler. The NH-U14S is made to be used with a wide variety of CPUs or sockets and it is compatible with Intel LGA2011 , LGA1156, LGA1155, LGA1150 & AMD AM2, AM2+, AM3, AM3+, FM1, FM2 style sockets.
The first small box is the AMD socket which includes the installation manual, brackets and bag of accessories for mounting.
The second box is for the Intel sockets and it contains a bit more, two installation manuals, backplate, brackets and a bag of accessories.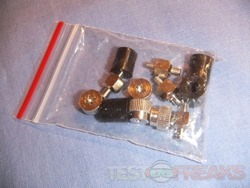 The last box is rectangular and it contains common parts like NT-H1 thermal compound, case badge, screwdriver, an extra set of fan brackets, low noise adapter, silicone strips and silicone corners for an additional fan.
So here's the NH-U14S itself for you in several views. The NF-A15 fan comes pre-installed for you and it's actually a 150mm fan. The fan is so large that it actually goes slightly above and below the fins of the cooler providing full airflow across and through all of the fins.
Here's a top view of the cooler with the Noctua logo there for you and you can see where the heatpipes end.
The cooler features a stepped design for better compatibility and there are six U shaped heatpipes running up through the fins from the base.
The base of the cooler is flat but it's not a perfect mirror finish, but that doesn't mean much really. A mirror finish doesn't necessarily mean better when it comes to CPU coolers.
On the top of the base of the cooler you'll find the bracket already installed for you, this works for both Intel and AMD sockets.
You'll need to remove the fan for installation, so here's the NF-A15 fan. It's a 150mm fan that runs at 1500RPMs normally.
Since the fan is off, here's a few views of the cooler now. The cooler is very well made as we've come to expect from Noctua. The fins are thin but sturdy so they won't bend very easily.