Camping, hiking, fishing, outdoors, at one time I really enjoyed all of that but can't do it anymore really due to health issues but my kids can and hopefully they'll be able to for a log time to come. One of my sons is a Boy Scout actually so he gets to go camping and hiking often and I like to get those types of things for review for him. Up for review today I have the Nulipam camping kit which includes pretty much everything you need to cook a good meal for you and a couple friends, except the food of course. All in all it's a decent set, and well worth it for the price. Read on to learn more…

Specifications and Features
NULIPAM Camping Wood Stove Backpacking Cookware Set, Ultralight Portable Stainless Steel Wood Burning Camp Stove. Outdoors Cooking Kit for Hiking,Hunting,Backpacking, Camping,Survival
NULIPAM lightweight and compact wood burning stove is suitable for all serious backpackers,survivalists and campers.You can put your fuel canisters or alcohol in the pots if you don't want to use the wood stove in some situations.
1L Aluminum Pot Height 4.5 inches; Diameter 5.5 inches; Weight: 5.8 oz;
0.5L Aluminum Pot Height 2.5 inches; Diameter 5.2 inches; Weight: 3.7 oz;
Stainless Steel Stove Height 8.3 inches;Bottom Diameter 4.5 inches;Weight:7.1oz
Package Include:
1*1L hard-anodized Alu. Pot
1*0.5l hard-anodized Alu. Pot
1 set of stainless steel stove
3*food-grade PP plastic bowls
1*food-grade PP plastic soup spoon
1*stainless steel spoon
1*stainless steel fork
1*stainless steel foldable knife
1*bamboo spoon
1*cleaning sponge
1*nylon travel bag
1*hang hook
Price: $26.99 (from Amazon at time of review)
The Review

Let's start with a video unboxing and then move on:
The Nulipam cooking set ships in a box but I think it's the wrong box as the pictures are wrong, but that's not an issue really. Inside of the box you'll find a drawstring bag holding two pots.
Inside of the first drawstring bag is a set of pots, these pots are anodized aluminum and non-stick to make clean up easy. The pots are nicely made and feel sturdy, the larger of the two has measurement marking inside of it and it can hold 34 ounces of liquid.
Both pots have fold out handles that are rubber coated to protect your hands from the heat.
Everything can be packaged up inside of the pots, there are two bags actually, one outside and one inside. There are 20 pieces in this set including the two drawstring bags and a bag for the utensils.
There are three serving bowls in the kit along with a wooden spoon that doubles as a scraper and a loofa sponge to clean up.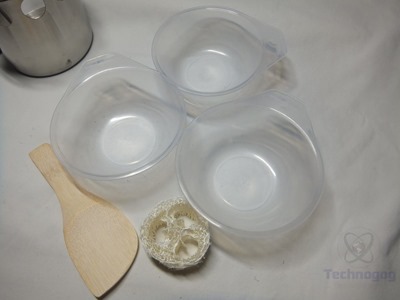 Included is a folding serving ladle, the handle folds in and out just by squeezing the metal rods together.
Included is a utensil set with a knife, fork and spoon. The knife actually does have a slight sharp edge on it, I was surprised by this. The utensils fold up for portability and they are very sturdy when unfolded.
Also included is a locking carabiner so you can attach the bag to your backpack or hang it all up at your campsite.
The stove, or burner comes in five pieces, top, bottom, ash catcher and two pot stands that cross together to hold your pot above the flame. The pieces are stainless steel and are well made, very sturdy overall.
The three pieces fit together easily and are very sturdy when assembled. There is a rectangular opening in the center to insert wood for burning and the whole setup allows for ample air to reach the fire.
Conclusion

I like the Nulipam cooking kit, it's got a lot of stuff in a small package for what I would consider a low price really.
All of the parts seem well made and are all useful.
I really like the idea of not having to carry fuel with you as it just uses wood which you should find in ample supply in the woods I would think. Carrying fuel isn't exactly safe and it just adds to the stuff you're carrying so the lighter the better.
The pots have sturdy rubberized handle for grip and protection and they're non-stick which makes cooking and especially clean up much easier.
I could nitpick and say there's three serving bowels but only one set of utensils, but one would hope your party members would have their own as they're supposed to be prepared.
Pros:
+Large set, lots of pieces in small package
+Non-stick pots
+Just uses wood for fuel
+Well made pieces
+Easy to use
Cons:
-None really
| | |
| --- | --- |
| Grading | Scores Out of 10 |
| Overall | |
| Design / Aesthetic | |
| Value / Price | |
| Performance / Usage | |
Disclosure: This product was given to me for review by the company for review purposes only for free or at a discounted price.

To learn more about our review policy please visit this page HERE.