Up for review is a type of product that I haven't reviewed in while, a power supply and it's from NZXT. It's one of their newest models the Hale82, it's a 750 Watt modular power supply and it offers some serious power for anyone who needs a decent PSU. This power supply has an 80+ Bronze Certification which means it's a very efficient power supply which in turn means it theoretically could save you some money in the long run.  It features a single 12v rail that offers a whopping 62 amps total,. which should be more than enough for even the highest of high end systems. Anyway, let's just get into it…

So, as usual we start with the box. The box is black and yellow and it has specs and information on it as you might expect.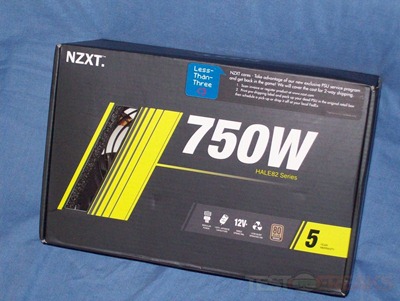 When you open the box you'll see the fan on top and a bag off to the side. The PSU is packed well with material around it.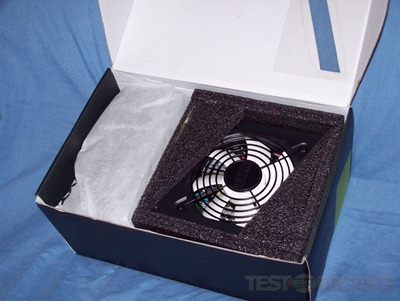 Once you get everything unpacked you'll get a better view of the bag and then you'll see the user manual, power cord and a small bag of screws for installation.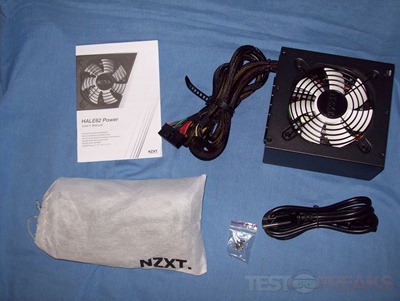 The Hale82 has a nice big 120mm fan for keeping things cool. The white color is certainly and interesting choice and it really sticks out.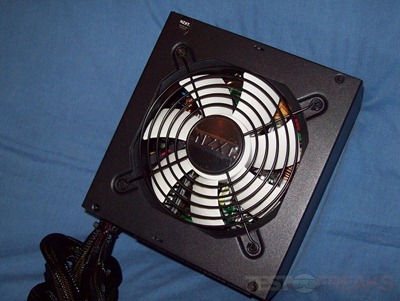 The PSU has three wires coming from it, one for the motherboard, one for the CPU and one for PCIE.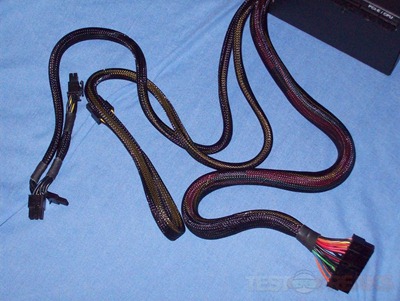 On what I would call the front you'll find the modular connections. There are four for SATA/IDE and then one for PCIE and one for CPU.
In the white is where you'll find all of the power cables. The cables are thin and flat, I was expecting sleeved like the cables coming from the PSU but these are fine though.
Here's a handy little chart from NZXT to let you know what all the connections are, how many of each and how long they are: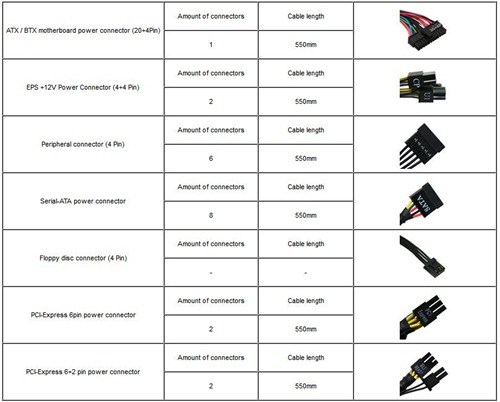 I did a bit of research and the Hale82 is actually made by Seasonic which is of course a very good thing as they make quality products.
Specifications:

Features
-80+ Bronze Certification – The HALE82 series from NZXT operates with high efficiency: at 20%, 50%, and 100% loads, efficiencies are 82%, 85%, and 82% respectively.
-100% Japanese Capacitors – High quality components promote longer lifespan and better reliability.
-120mm Two-Ball Bearing Fan – For smooth, silent rotation and optimal air intake.
-Strong Single +12V Rail – A single +12V rail provides stability and ease of use with the ability to deliver clean currents under a heavy load.
-Modular Design – Includes a selection of flat cables that allow the user to pick and choose which cables they want to use, maximizing cable management and airflow inside chassis.
-Large Tower Support – Extended 8pin connector for bottom mounted cases or large cases.
-Dual 8pin connector – For high end motherboards dedicated to overclocking.
-Keeping it Safe – The HALE80 series offers over voltage, current, power, temperature, under voltage, and short circuit protection.
80+ Bronze Certified
Is your PC hungry for more power? If it is an energy fiend, you can count on the HALE82. The HALE82 is 80+ bronze certified and operates at high efficiency. This unit is stable yet powerful to meet all your gaming and enthusiast needs.
Price: $119.09 (from Amazon at time of review)
So I installed it in my system with this in it: Intel Corei5 750, EVGA P55 motherboard, 4x hard drives (7 TB total), SATA6/USB 3.0 PCIE card, ATI 4890, ATI 6670, SATA Blu-ray/DVDRW drive and the case has 10 120mm fans in it.
I found the cables to be more than long enough for my uses and they should be find for even the largest cases.
For load and testing I used OCCT 4.0 which is a great way to test your PSU and get some nice graphs out of it. I've got three graphs for you that show the voltages and the CPU load at the same time.
The graph might not mean much without a small explanation so here's the tolerances for the voltages:
+12 VDC    ±5% (±0.60 V)    +11.40 V to +12.60 V
+3.3 VDC    ±5% (±0.165 V)    +3.135 V to +3.465 V
+5 VDC    ±5% (±0.25 V)    +4.75 V to +5.25 V
Basically you want your rails to be within certain tolerances and that's about 5% plus or minus or 10% total. Off to the side above you see what those actual tolerances would be like to the 12v rail it should be between +11.40 V to +12.60 V. If it's not between those voltages then there's surely a problem with the power supply.
I've been using the PSU in my system for a couple weeks now and I've been running tests on and off every other day or so and they all came out the same, so here's three charts for you from one of the tests.
The first chart is the 3.3v one.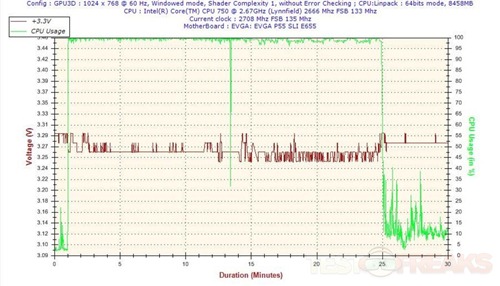 If you go back up and looks at the chart and then compare, you'll see that the 3.3v rails falls well within tolerances but it does bounce around a lot.
The next chart is the 5v one: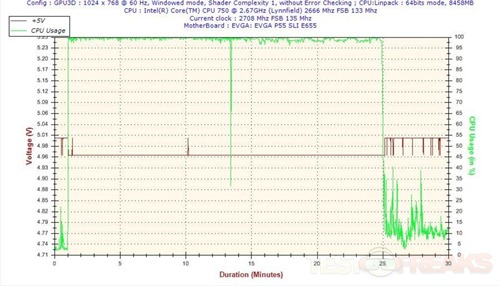 As you can see this one is much more stable and again it's well within tolerances.
The last chart is for the 12v rail: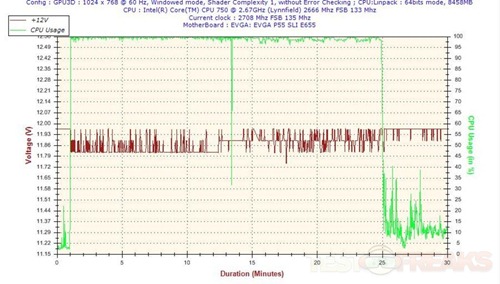 This one is very bouncy as well, but it's within tolerances, well within really.
So the 12 volt and the 3.3 volt isn't exactly stable, but they are within tolerances and that's really what you want to see.
As far as noise level, I really couldn't hear the PSU over fans I have in the case. I did have it out of the case, when I was testing the Thermaltake Dr Power II and the fan was silent then but it wasn't really under load either. For the most part even under load I couldn't hear any additional noise from the NZXT Hale82 power supply.
One think I forgot to note and I should is that NZXT now has what they're calling  Less Than Three which is a warranty program that allows you to get a working PSU back in three days if something should go wrong with it. These PSUs also have a 5yr warranty on them. You can learn more about the less Than Three program here: http://www.nzxt.com/new/hale82.php
Conclusion:
The NZXT Hale82 750 Watt Power Supply is one that I would be happy to have in my computer for the long term. The power supply is quiet and it offers a good amount of power for even the most demanding systems and the people that build them. The Hale82 is a modular power supply which means you won't have wires everywhere as you'll only use what you really need. This means a cleaner case and less wires usually means better airflow as well.
The voltages are very much within tolerances but they do bounce around a bit, but still I feel safe with it in my system and it's going to stay there.
Pros:
+Nicely made and good looking
+Voltages within tolerances
+Seems quiet
+Made with quality parts
+Flat, easy to run wires
Cons:
-Rails are a bit bouncy
| | |
| --- | --- |
| Grades: | |
| Overall | |
| Design | |
| Performance | |
To learn more about our review policy please visit this page HERE.