Today for review I've got an 8gb kit of OCZ Gold ddr3 ram and this memory runs at 1333Mhz, it's made for the Corei5/i7 system which means it runs at a lower voltage. It's specifically made for P55, H55 and H57 chipsets and it's made to be stable to withstand the demand of intensive graphical titles of applications. I've put it up against another set of performance memory that run faster and at a lower latency, so read on to see just how things worked out…

The package is just a plastic style clamshell.
The ram inside though is OCZ Gold, yes it's gold colored ram so it's got a lot of shine to it. The heatspreaders are full of holes and in the center you'll find a large Z with a 3 over it like an exponent. On one side of each stick is an identification label. This ram is probably the nicest looking stuff I've ever seen really.
Specifications:
OCZ DDR3 PC3-10666 / 1333MHz / 4GB Modules / Gold Edition / Low-Voltage
Addressing the never ending need for greater amounts of system memory, OCZ's newest Gold Series 8GB Dual Channel kits support the latest memory-hungry applications and games, offering superior performance gains and maximum multi-tasking productivity. Ideal for workstations with 64-bit operating systems, the OCZ 8GB solutions allow users to take advantage of high density memory configurations when working with intensive design and multimedia applications.
OCZ Gold Series 8GB Dual Channel kits are tested and qualified on the latest platforms to ensure ultimate performance and stability, featuring the high densities and ultimate stability enthusiasts and prosumers demand to make the most of the graphic-intensive PC titles and intensive applications.
All Gold Series kits are 100% hand-tested and backed by the OCZ Lifetime Warranty and technical support for unparalleled peace of mind.
Specs:
* 1333MHz DDR3
* CL 9-9-9-20 (CAS-TRCD-TRP-TRAS)
* Available in 4GB modules and 8GB kits
* Unbuffered
* Gold Layered Z3 XTC Heatspreader
* Optimized for P55,H55, and H57 Chipsets
* Lifetime Warranty
* 1.65 Volts
* 240 Pin DIMM
Part Numbers:
* 8GB (2 x 4GB) Kit PN – OCZ3G1333LV8GK
Price: $179.99 (From Amazon at time of review)

I should note one thing about this ram that might disappoint some, it's that it's not meant for overclocking at all. It's more meant for running intensive programs and it will provide good stability for your system. It's meant to be performance ram yes, but not in the way that some might think of it, like overclocking for example. This ram is perfect for me as I don't overclock anymore, I used to a while ago, but now what's important to me is a stable system that allows me to do what I need to do. 8 gigs of ram should help me do that of course.
For testing I put the OCZ Gold against a 4gig kit of Kingston HyperX 1600Mhz ram, Part Number: KHX1600C8D3K2/4GX. I don't have any other 8gig kits, but I thought a set of HyperX that was clocked faster would be a nice test to put up against the OCZ Gold.
I installed the ram in my Corei5 system on an EVGA motherboard, model 132-LF-E655-KR.
You do have to remember one thing here, the Kingston ram is faster and lower latency as well, but the we've got more of the OCZ. So is speed better or is quantity better? Let's find out!
Here's CPU-Z screen shots:
First up how about calculating Pi to 1 million places, lower is better of course.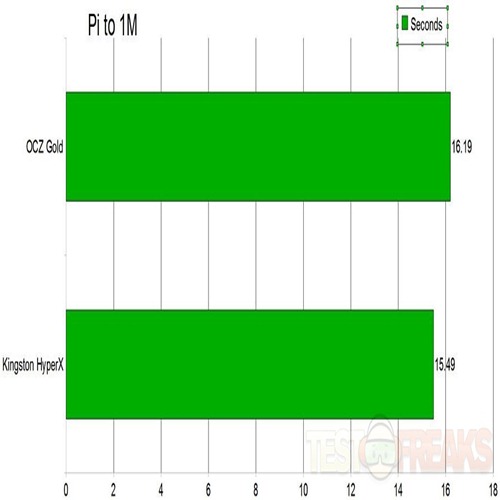 With the OCZ Gold in my system it's less than a second slower, that's not bad at all.
Then how about some 3Dmark Vantage?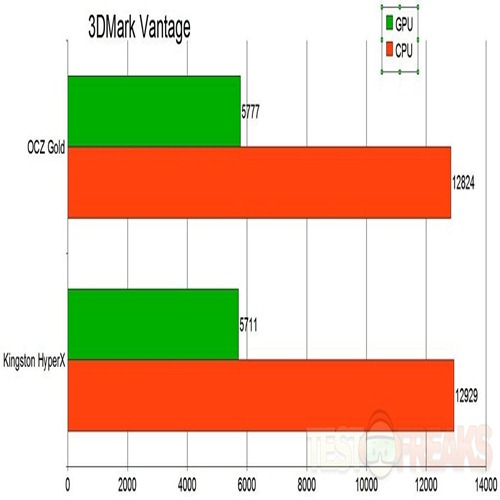 In the GPU test we see it's actually better with the Gold, but in the GPU test it seems the Kingston is slightly better. So if you want CPU intensive things then go for the Gold as it were right?!
Next up I ran Cinebench 10 and 11, we'll start with 10.
Cinebench 10 shows specific information for Rendering with one CPU and then with multiple CPUs, the final test is the OpenGL test.
The OCZ Gold does very well when rendering with one CPU but falls behind for the other two tests for some reason.
Here's the information from the Cinebench 11 site as to what the results mean for 11:
Main Processor Performance (CPU)
The test scenario uses all of your system's processing power to render a photorealistic 3D scene (from the viral "No Keyframes" animation by AixSponza). This scene makes use of various different algorithms to stress all available processor cores.
In fact, CINEBENCH can measure systems with up to 64 processor threads. The test scene contains approximately 2,000 objects containing more than 300,000 total polygons and uses sharp and blurred reflections, area lights and shadows, procedural shaders, antialiasing, and much more. The result is given in points (pts). The higher the number, the faster your processor.
Graphics Card Performance (OpenGL)
This procedure uses a complex 3D scene depicting a car chase (by renderbaron) which measures the performance of your graphics card in OpenGL mode. The performance depends on various factors, such as the GPU processor on your hardware, but also on the drivers used. The graphics card has to display a huge amount of geometry (nearly 1 million polygons) and textures, as well as a variety of effects, such as environments, bump maps, transparency, lighting and more to evaluate the performance across different disciplines and give a good average overview of the capabilities of your graphics hardware. The result given is measured in frames per second (fps). The higher the number, the faster your graphics card.
Here with version 11 we see the scores are really fairly close, about 2 FPS more with the Kingston but would you really even notice that in the real world?
Next up is a series of tests using SiSoft Sandra.
CPU Multi-Media Benchmark.
Results Interpretation : Higher index values are better.
Benchmark the (W)MMX(2), SSE(2/3/4), AVX processor units.
Results Interpretation
Multi-Media Integer (Pixels/s) – higher results are better, i.e. better integer performance.
Multi-Media Single/Double Float (Pixels/s) – higher results are better, i.e. better floating-point performance.
Here with the Multimedia test we see the scores are very close, you'd never notice the difference in the real world.
CPU Arithmetic Test:
Results Interpretation : Higher index values are better.
Benchmarks the ALU and FPU processor units
Results Interpretation
Dhrystone (MIPS) – higher results are better, i.e. better integer performance.
Whetstone (MFLOPS) – higher results are better, i.e. better floating-point performance.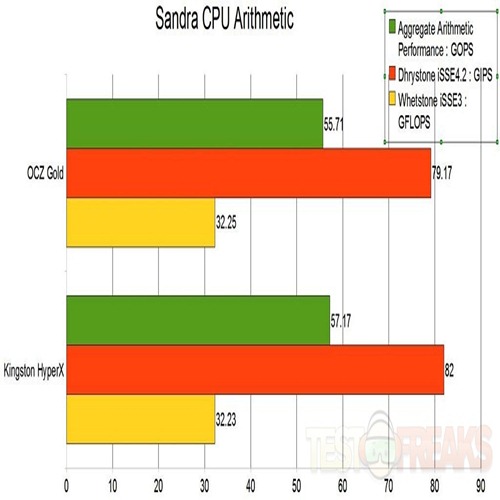 Here again we don't see much of a difference at all. I'm rather surprised actually, I thought the faster HyperX would do better all around with these tests.
Cache and Memory Test:
Benchmark the processors' caches and memory access (transfer speed).
Results Interpretation
Cache/Memory Bandwidth (MB/s) – higher results are better, i.e. faster memory bandwidth.
Speed Factor (MB/s) – lower results are better, i.e. less difference between processor cache speed and memory speed.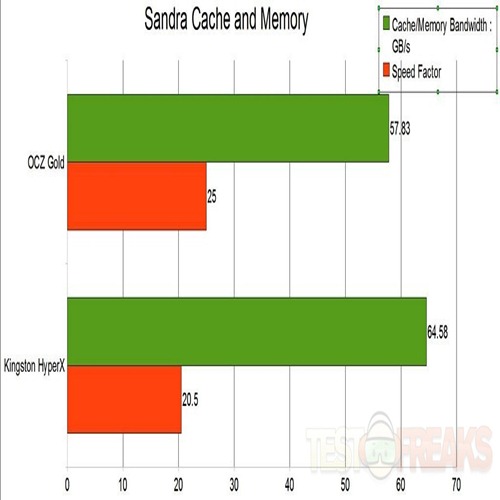 Here we see with the Kingston is quite a bit better overall.
Memory Bandwidth test:
Benchmark the memory bandwidth of your computer
Results Interpretation
Integer Memory Bandwidth (MB/s) – higher results are better, i.e. faster memory bandwidth.
Float Memory Bandwidth (MB/s) – higher results are better, i.e. faster memory bandwidth.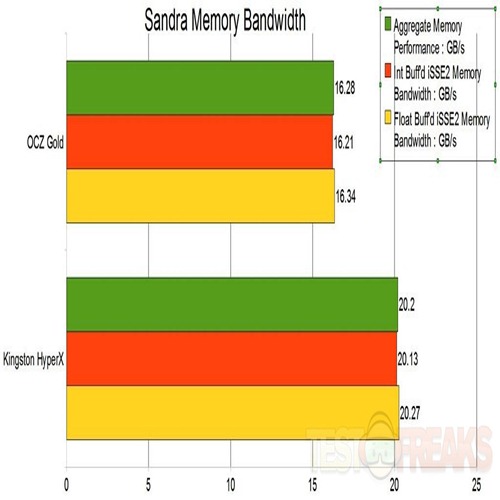 Here again the Kinston seems to perform better.
Memory Latency Test:
Benchmark the latency (response time) of processors' caches and memory
The latency of caches is measured in processor clocks (i.e. how many clocks it takes for the data to be ready) as it is dependent on the processor clock speed.
The latency of memory is measured in nanoseconds as it is typically independent on processor clock speed.
Results Interpretation:
Latency: Lower is better
Speed Factor: Lower is better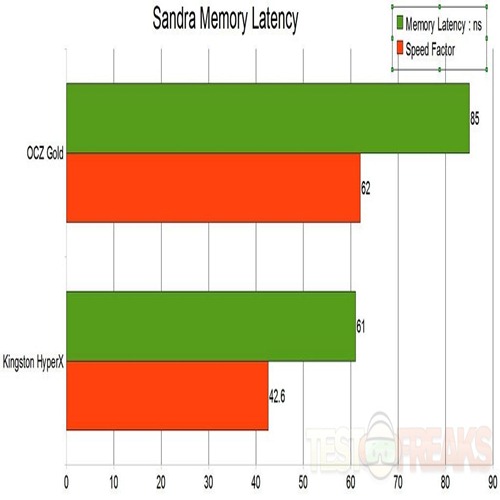 The Kingston is lower latency so the results here are no surprise at all.
The results of these tests really show that there's not much of a difference and that's surprising really.
Conclusion:
The OCZ Gold surprised me quite a bit in just how well it performed. I put it up against a set of performance ram that runs faster and at a lower latency but the OCZ Gold held its own and performed very well in all of my testing.
Sure it fell behind in some things, but that's to be expected, overall you can't argue with the results of the testing here you can se how see the OCZ Gold performs.
The OCZ Gold isn't made for overclocking so hardcore enthusiasts might not like, but it's made for a different kind of enthusiast, those that want high capacity, good performance and stability and OCZ Gold offers that for those that want it.
Pros:
+Very good performance
+Looks great
+Stable
Cons:
-Not great for overclocking
| | |
| --- | --- |
| Grades: | |
| Overall | |
| Design | |
| Performance | |
To learn more about our review policy please visit this page HERE.