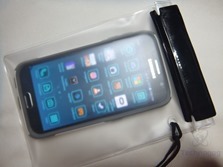 I've reviewed and bought a few waterproof pouches over time and they can be very useful if you're the outdoors type or if you just want to make sure your gadgets and things stay dry. Some of them are good, some of them aren't but today for review I have a set of four from a company called Onenines that are the best I've seen so far. There are four cases in this set, but three different sizes, 1 large, 2 medium and 2 small. Read on to learn more…
Specifications and Features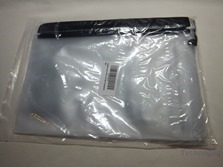 Once you get the bag unpacked you'll find four waterproof bags which aren't quite clear, more of a light smoke color almost, you can still see through them but just not fully. The bags are made of a relatively thick vinyl plastic material which seems sturdy enough for most uses. Each bag does have a 22 inch cord attached to it so you could wear it around your neck or attach it to something if need be. You'll get one large bag which is about 15.5 inches by 10.5 inches which should be fine for most tablets like an iPad or others of similar size. You'll get two medium bags which are about 9 inches by 7.25 inches which would work for phablets or smaller tablets. Finally you'll get one small bag which is about 7.5 by 5 inches which is fine for most phones I would think.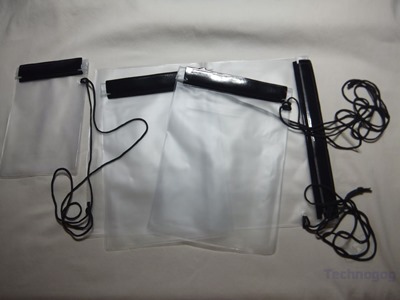 The bags seal very well with dual zipper locks and a hook and loop style fastener. To use it you put your device in, zip the first one, zip the second one, then fold it over once, fold again and then fasten it closed with the hook and loop. The pouches seal very well for sure, they remind me of a dry bag seal actually.
I put my Samsung Galaxy S6 in the smaller case and an 8" tablet in the medium bag and both fit perfectly fine with a little room left. The bags are not clear but I could still easily see the screens, but I would have much preferred clear bags personally. I found I could use the touchscreens with no problems while they were in the bags and you can hear through them as well but not sure about holding an entire conversation through them as it is slightly muffled.
I did test the waterproof ability of the bags by putting a tissue in them and putting them in a sink full of water, and submersing them and the tissues stayed dry so I would have to say they work at keeping water out.
Conclusion
The Onenines waterproof pouches are a decent choice if you want to keep your stuff dry for sure. For about $20 you get four of them in this set which can be used for phones, tablets or anything else like papers, GPS or just anything you want to keep dry while you're out and about.
The bags have a dual zipper style seal and then a hook and loop fastener as well to keep the water out, this system works very well from my testing.
You can use touchscreens though the bags which is a bonus I think as you can still make calls or access your devices if need be.
The only complaint I have is that they are not clear, I would have much preferred clear bags personally.

Pros:
+Waterproof
+Touch screens work through bags
+Dual seals
+Well made
Cons:
-Not clear
| | |
| --- | --- |
| Grading | Scores Out of 10 |
| Overall | |
| Design / Aesthetic | |
| Value / Price | |
| Performance / Usage | |
Disclosure: This product was given to me for review by the company for review purposes only for free or at a discounted price.
To learn more about our review policy please visit this page HERE.