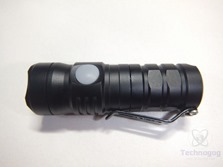 Guess what? I've got another flashlight for review, this one is from a company called Orcatorch and it's the ES10 which is a 360 lumens max light but it does have low, medium and high modes along with strobe. The flashlight comes with a carrying case, keychain and wrist strap along with a CR123A battery. The light is waterproof up to 3 meters so you can use it any weather really and not worry about water damaging it. Read on to learn more…

Specifications and Features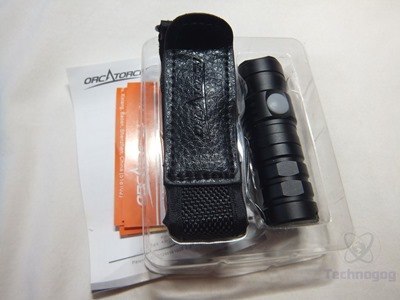 Once you get everything unpacked you'll find the user guide, carrying case, key ring, wrist strap, CR123A battery, flashlight and two extra O-rings.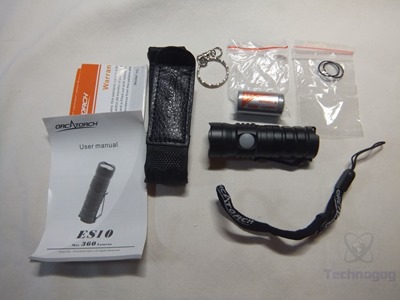 The included carrying case is nice and it will do a decent job of protecting the flashlight. The carrying case is made of nylon and what looks to be leather, the sides are elastic to keep the flashlight in the case. The case has metal ring and belt loop so you have options for carrying it.
The ES10 flashlight is IP68 rated which means it's dustproof but more importantly waterproof up to 3 meters underwater which makes it rugged and just great for outdoor usage. The light is about 2.75 inches long and about 1 inch in diameter so it's very small and portable. The power switch is located on the top side behind the lens, it's a small gray rubber button. There's a metal clip on the side of the light attached with screws and then on the back end is a hole for the keychain or wrist strap or maybe both. The lights unscrews at about the middle to put the battery in, you'll find a rubber O-ring in there to keep dust and water out. There is a top metal ring around the lens that can be unscrewed as well to clean the lens and there's a rubber O-ring here too.
The light has modes for low, medium and high which you just press the button to change them but it also has a strobe mode where you need to press and hold the button in for about 3 seconds to activate it. The light is only rated for 360 lumens maximum which is more than bright enough for most uses around the house or even camping and hiking. The light is white with a slight yellowish tint to it, but bright and clear.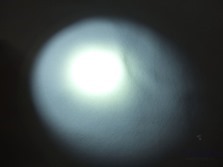 I did use the light outside and it was fine, but just not bright enough for me really. The throw distance is rated at 113 meters or about 370 feet and I don't think so, I could barely illuminate to the end of my yard.
Conclusion
The Orcatorch ES10 LED light isn't a bad little light overall, sure it's not very bright like others, but depending on the situation you might not need a very bright light. The light is very well made, it's rugged and truly waterproof and it's very small and portable and won't take up much space at all in your bag.
The included battery is a CR123A which is not rechargeable, but you can get rechargeable for it but you'll need to make sure you get the correct ones as too much voltage might destroy the light. The battery has a rated time of 28 hours on full power or high which isn't much, but it should be more than enough for a couple weekends of use I would think. Once the battery is dead you'll have to buy another one which will cost you about 3-4 dollars each or more depending on where you buy them. If you're going to use this flashlight often I'd would highly recommend getting rechargeable batteries for it for sure.
There's one thing that bothers me about this flashlight and that's the battery or actually the fact that you have to take it out when not in use basically. Yes it says you can just unscrew the light a bit, but still it's the same thing, I've never run across a light that requires you to do that. It just seems a bit of a hassle to me and partially unscrewing means it's not sealed anymore either.

Pros:
+Small and very portable
+Can use rechargeable batteries
+Includes carrying case
+Dustproof and waterproof up to 3 meters
Cons:
-Non rechargeable battery included
-Does not reach rated throw distance
-Must remove battery when not in use
| | |
| --- | --- |
| Grading | Scores Out of 10 |
| Overall | |
| Design / Aesthetic | |
| Value / Price | |
| Performance / Usage | |
Disclosure: This product was given to me for review by the company for review purposes only for free or at a discounted price.
To learn more about our review policy please visit this page HERE.