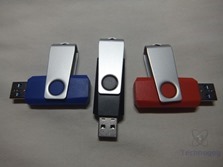 It's been a while since I've reviewed any USB flash drives and today I've got three of them from a company called Digiocean. These drives are USB 3.0 and I've compared them to some other name brand dries I've got and they perform very well, in fact faster than some of those name brand ones do. Read on to learn more…
Specifications and Features
DIGIOCEAN 32GB Thumb Drive USB 3.0 Flash Drive Memory Stick Jump Drive, Black/Red/Blue, 3 -Pack Value Bundle
The 32GB USB Flash Drive comes in a convenient 3 pack to give you all the portable storage you need. This kit has enough space to store all of your music, videos, photos and documents. The Swivel USB flash drive enables you to take along important documents when you travel or attend a meeting. The small size is more convenient to take along than a laptop. This compact USB flash drive is small enough to take anywhere, and it can easily be tucked into a pocket, briefcase or purse. This unit provides ideal protection for your work and school data. his high-quality storage device has an integrated metal swivel cap that offers additional protection for your digital data; it will be protected from both drops and physical wear. With this flash drive, you are able to create partitions to organize your data and you can quickly and easily transfer data from one computer to another. This flash drive features fast read and write transfer speeds.
Swivel USB Flash Drive: -Capacity: 32GB
-1-piece unit with swivel cap
-Interface:USB 3.0
-Fast read and write transfer speeds up to 45MB/Sec and 18MB/Sec
-Color: Black/Blue/Red
-Included 3 pack
Notice:
-USB 3.0 port required. Based on internal testing; performance maybe be lower depending upon host device.
-The actual available capacity for data storage is less than what is listed as some of the listed capacities on a flash storage device is used for formatting.
-The available capacity are 29GB .
Price: $25.70 (from Amazon at time of review)
The Review

The Digiocean flash drives come packaged in a plain brown box with just a label on it and inside you'll find the three drives in foam for protection.

The flash drives are the swivel style meaning they swivel open to the side and they have no caps to lose. Part is metal with a small loop on it so you could attach a keychain and the drive itself is plastic. The drives have blue connectors on the end which means they are USB 3.0. The drives are about 2.25 inches long when closed and then about  2.75 inches long when opened all the way.
I've got other USB 3.0 flash drives and decided to run comparison tests using ATTO Disk benchmark. The other drives I have are the Corsair 16gb Flash Voyager Mini, the Kingston 16gb Data Traveler microDuo and the SanDisk Ultra Fit 128gb.
Read Speeds:
Corsair 16gb Flash Voyager Mini: 82342
Kingston 16gb Data Traveler microDuo: 115954
DigiOcean 32GB: 126322
SanDisk Ultra Fit 128gb: 143804
Write Speeds:
Corsair 16gb Flash Voyager Mini: 10737
Kingston 16gb Data Traveler microDuo: 12376
DigiOcean 32GB: 33893
SanDisk Ultra Fit 128gb: 75192
I wasn't expecting much in terms of speed as these aren't 'name brand' flash drives, but they perform fairly well, the third fastest of the ones I have.
I also ran Crystal Diskmark on the fastest drive, the SanDisk, and the Digiocean and the results were about the same with the SanDisk being faster but the Digiocean actually performed a bit better in the 4K tests.
Conclusion
The Digiocean drives perform well, faster than some name brand drives I have, overall I'd say they're decent.
The drives seem well made, and I like the fact they have no caps to lose.
In terms of pricing these come out to about $8 each as of now which is just very slightly cheaper than most other 32gb drives I could find.
Pros:
+No cap to lose
+Fast drives with decent speeds
+Seem well made
Cons:
-None that I could find
| | |
| --- | --- |
| Grading | Scores Out of 10 |
| Overall | |
| Design / Aesthetic | |
| Value / Price | |
| Performance / Usage | |
Disclosure: This product was given to me for review by the company for review purposes only for free or at a discounted price.
To learn more about our review policy please visit this page HERE.