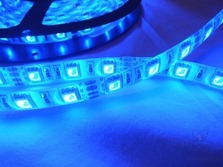 I'm back today with a review of more lights, or 300 LEDs to be specific in a 16.4 foot strip that are actually waterproof so you could even mount them outside for decoration. This LED strip is from OxyLED and it's the OCD-83 and it has RGB LEDs in it with a remote control that has 44 keys on it so you can change the colors with the touch of a button and go through various modes like flashing and fade. My son loves these as I mounted them in his bedroom for him. Read on to learn more…
Specifications and Features
OxyLED OCD-83 Waterproof RGB LED Strip Light Kit – 16.4ft, 300 LEDs, Color Changing SMD GRB 5050, Dimmable, 44 Key IR Remote, 60W 12V 5A Power Supply Adapter
-Super bright 5050 SMD RGB LED, high intensity and reliable. Waterproof and flexible LED strip (IP65 Waterproof level)
-60 SMD RGB LEDs per meter, a total of 300 LEDs for 5 meters. Maintenance free, easy installation.
-Every third LED is cut-able without damaging the remaining strip. Included is adhesive backing tape for secure and easy application to most smooth surfaces.
-Flexible ribbon for curving around bends. Ultra-bright and running at low temperature.
-Package content: 1 x 16.4 ft LED Strip Light, 1 x 44 key IR Remote Controller, 1 x 12V 5A Power Supply (US Plug)
OxyLED – Natural Life, Natural Lights
-Led Strip
-Color: RGB
-LED Type: 5050 PLCC-6 SMT SMD LED (IP65 Waterproof)
-LED Quantity: 300 leds/5 Meter or 60 leds/Meter
-Size: L500cm (5M) x W1.4cm x T0.3cm
-Package: 1 X 5 Meters / Roll
-View angle:120°
-Working Input Voltage: 12VDC
-Output power: 72W /5 Meter
-Drive Mode:Constant Voltage 
44Key Remote Controller
-Type:44Key Remote Controller
– Connection mode: Common Anode(+)
– Input/Output: 12V
– Max load current: 2A each color
– Output: three CMOS drain-open output
– Working Temperature: -20°C-60°C
– Mode & Pattern
-Color:20 Colors
-8 Light Pattern: Quick / Slow / Auto / Flash / 7 color fade change / 3 color fade change / 7 color jumpy change / 3 color jumpy change R / G / B increase and decrease control 
Features:
*Low power consumption,Super-bright but running with low temperature
*All the light spread and completely smooth,luminous very even
*Every 3-LEDS cut-able without damaging the rest strips, according to your requirement
*Self-adhesive back with Adhesive tape for secure and easy application
*LED Type: High Quality 5050 SMD LED, high intensity and reliability, Long lifespan >50,000 hours
Price: $24.99 (from Amazon at time of review)
The Review
Let's start with a video unboxing:
The OCD-83 light strip comes packaged in a plain brown box and inside you'll find power supply, power cord, inverter box, remote control, user guide and the LEDs inside of an anti-static bag for protection.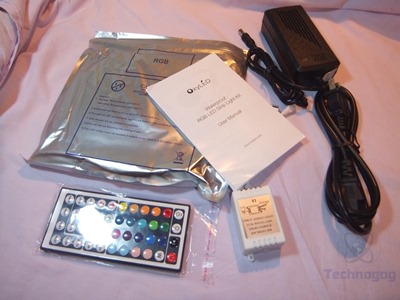 The power second power box is where you connect the strip to and the power supply to and it's labeled 'RGB control box IR remote control'. There are two wires coming out of it, once is the plug that matches the LEDs to provides power to the them and the other has the infrared sensor on the end to control the lights. The opposite end has the power connector on it that mates with the main power supply. The box also two small tab with holes in them sticking out of the top and bottom so you can mount the box with screws wherever you need to.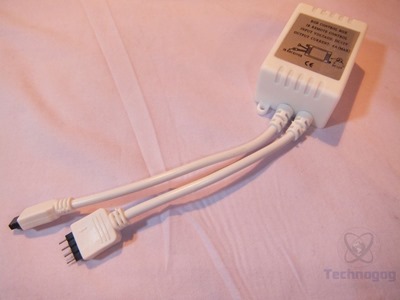 The remote is big at approximately 2.25 x 4.75 x .25 inches in dimensions but it has lots  of functions on it. The top of the remote has power along with brightness buttons and a play/pause button that I'm not sure what it's for. The upper section is filled with colored dots or buttons, just press one and the LEDs will turn that color. Then there are buttons for quick and slow to change the speed of the blinking pattern. There are also colored arrow buttons so you can adjust the color depth of green, blue or red. There are six buttons labeled DIY 1 though 6 so you can create your own programs with the LEDs but I'm not sure how to do it as the instruction manual doesn't say. The last set of buttons is auto, flash, jump3, jump7, fade3 and fade7 which are basically preprogrammed modes for the lights. Auto is automatic change, flash is flash on and off, jump3 is 3 color change, jump7 is 7 color change, fade3 is 3 color fade and fade7 is 7 color fade.
The LED strip comes on a reel like you would see with movie film and I think it was really a reel from film but just repurposed as it does have the spaces to mount it on a projector. This system works though as it protects the LEDs during shipment, it keeps them from being tangled and you can just unspool it as needed. There are power connectors on both ends of the strip so you can connect more than one strip together to make it longer.
The LED strip is actually completely covered with about an 1/8" layer of clear rubber, or what appears to be rubber and it's a protective layer that makes it waterproof. If you look closely at the strip you'll notice that every three LEDs is a black line going through four copper contacts, this is where you can cut the strip if needed and it will still work. The strip does seem durable and well made, it's very flexible so you can bend it and shape it around turns and edges.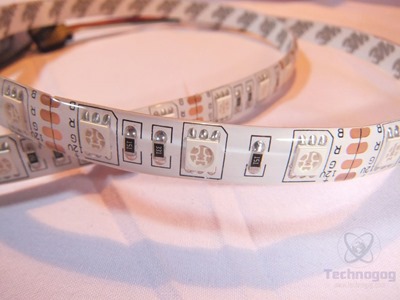 The strip does have 3M brand adhesive tap on the back of it so you can mount it to a smooth surface easily.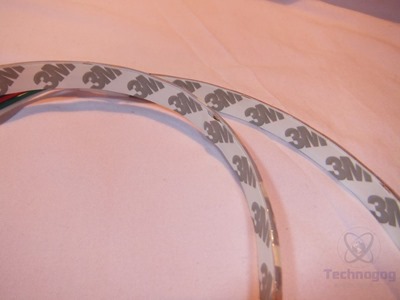 To use the light strip you'll need to plug the main power supply in and then that into the inverter box and then the LEDs into the connection coming from the box.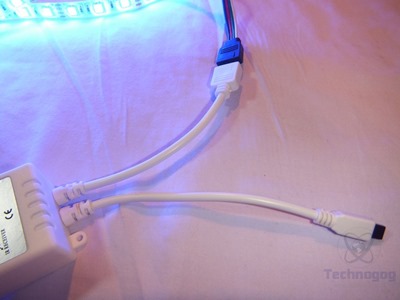 The colors are very bright and vivid but they're not exactly totally accurate, but that happens with LEDs sometimes, they're close enough though for what they are I think.
My 10 year old son loves lights so we decided to put this strip up in his room and it's very bright. With the LEDs in white mode you don't even need another light turned on, it's as bright as the ceiling light is.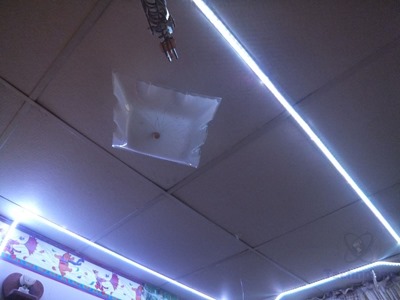 I did run into a problem though, the adhesive isn't that good as the lights started falling down within a couple hours of putting them up and I ended up using thin wires to attach them to the ceiling semi-permanently through the ceiling tiles. I attached the strip to the flat surface of the bars between the tiles so I thought it would adhere, but apparently I thought wrong.
As a bonus he purple colors actually act like a black light and make neon colored things glow brightly, it's kind of cool, at least my son thinks so and so do I.
Conclusion
This OxyLED LED strip light kit is lots of fun and it has numerous uses for sure. The fact that it's waterproof only makes it more valuable I think as you could use it outside and not worry about it. These would be great around the holidays, actually any holiday you want to celebrate as you can change the colors and customize it for that holiday so you could leave them up all year round.
The LEDs are very bright, they can in fact be used just as the main light source for a room. The purple color can be used as a makeshift black light for parties and just make things more interesting.
The power supply and invertor aren't waterproof though and the LED power cord could be longer to be able to keep the power supply out of the weather.
The remote control has just lots of functions on it, you could spend an hour or so just pressing buttons and seeing what it does and can do. There are all kinds of colors to choose from, you just press the color on the remote and the LEDs change to that color.
The user guide could be better, it's lacking some instructions and the adhesive could also be better as it didn't last long at all, only a couple hours before it started falling down.
Overall though I do like this LED kit but it's not perfect as you've read.
Pros:
+Very bright
+Waterproof, durable and well made overall
+Can chain together with other kits to make longer
Cons:
-Adhesive doesn't stay stuck very well
-User guide could be better
| | |
| --- | --- |
| Grading | Scores Out of 10 |
| Overall | |
| Design / Aesthetic | |
| Value / Price | |
| Performance / Usage | |

Disclosure: This product was given to us for review by the company for review purposes only, and is not considered by us as payment for the review.
To learn more about our review policy please visit this page HERE.